For you?
How do international corporations, banks, UN bodies and multinationals make profits? How can an organization contribute to a truly global community? By taking the International Business (IB) degree you can make a difference to the world and earn a living.
We call it business + impact. Break new ground in international business management in a classroom where fellow students and lecturers come from 40+ countries. Tap into our industry contacts who'll prepare you to step into high-flying business management and consultant jobs as a 'manager of change'. 
The IB programme will prepare you for a successful international business career. Anywhere in the world. You'll build strong foundations in economics, marketing, sales, finance and management. Lectures and workshops in the various modules aim will provide you with in-depth knowledge and experience working in a global team. You'll get to put knowledge into action during a semester-long internship at an international company. 
Admission requirements
Required qualification

Vooropleiding
Vereiste profiel
Havo (senior general secondary education)
Does not qualify for admission 
Vwo (pre-university education)

Culture & Society 
Economics & Society 
Nature & Health 
Nature & Technology 

Mbo (senior secondary vocational education and training)
Does not qualify for admission 

This programme also offers a 4-year track 
If you have an academic background comparable to the Dutch HAVO level, you might want to consider enrolling for the 4-year track of this degree programme instead. Check out this website for more information about the 4-year programme. 
Instroomadvies

Engels en wiskunde worden ten zeerste aangeraden voor mbo-studenten. Het best passende profiel voor havo en vwo-leerlingen is Economie & Maatschappij (E&M). 

Als je een niet Nederlandse diploma hebt, klik hier.

Benodigde Engelse taal- en schrijfvaardigheid
Als je geen Nederlandse vooropleiding hebt, zul je in veel gevallen een taaltoets aan moeten leveren. Afhankelijk van het soort diploma en waar het diploma is behaald kan het zijn dat je vrijstelling krijgt. Op onze toelatingseisen-pagina kun je meer informatie vinden.

Je hebt een buitenlands of internationaal diploma
Om toegelaten te worden tot de 3-jarige opleiding International Business heb je een diploma nodig dat vergelijkbaar is met een Nederlands vwo-diploma. Denk aan een internationale Baccalaureate, een Duitse Abitur of 3 Britse A-levels met een C-score of hoger. Ook moet je zowel wiskunde als de Engelse taal goed beheersen. Om je buitenlandse of internationale middelbareschooldiploma te toetsen maken we gebruik van de richtlijnen die Nuffic hanteert.
Decisions regarding your qualification for admission

There are no exceptions to the official admission requirements. The Enrolment Office is the only party that can make decisions regarding your qualification for admission based on official regulations. You can't rely on any other sources of information for your qualification for admission. 
Study choice activities
Join one of our study choice activities to find out if THUAS is the right fit for you.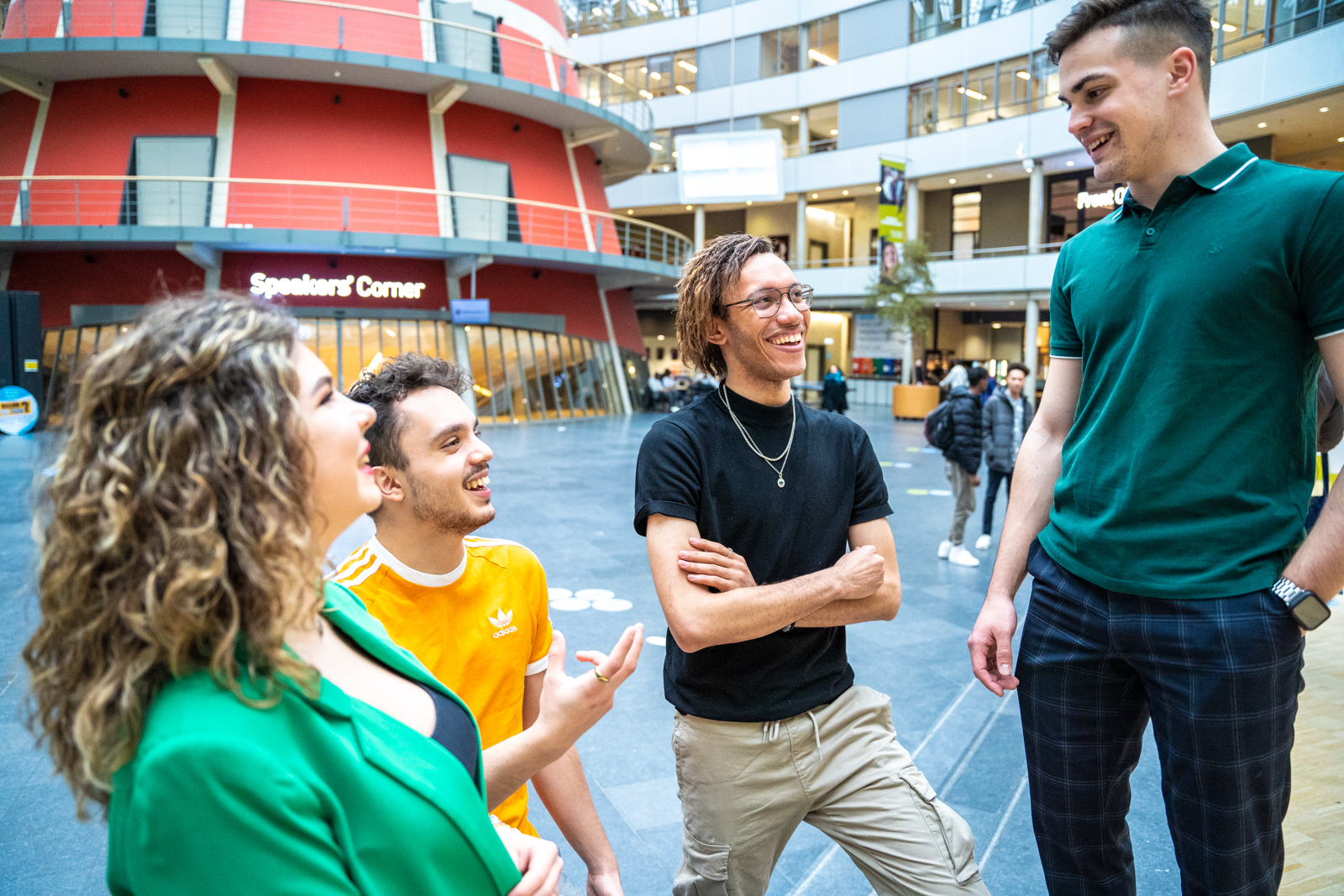 Open Day
Saturday 3 February 2024
Is THUAS right for you? A visit to an Open Day is the perfect way to find out.
Go to Open Day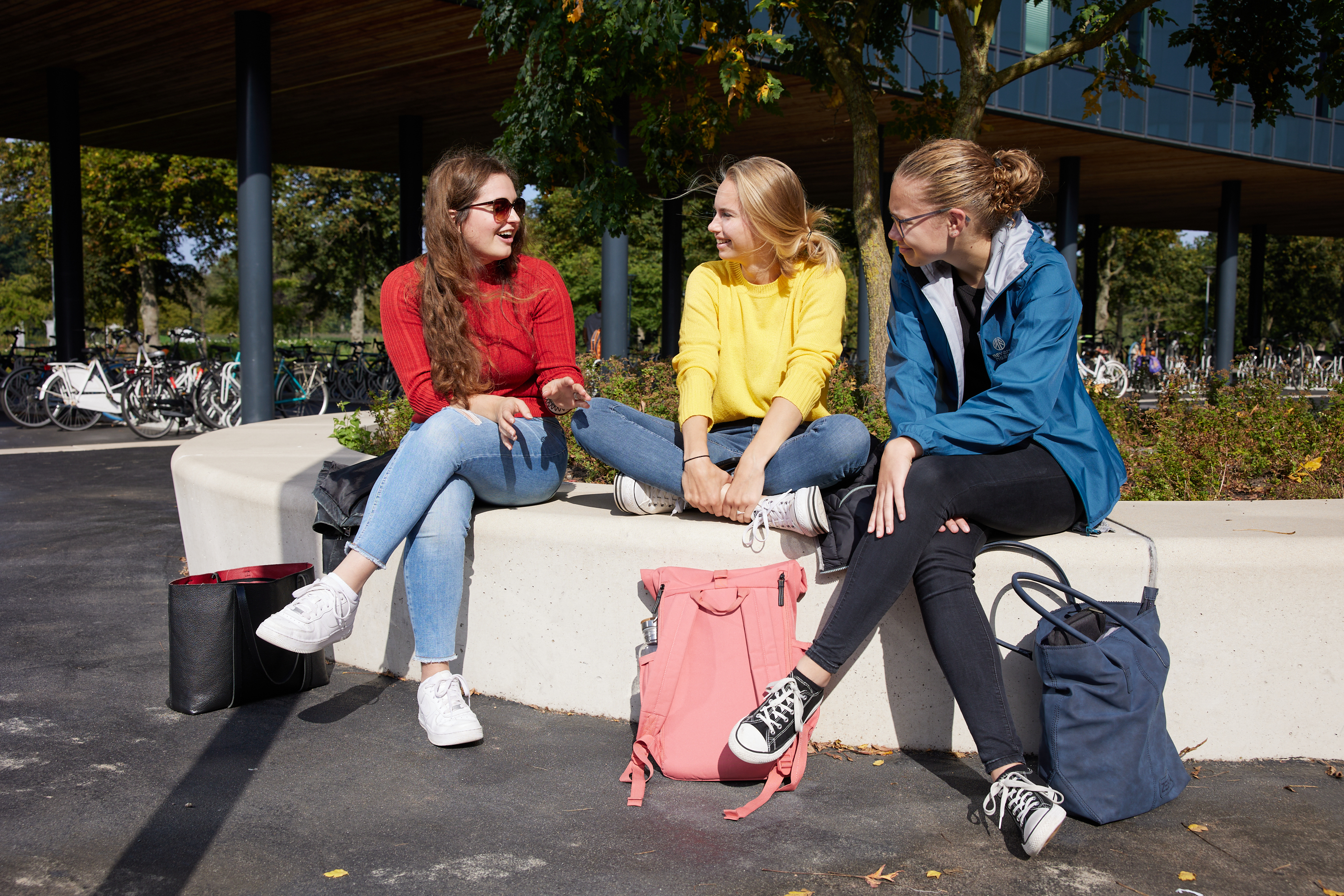 Shadow a student
On request
This is not a custom programme, but a regular school day. Spend the day attending classes together with a student.
Go to Shadow a student
Degree programme in figures
14-18
hours of lectures per week
10
hours of projects per week
10-12
hours of independent study per week
Programme content
What will you study each year?
Testimonials
Who better to tell about the degree programme than our own students? They share their experiences here. Some of them are also ready and waiting to answer any questions you may have.
Career perspective
What will you become?
Investment advisor

Junior financial analyst

Financial consultant

Corporate communications manager

Assistant accountant

Client reporting specialist

Marketing manager

Junior associate

Regional financial analyst
Testimonials from our alumni
What lies in store after studying International Business? Our former students tell us where they ended up and how they look back on their study years.
Practical information
What else do you need to know?
How to apply

Your enrolment request must be submitted through Studielink. Before you do, please check the official name of the programme below. Would you like to find out more about the application process first? Check our page How to apply . The key deadlines are listed here as well. This degree programme starts in September and there is no intake in February. 
Tuition fee

You will have to pay tuition fees when you enrol on a bachelor's programme. You can pay in one or more instalments. If you pay in more than one instalment a small administration fee is charged. 

More information about tuition fees 

Scholarships 

Find out more about scholarships for international students. Please note that these scholarships are one-off scholarships only, meaning that if you obtain them it is only for your first year of study. 

Student finance 

Dutch students qualify for extra financial support via a loan. Dutch students automatically qualify for this financial assistance and international students may be eligible if they have lived in the Netherlands for at least five years or are employed for at least 56 hours per month. 

Additional Costs 

You must also budget for books, excursions and field trips. You can expect to pay approximately €800 per year to cover these additional costs. During your semester abroad, you will also need to pay for tickets, housing and insurance. 

Visa and residence permit 
Help in choosing your study

We would like to help you make the right decision 

It takes a bit of thought and research to find the right programme. The Hague University of Applied Sciences organizes various activities throughout the year to give you the best possible idea of the various studies offered. You also learn what it's like to study at THUAS. This way, you can click on the registration button without a doubt in mind. Or you'll know for certain it's not right for you.   

Walk in at our Study & Career Centre for…  
Assistance during your studies

Mentoring, coaching and advice 
As an IB student you'll be paired with a mentor to support your personal and professional development on and off campus. In year one, your mentor can act as a sounding board and help you settle in as you leave home and get used to an international classroom and the Dutch culture. Later on, mentors can support your academic growth, help you face any challenges and be on hand during semesters abroad and internships.

for more information about student councellors/ student psychologists.
We consider you as a designer from day 1. As a young professional. So we give you a lot of space to research and design independently. But even professionals who operate independently also need sometimes a nudge in the right direction. If you are unable to find a solution, please ask a lecturer or your classmates. Together we learn more. 
During this programme you will receive a study career counsellor. He or she is your coach and sparring partner in determining your study route and in choosing the teaching methods. In the first year you talk to your study career counsellor at least 3 times about you, your studies and the study progress. 
 
For more information about student counsellors/student psychologists, high-performance sports, Dutch language support or studying with a functional disability, go to our page about support during your studies. 
Official details of the programme
Downloads
Binding Study Advice (BSA)

To continue your degree programme after the first year, you need to earn 50 of the 60 credits (EC or Credits). In some cases, the degree programme may also require that you pass a specific subject as European art of the credit requirements. We call this a qualitative requirement. If you meet the credit requirements as well as the qualitative requirement where applicable, you will receive a positive binding study advice (BSA) from the Examination Board at the end of your first year and you will be able to continue your degree programme. 

If you earn less than 50 credits or don't meet the qualitative requirements where applicable, you will receive a negative binding study advice and will have to leave the degree programme. This is why this advice is called a Negative Binding Study Advice (NBSA).  

Your academic progress may be affected by personal circumstances such as illness or the professional practice of a sport. It is important that you inform the Examination Board immediately of any personal circumstances that might apply to you. The Board can take these into account when issuing its study advice. 

Read all the rules for the binding study advice in Chapter 7 of the Programme and Examination Regulations (PER) for your degree programme.