Open Day
Is THUAS right for you? A visit to an Open Day is the perfect way to find out. You will be able to ask all your questions, get help making your study choice if needed, experience the atmosphere and attend presentations.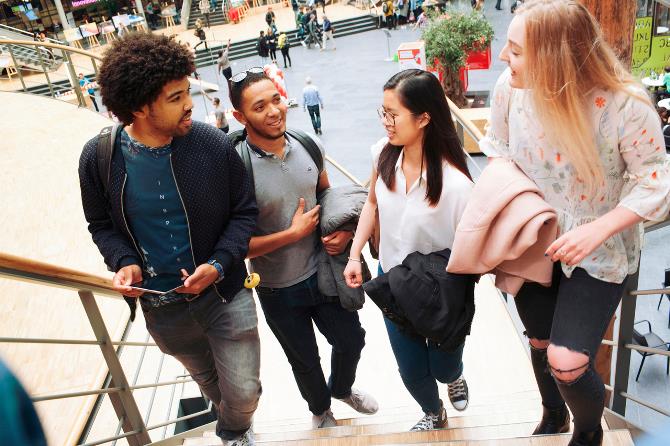 Visit our Open Day
Register for the Open Day
Saturday 4 February 2023
Date? Our next Open Day will take place on Saturday 4 February 2023.
Time? All our campuses will be open from 10 am to 2 pm.
Location? All our international programmes are located at the Main Campus. One exception: if you are interested in the International Sport Management programme, please visit Sportcampus Zuiderpark. If you are coming to Sportcampus Zuiderpark we advise you to come by bike or public transport if possible. Due to other events the number of parking spaces are limited.
Programme? The program folder shows what you can see and do at the Open Day. All English programmes are at the Main Campus except one. If you want to visit International Sport Management, you have to visit the Sports Campus.
Covid-19-measurements? A face mask is not compulsory during the Open Day but of course, you can wear one if you wish. We do ask that you refrain from coming to the Open Day if you have symptoms. See the latest updates surrounding COVID-19. 
Bring someone? Partens, friends, brothers and sisters are welcome to join you to the Open Day. They don't need to register.
What does the Open Day on 4 February offer me? 
Come and experience THUAS
Not sure what you want to study? Complete our Inspiration path on our Innovation Playground on the ground floor. Our study choice advisors are there to you assist you. You can also bring your parents.
Do you already know what you want to study? In that case, check the degree programme presentations in the programme folder (soon available). There are also lecturers and students available who will be happy to answer your questions and talk to you. 
Would you like to explore the university of applied sciences? Take a guided tour with a student. 
Further information that can be found at the main campus: Central Student Enrolment Office, student counsellors, international desk, information on student life and sports facilities.   
What do I need to visit an Open Day?
The Open Day visit is free. 
Your registration. You will receive your QR code via email. 
Routes and addresses for The Hague University of Applied Sciences campuses.  
Visit the online session during our Open Day on 4 February
If you can't attend the Open Day because you're not in The Hague or even in The Netherlands on 4 February. Don't worry! We're hosting a special online session for you from 1 to 2 pm during the Open Day. Register now and find out more about studying at The Hague University of Applied Sciences. 
Register for the online session
'Educating Parents' Session!
We know how important the role of parents is to their children when it comes to them studying abroad. It is a big decision – and not just for them but also for you as their parents. Will they be safe? What about practical issues like finances or accommodation?  What about the country where they will be living?  And many more questions.
With this in mind we would like to extend a warm invitation to participate in a session where you can meet the international recruiters but also parents whose children have studied at The Hague University of Applied Sciences. Next sessions: 28 January 2023 13.00 -14.00 CET.
Register for the Educating Parents session
Other activities
In addition to a visit to the Open Day, you can also learn more about the degree programmes by shadowing a student for a day or participating in a Trial Study Day. Our next Open Day will take place on 31 March 2023.
Shadow a Student Attend a Trial Study Day
Disclaimer: In case the Open Day can't go through due to circumstances, THUAS will offer an alternative online programme.