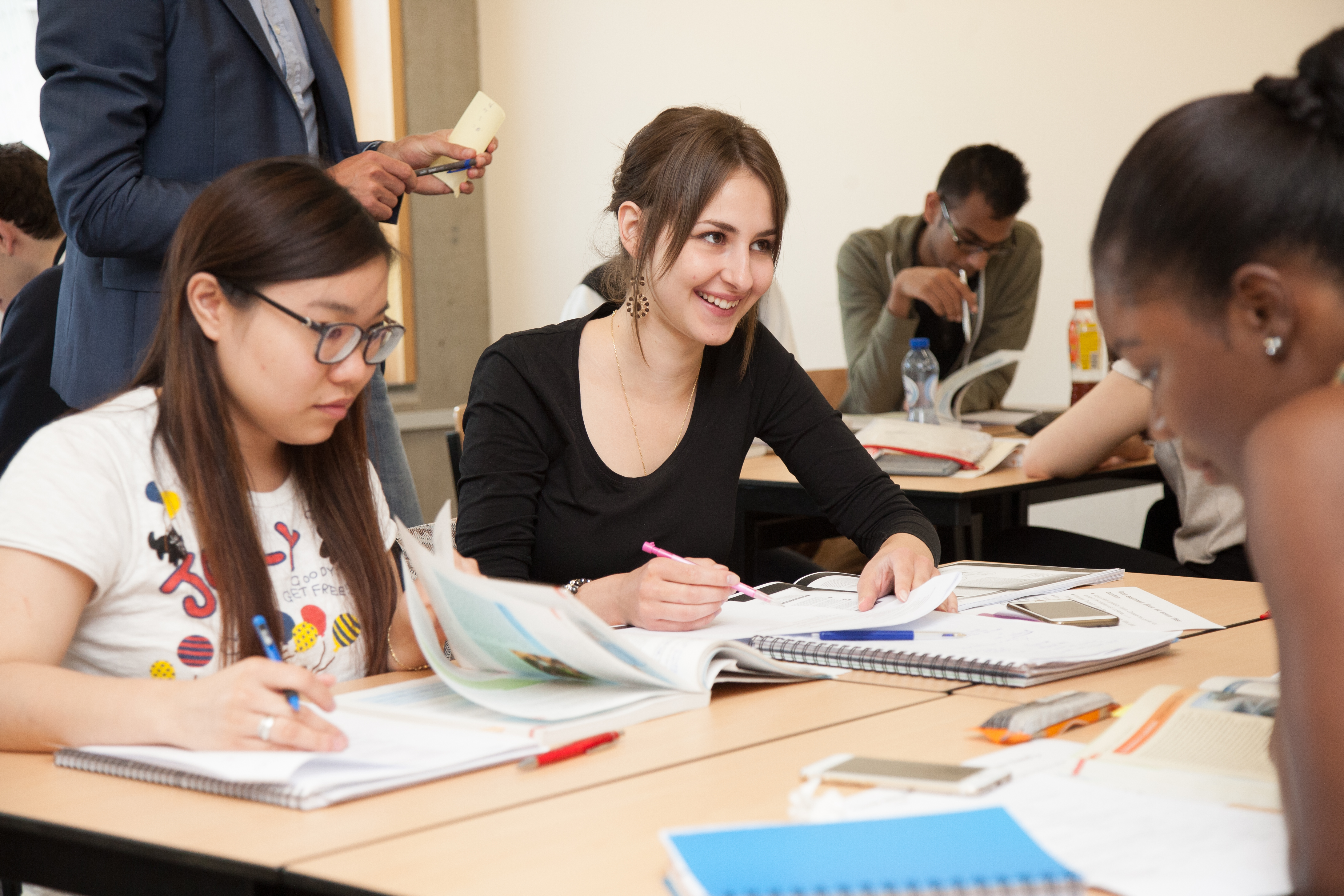 For you?
Global businesses have had to adapt recently to shortages in supply chains, rising energy prices and demands for greener processes and products. Financial planning and risk management are more important than ever before - for any size of business. 
During our hands-on three-year IFMC programme, you'll learn how to assist companies face these challenges. To help seize new opportunities by managing risks and overseeing cash management, working capital and optimal funding needs. You'll learn how to transform numbers into sustainable business growth. To improve our world and see the bigger picture.
Employability
On IFMC we'll get you 'job ready'. You'll get a grounding in all-things finance, skills that will get your 'foot in the door' on graduation. Our professionally-geared programme is packed will real-life business scenarios and skills-based assignments, all taught face-to-face.
Personal approach
Not only will you become highly employable, you'll make new friends and become a valuable member of our IFMC community. You'll be on first name terms with our approachable lecturers who'll share their own international business experiences.
You'll see finance from both entrepreneurial and ethical perspectives and learn all about management and marketing, with the inclusive, practical experience a university of applied sciences offers. But the main focus will be on financial and cost accounting, using economic data to make a difference.
In year one, you'll get a solid foundation in finance and business administration and set up investment plans for regional, national and international companies. You'll get a 'finance-plus' grounding, solving business issues during hands-on group projects. You'll also choose from elective courses, including Entrepreneurship and Data Analytics.
In year two, you'll start your journey as a finance professional on your first internship. You can tap into our network of diverse and reputable industries and start your career path at a medium-sized company, multinational organisation, government institution or NGO - in the Netherlands, or anywhere in the world.
In your final year, we'll prepare you for the three masters degrees in Accounting and Finance, Accounting and Control, and Accounting and Auditing at Erasmus University, Rotterdam and allow you to take the masters in one year. Finally, you'll complete your graduation project during a second internship, making sense of the numbers and applying calculations as you get ready for the real job market.
Admission requirements
You have a Dutch diploma

Vooropleiding
Vereiste profiel
Havo  (senior general secondary education)
Does not qualify for admission
Vwo (pre-university education)

Culture & Society
Economics & Society
Nature & Health
Nature & Technology

Mbo (senior secondary vocational education and training)
Does not qualify for admission

International Financial Management and Control has a four-year and a three-year programme, the latter differing only in its duration and study intensity. To qualify for this three-year programme, you will need the equivalent of a higher level Dutch VWO diploma.

To be eligible for the three-year IFMC bachelor degree programme, you should have a VWO diploma with the appropriate profile.

This programme also offers a 4-year track
If you have an academic background comparable to the Dutch HAVO level, you might want to consider enrolling for the 4-year track of this degree programme instead. Check out this website for more information about the 4-year programme.
The admission procedure

If you meet our admission conditions, you'll be invited to attend an interview. This interview will last 30-45 minutes and will be conducted in English. The aim of the interview is to assess if there is a match between you and the IFMC programme.

Language requirements

If you were not educated in the Netherlands you usually have to submit a language test to be admitted. Depending on the type and country of your diploma you may however qualify for exemption. Please check our entry requirements page for more information.
You have a non-Dutch diploma

To enrol for the IFMC 3 year programme you will need a secondary school diploma comparable to a Dutch VWO diploma and a good command of English.

Before we can decide on your eligibility, we'll need to assess your secondary school certificate.
To make sure your certificate is evaluated fairly, we work with NUFFIC, an organisation that specialises in the assessment of international education qualifications.
Don't meet the entry requirements?

Perhaps your academic background is not quite the right level. Or you need some help improving your English skills. Don't worry. There might be some alternative options to help you get in, and prepare yourself for a successful start of your studies at The Hague University of Applied Sciences (THUAS).

21+ admissions test
If you're 21 years old before 1 September 2022, but don't have a diploma or a qualification that meets the entry requirements, you can take the 21+ Admissions Test. The 21+ Admissions Test is offered at several dates between January and the start of the academic year, and consists of a digital general capacity test. Please note that you can only participate if you have an EEA-nationality or residence permit for the Netherlands that is valid on the test date.

English Academic Preparation Programme
Need help with your English? If you haven't quite reached the right level of English for your chosen Bachelor's or Master's degree programme, you can enrol for English Academic Preparation Programme. After the successful completion of this programme, you'll be ready to start your degree at THUAS and you will already have a good taste of studying and living in the Hague.

The Hague Pathway College
If you'd like to apply for a 3-year bachelor programme but don't meet the academic entry requirements, you might be interested in joining The Hague Pathway College. This foundation programme has two intakes, one in September and one in January. It offers you the chance to bring your academic level up to the required level and work on your English at an academic level at the same time.Please check www.thehaguepathway.nl for more information
Decisions regarding your qualification for admission

There are no exceptions to the official admission requirements. The Enrolment Office is the only party that can make decisions regarding your qualification for admission based on official regulations. You can't rely on any other sources of information for your qualification for admission.
Study choice activities
Join one of our study choice activities to find out if THUAS is the right fit for you.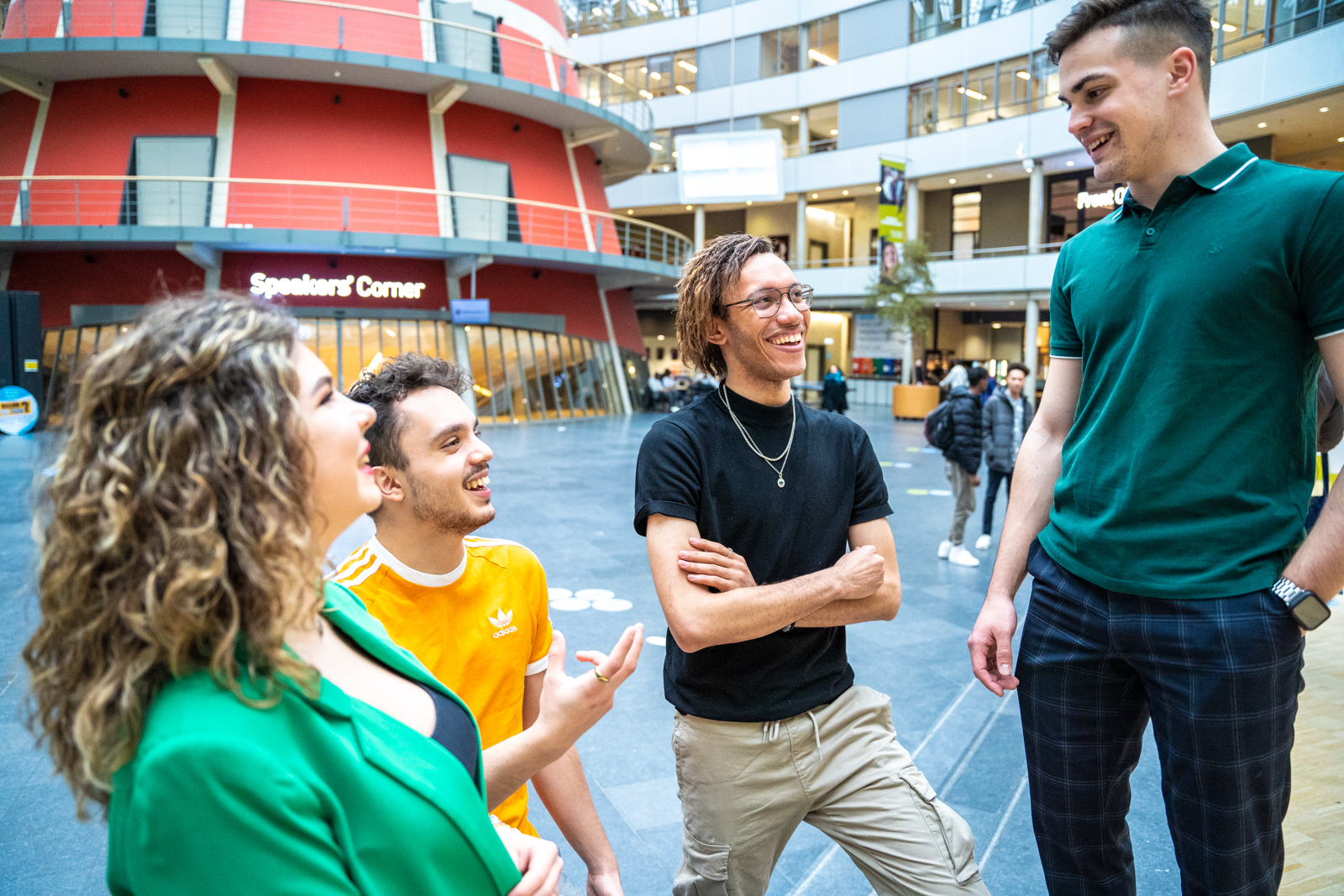 Open Day
Is THUAS right for you? A visit to an Open Day is the perfect way to find out.
Go to Open Day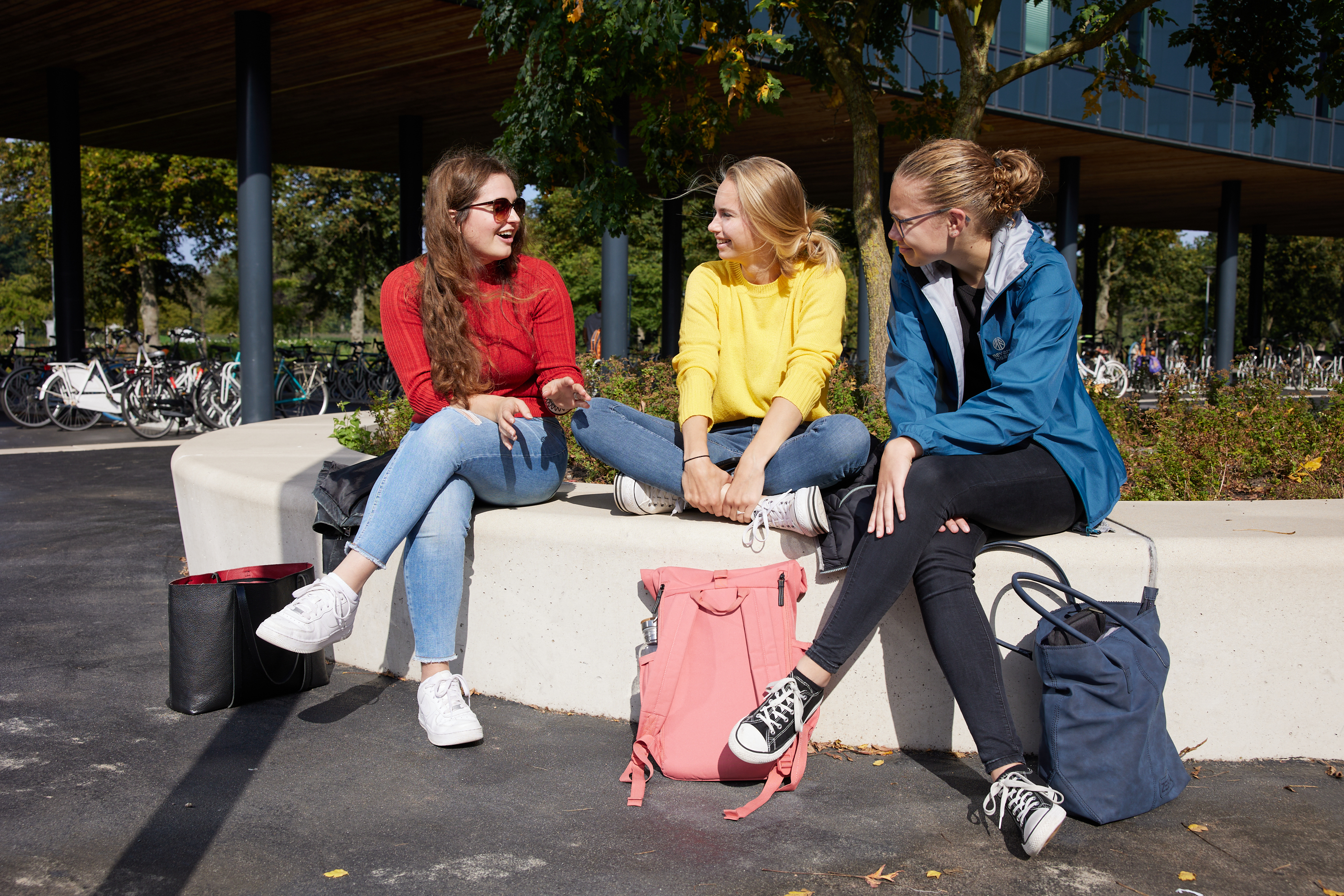 Shadow a student
On request
This is not a custom programme, but a regular school day. Spend the day attending classes together with a student.
Go to Shadow a student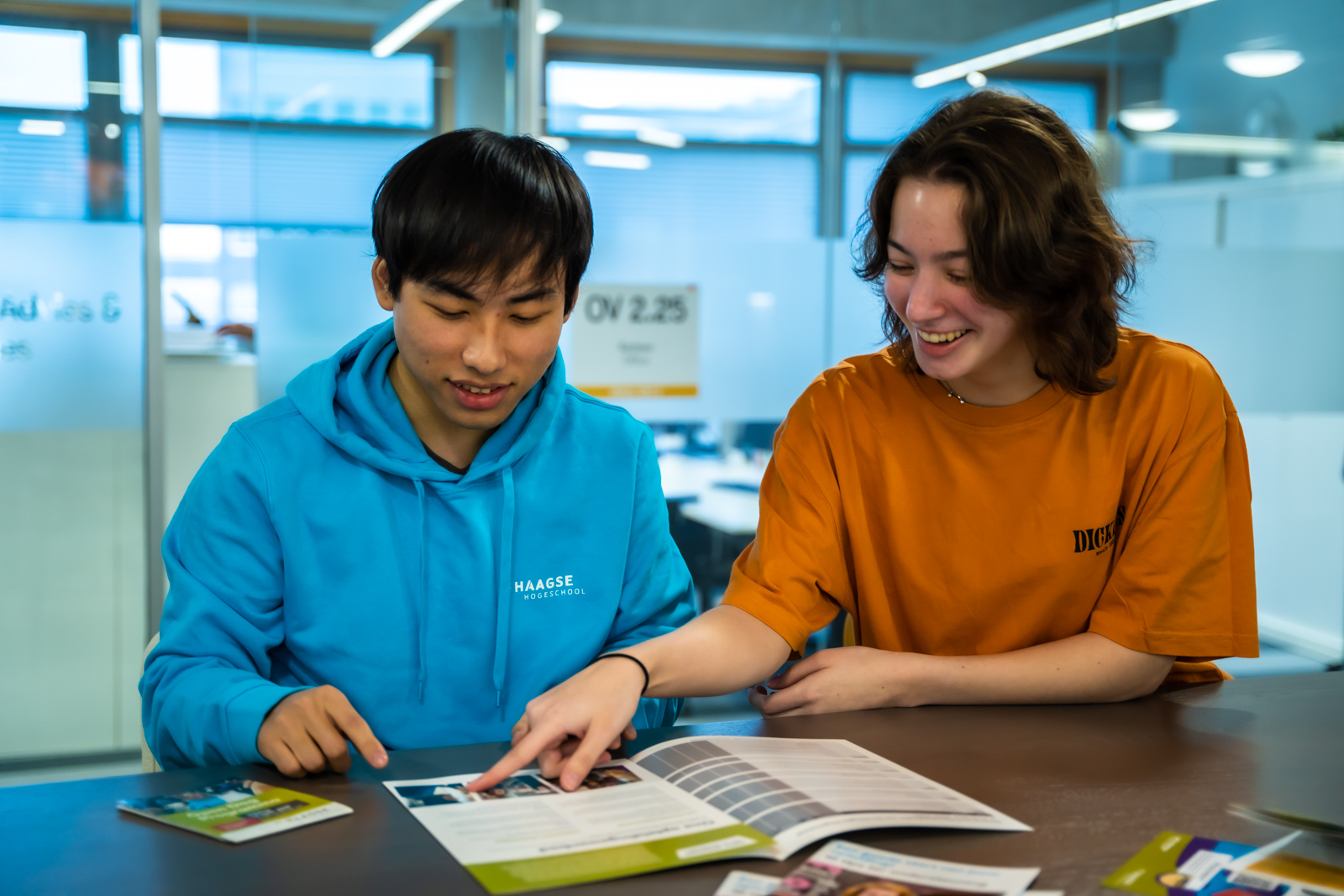 Trial Study Days
2023 - 2024
Visit us during the Trial Study Days and experience our programmes yourself. Spend the day attending classes together with a student.
Go to Trial Study Days
Degree programme in figures
20
hours of lectures per week
20
hours of self-study per week, including project work
60
study credits in year one
Degree programme content
What will you study each year?
Working methods

 Lectures, seminars, study visits, self-study, group activities and project work

You'll get to know IFMC lecturers from as far as Greece, Italy, Nigeria and the USA and hear from guest lecturers from global businesses. We look forward to getting to know you in person. Our doors are always open. You'll gain the hands-on experience of a university of applied sciences and leave enriched with communication, analytical, cultural, teamwork and research skills. That's what makes IFMC stand out from programmes at research universities. You'll have that edge in the job market with essential IT skills in your toolkit. For example, in year one you'll master spreadsheets with Microsoft Excel. In year two you'll learn how create dashboards with Power BI to look at KPIs and the wider picture at organisations.
At work

You'll be ready to make your mark in the professional world - not just accounting. You'll impact the day-to-day business of an organisation - interpreting numbers, giving sound advice on management and process improvement and implementing your dashboard building skills. But we also work as team players on a level playing field, valuing each other's opinions.
Minors

Shape your degree

In the first semester of year two, you can choose a minor at THUAS or another international university and get a head start as a business controller or groundbreaking finance professional.

Learn how to help companies prepare for potential risks by putting contingency plans in place in our Risk Management minor. We'll equip you with tools to help an organisation meet its long term goals with minimal risks.

Become invaluable to managers in our Controlling minor and find out how to oversee an organisation and stay on track with the right strategy.

Other minors in trending business topics will help you stand out in the job market. Our popular Blockchain minor will give you invaluable knowledge about this revolutionary technical innovation and how to use it.

You'll focus on multiple value creation in the Circular Business minor, which prepares you to become aware of the bigger picture. Or get ready to help businesses deal with 'big data' on the Data Science for Business Improvement minor.
Testimonials
Who better to tell about the degree programme than our own students? They share their experiences here. Some of them are also ready and waiting to answer any questions you may have.
Career perspective
What you will become
Business controller

Financial controller

Investment advisor

Financial analyst

Financial consultant

Risk manager

Group treasurer

Assistant accountant
What you won't become
Accountant (not yet)

Stockbroker
At work
Next steps
You'll be ready to make your mark in the professional world - not just accounting. You'll impact the day-to-day business of an organisation - interpreting numbers, giving sound advice on management and process improvement and implementing your dashboard building skills. But we also work as team players on a level playing field, valuing each other's opinions.
Continue studying
We do offer courses in accounting, but you'll need a masters in accounting after your bachelors to become a certified accountant. There are several options at other universities, in the Netherlands and internationally. The IFMC three-year programme has an integrated pre-masters programme. On completion, you can take the masters subjects in accounting, finance, accounting and control at Rotterdam's Erasmus School of Economics. This qualification can kick-start your career to a high-flying CFO position.
Practical information
What else do you need to know?
How to apply

Your enrolment request must be submitted through Studielink. Before you do, please check the official name of the programme below. Would you like to find out more about the application process first? Check our page How to apply . The key deadlines are listed here as well. This degree programme starts in September and there is no intake in February. 
Tuition fee

You will have to pay tuition fees when you enrol on a bachelor's programme. You can pay in one or more instalments. If you pay in more than one instalment a small administration fee is charged. 

More information about tuition fees 

Scholarships 

Find out more about scholarships for international students. Please note that these scholarships are one-off scholarships only, meaning that if you obtain them it is only for your first year of study. 

Student finance 

Dutch students qualify for extra financial support via a loan. Dutch students automatically qualify for this financial assistance and international students may be eligible if they have lived in the Netherlands for at least five years or are employed for at least 56 hours per month. 

Additional Costs 

You must also budget for books, excursions and field trips. You can expect to pay approximately €800 per year to cover these additional costs. During your semester abroad, you will also need to pay for tickets, housing and insurance. 

Visa and residence permit 
Help in choosing your study

We would like to help you make the right decision 

It takes a bit of thought and research to find the right programme. The Hague University of Applied Sciences organizes various activities throughout the year to give you the best possible idea of the various studies offered. You also learn what it's like to study at THUAS. This way, you can click on the registration button without a doubt in mind. Or you'll know for certain it's not right for you.   

Walk in at our Study & Career Centre for…  
Assistance during your studies

Study coaching and advice

We assume your time at IFMC will run smoothly. However, we do offer personal assistance if you are experiencing any problems. You'll be allocated a mentor who can help you keep track of your progress. They can help you improve your time management skills, or find the right people within the programme to answer more complicated questions. They'll also support you if you have any personal problems that can impact your study. For more information about student counsellors/student psychologists, high-performance sports, Dutch language support or studying with a functional disability, go to our page about support during your studies.
Official details of the programme
Downloads
Binding Study Advice (BSA)

To continue your degree programme after the first year, you need to earn 50 of the 60 credits (ECTS). Some degree programmes also set other requirements to pass onto the second year of the course. This could, for example, be a specific subject that you must pass and that counts towards the 50 credits. We call this a qualitative requirement. If you meet the credit requirements as well as the qualitative requirement where applicable, you will receive a positive binding study advice (BSA) from the Examination Board at the end of your first year.  

If you earn less than 50 credits and do not meet the qualitative requirements where applicable, you will receive a binding negative study advice and will have to leave the degree programme. This is why this advice is called a Binding Negative Study Advice (NBSA). 

Your academic progress may be affected by personal circumstances such as illness or the professional practice of a sport. It is important that you inform the Examination Board immediately of any personal circumstances that might apply to you. The Board can take these into account when issuing its study advice. 

Read all the rules for the binding study advice in Chapter 7 of the Programme- and Examination Regulations (PER) for your degree programme.