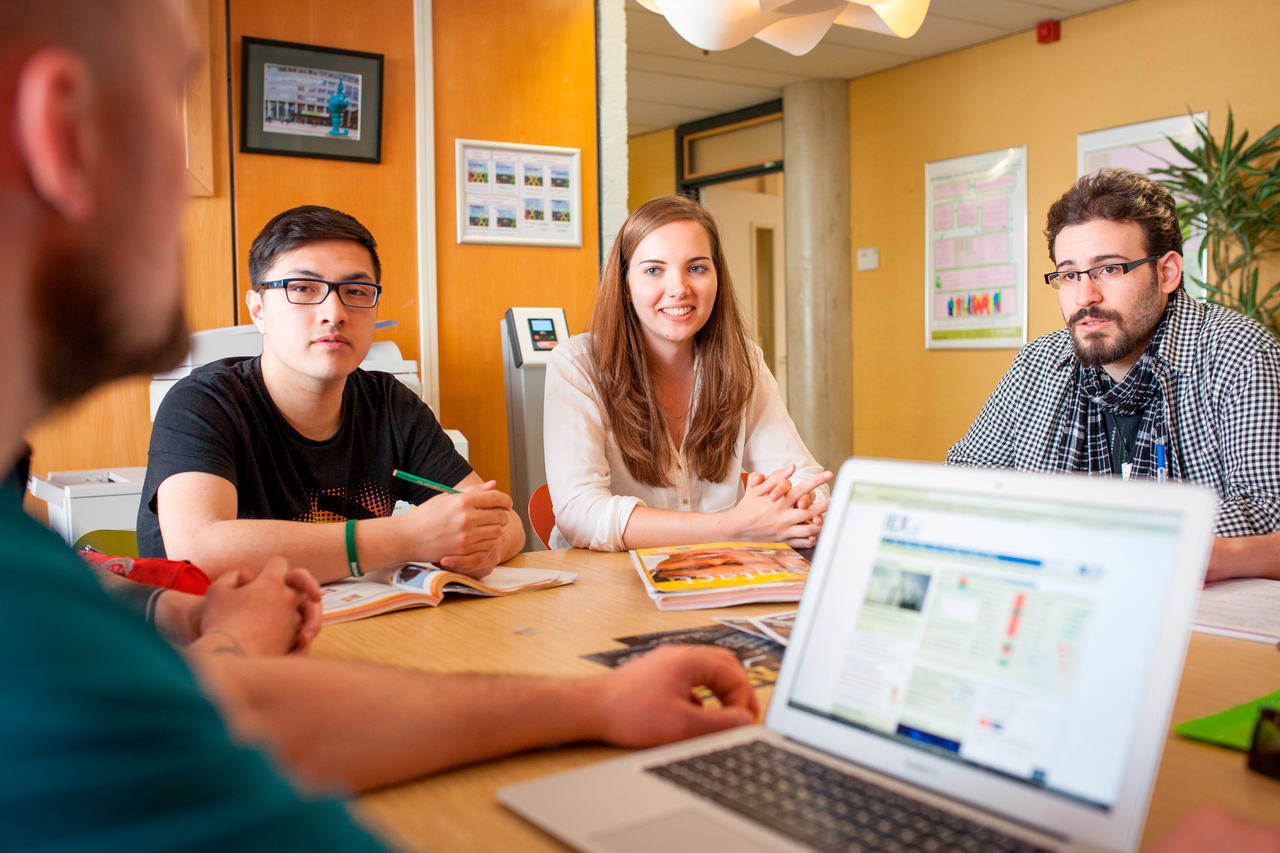 For you?
How do international corporations, banks, UN bodies and multinationals make profits? How can an organization contribute to a truly global community? By taking the International Business (IB) degree you can make a difference to the world and earn a living.
We call it business + impact. Break new ground in international business management in a classroom where fellow students and lecturers come from 40+ countries. Tap into our industry contacts who'll prepare you to step into high-flying business management and consultant jobs as a 'manager of change'. 
The IB programme will prepare you for a successful international business career. Anywhere in the world. You'll build strong foundations in economics, marketing, sales, finance and management. Lectures and workshops in the various modules aim will provide you with in-depth knowledge and experience working in a global team. You'll get to put knowledge into action during a semester-long internship at an international company. 
Admission requirements
You have a Dutch diploma

Vooropleiding
Vereiste profiel
Havo (senior general secondary education)

Culture & Society (Economics or Management & Organisation or Mathematics A or Mathematics B) 
Economics & Society 
Nature & Health 
Nature & Technology 

Vwo (pre-university education)

Culture & Society 
Economics & Society 
Nature & Health 
Nature & Technology 

Mbo (senior secondary vocational education and training)
Level 4, middle management or specialised secondary education programme 
You have a non-Dutch diploma

To enrol for the IB 4 year programme you will need a secondary school diploma comparable to a Dutch HAVO, VWO or MBO (level 4) diploma and a good command of English. Also, you need to have passed your exam in mathematics or economics or business studies. 
 
Before we can decide on your eligibility, we'll need to assess your secondary school certificate.  
To make sure your certificate is evaluated fairly, we work with NUFFIC, an organisation that specialises in the assessment of international education qualifications. 

Entrance advice 
English and mathematics are strongly recommended for MBO students. The most suitable profile for either HAVO and VWO is E&M. 

Language requirements  
If you were not educated in the Netherlands you usually have to submit a language test to be admitted. Depending on the type and country of your diploma you may however qualify for exemption. Please check our entry requirements page for more information.
Don't meet the entry requirements?

Perhaps your academic background is not quite the right level. Or you need some help improving your English skills. Don't worry. There might be some alternative options to help you get in, and prepare yourself for a successful start of your studies at The Hague University of Applied Sciences (THUAS). 
 
21+ admissions test 
If you're 21 years old before 1 September 2022, but don't have a diploma or a qualification that meets the entry requirements, you can take the 21+ Admissions Test. The 21+ Admissions Test is offered at several dates between January and the start of the academic year, and consists of a digital general capacity test. Please note that you can only participate if you have an EEA-nationality or residence permit for the Netherlands that is valid on the test date. 
 
English Academic Preparation Programme 
Need help with your English? If you haven't quite reached the right level of English for your chosen Bachelor's or Master's degree programme, you can enrol for English Academic Preparation Programme. After the successful completion of this programme, you'll be ready to start your degree at THUAS and you will already have a good taste of studying and living in the Hague. 
Decisions regarding your qualification for admission

There are no exceptions to the official admission requirements. The Enrolment Office is the only party that can make decisions regarding your qualification for admission based on official regulations. You can't rely on any other sources of information for your qualification for admission. 
Degree programme in figures
20-24
hours of lectures per week
10
hours of projects per week
20
hours of independent study per week
Study choice activities
Join one of our study choice activities to find out if THUAS is the right fit for you.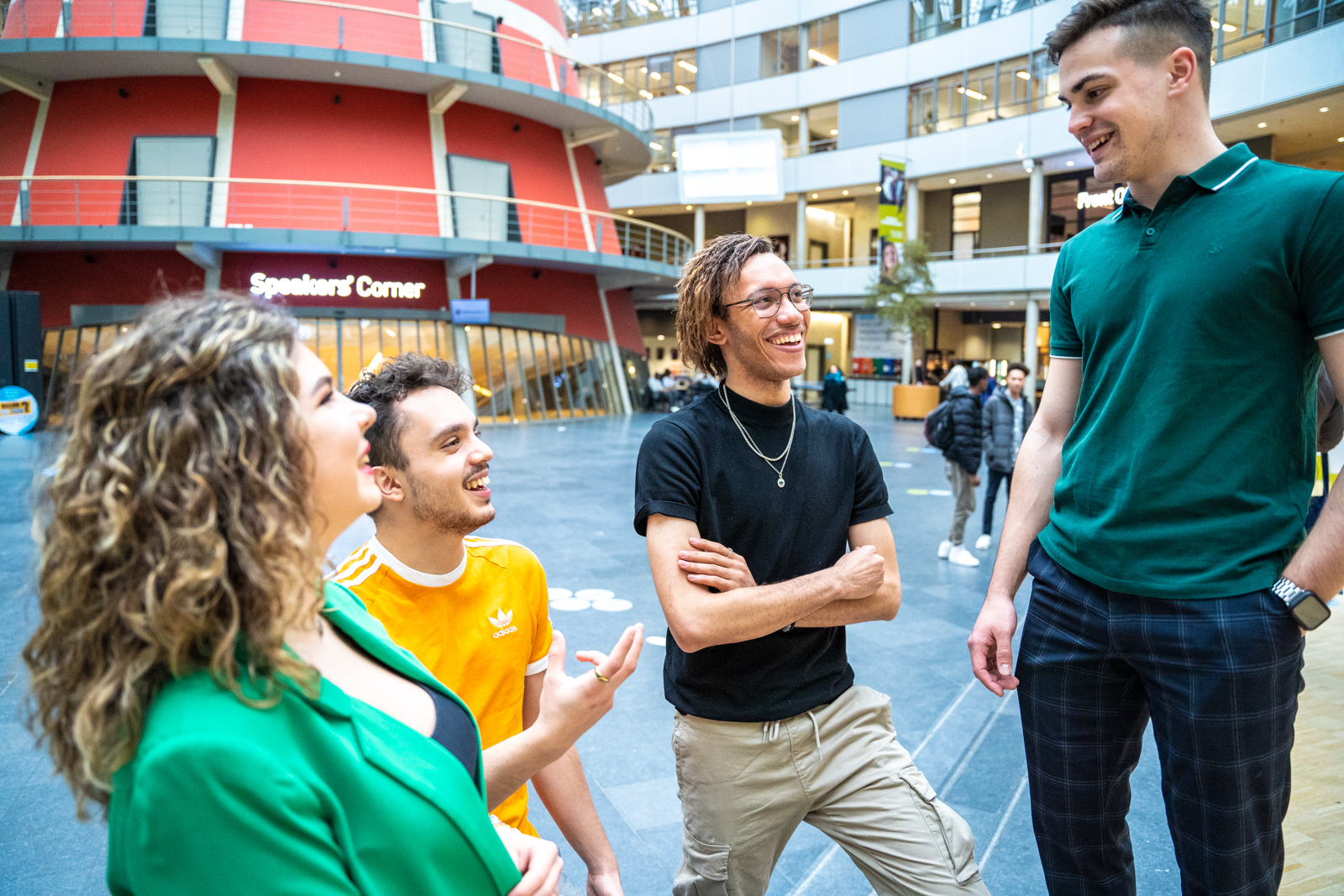 Open Day
Is THUAS right for you? A visit to an Open Day is the perfect way to find out.
Go to Open Day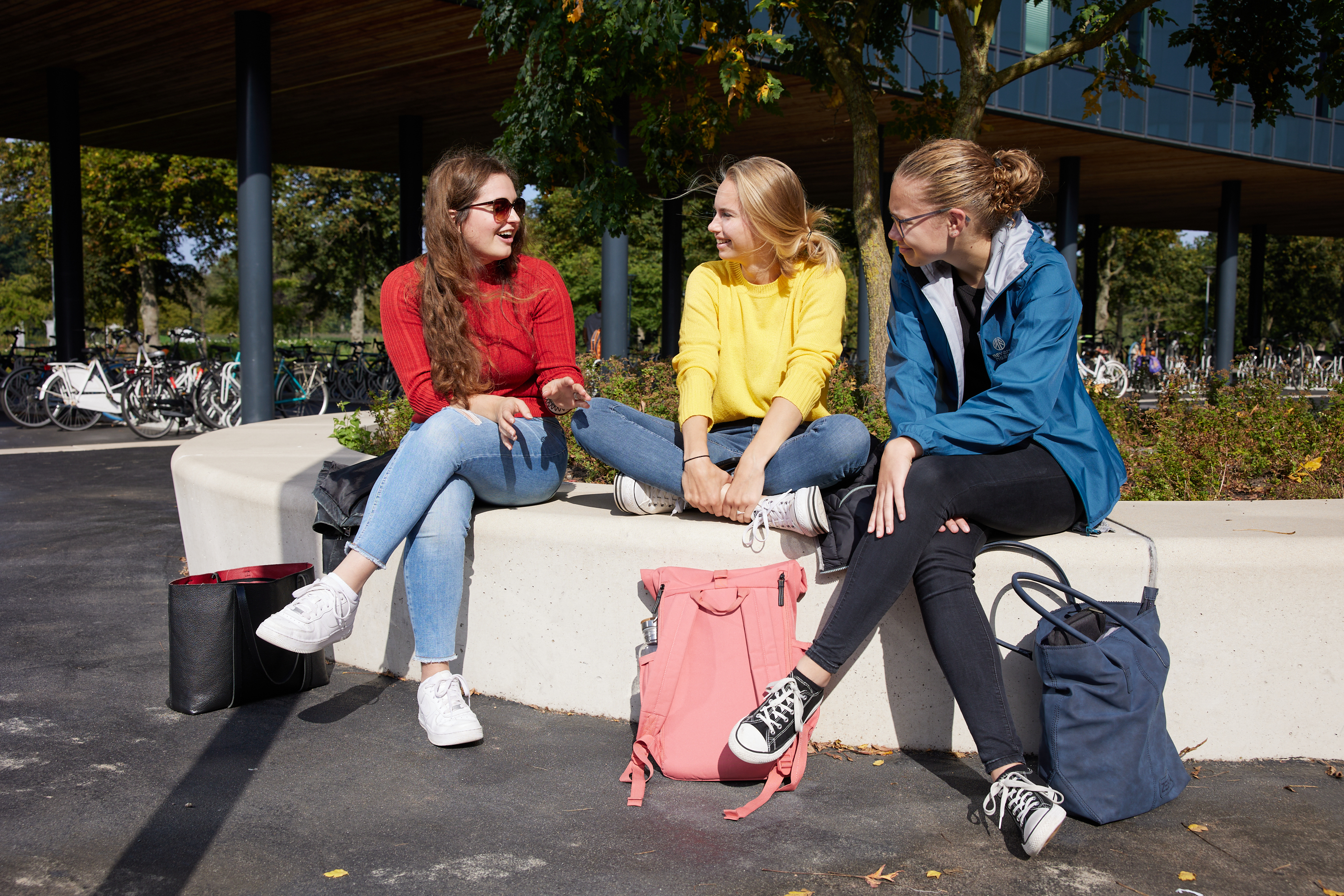 Shadow a student
On request
This is not a custom programme, but a regular school day. Spend the day attending classes together with a student.
Go to Shadow a student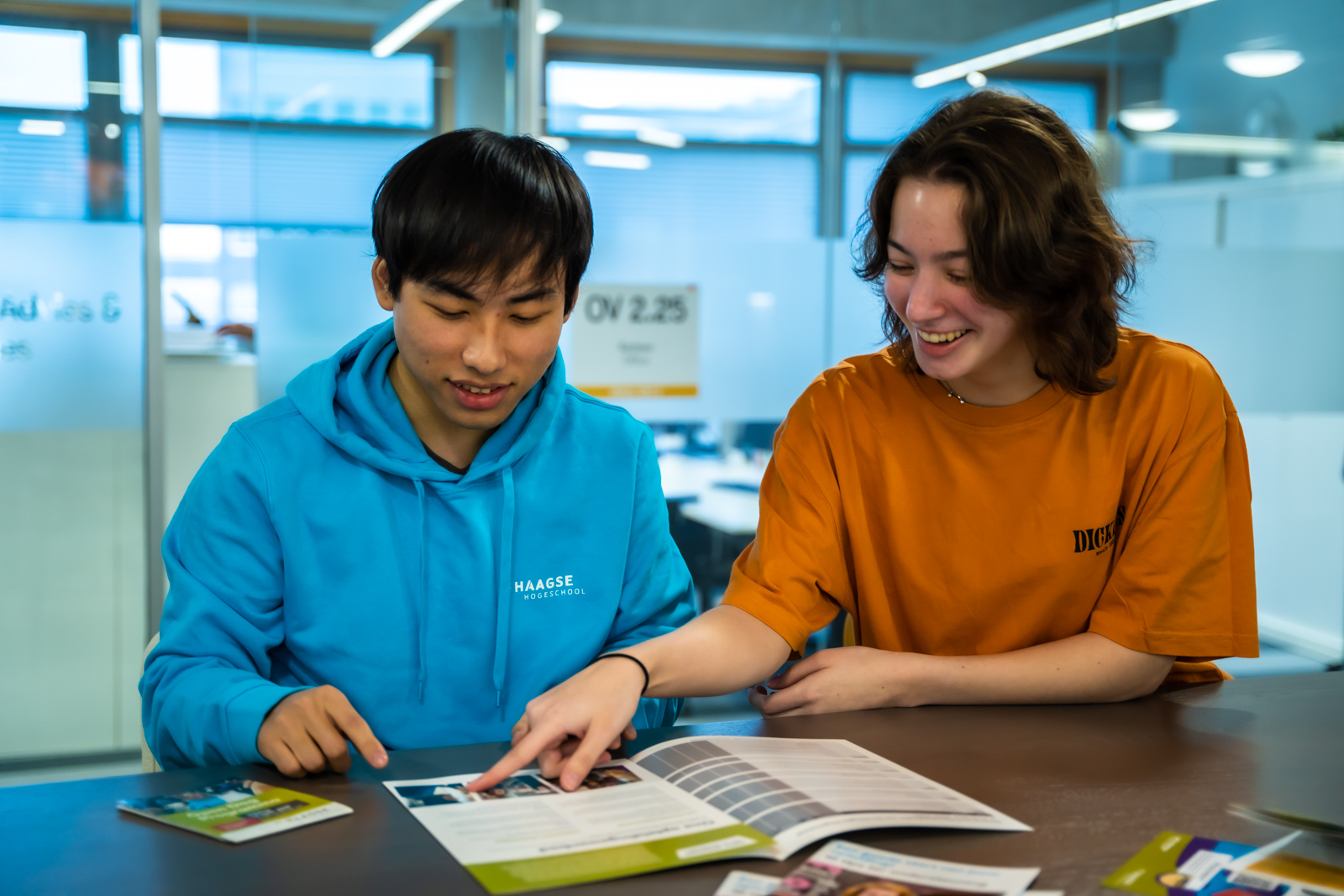 Trial Study Days
2023 - 2024
Visit us during the Trial Study Days and experience our programmes yourself. Spend the day attending classes together with a student.
Go to Trial Study Days
Programme content
What will you study each year?
Study abroad

Through the IB exchange program students spend a semester abroad at one of our 170 partner universities. This experience allows them to interact with an as yet unfamiliar culture and context. They not only acquire knowledge and expertise that the partner university specializes in, but also immerse themselves in the new country and culture. To get the most out of the experience, they can rely on the awareness and understanding gained during modules on intercultural proficiency and personal and professional development.   

To read about some of our student experiences during their time on exchange please visit the links below: 

Lotte spent her semester of Exchange in Peru and has shared her experience here. 

  To which countries can you go on exchange?

Aruba 
Austria 
Belgium 
Brazil 
Bulgaria 
Canada 
Chile 
China 
Colombia 
Croatia 
Curacao 
Czech Republic  
Denmark 
Ecuador 
Finland 
France 
France 
Georgia 
Germany 
Germany 
India 
Indonesia 
Italy            
Japan               
Latvia 
Lithuania 
Malaysia 
Mexico 
Norway 
Peru 
Poland 
Portugal 
Slovakia 
South Korea 
Spain 
Sweden  
Switzerland
Taiwan 
Thailand 
Turkey 
United Kingdom 
United States 
Vietnam 

 

--------------------------------------------------------------------------------------------------------------------- 
For a comprehensive list of our current exchange partners please visit the following link.  
Internships

Students at IB THUAS complete their journey through the curriculum by applying what they have learned in the real world. The internship is an opportunity to taste professional life in the student's area of specialisation, even before graduating. During their internship students work with international organizations, engaging in the management of people and processes. Every student's internship is overseen by an in-company supervisor as well as a supervisor from the IB program. Together these supervisors ensure the internship is a fruitful and constructive combination of experiential learning and exposure to industry.   

Internship partners 

Student numbers 

Average number of internships per year: 200 

Government (Dutch / Foreign): 1.5% of total 
Logistics : 7% of total 
Banking / Finance / Leasing / Insurance: 13% of total 
Hospitality : 6% of total 

Auto : 6% of total 
Professional Services (B2B): 14% of total 
CPG / Retail : 16% of total 
Industrial (all sectors) : 11% of total 
Telecom / IT / Electronics : 11% of total 

Engineering (all sectors) : 9% of total 
Oil & Gas : >1% of total 
Health / Pharma : 2% of total 
Agriculture : 1.5% of total 
Real Estate : 1.5% of total 
Testimonials
Who better to tell about the degree programme than our own students? They share their experiences here. Some of them are also ready and waiting to answer any questions you may have.
Michelle Groenendijk
Get in touch with Michelle
Karlijn Damen
Ask Karlijn any questions you have about the degree programme
Olsin Horkin
Mail your question to Olsin
Erinelde Viana Neri
Get in touch with Erinelde
Thanh Tran Trung
Ask Miro any questions you have about the degree programme
Jack Monoghan
On real life projects
Ruxandra Năstase
On feeling at home
Raun Hogenkamp
On cultural collaboration
Career perspective
What will you become?
Investment advisor
Junior financial analyst
Financial consultant
Client reporting specialist
Marketing manager
Junior associate
Assistant accountant
Corporate communications manager
Regional financial analyst
Continue studying
There's no need to stop your studies after graduation. The Hague Graduate School offers a few post graduate courses that complement the IB curriculum, such as its Master of Business Administration (MBA), Master of Financial Management and Control and Master in International Communication Management. 
After graduation  
We offer courses in accounting, but you'll need a master in accounting after your bachelor to become a certified accountant. There are several options at other universities, both in and outside the Netherlands. 
Specializations and Prospects
Our students are offered four specializations to choose from. Having gained expertise in one of these, our graduates often become generalists with a wide range of duties in small and medium-sized companies. In larger, internationally operating companies or multinationals, they often have a more specialist role; listed below are examples of roles in the different functional areas that our graduates help fulfil. 
Testimonials from our alumni
What lies in store after studying International Business? Our former students tell us where they ended up and how they look back on their study years.
Razvan Tataru
On adding value
Daniel Amador Torra
On specialising
Practical information
What else do you need to know?
How to apply

Your enrolment request must be submitted through Studielink. Before you do, please check the official name of the programme below. Would you like to find out more about the application process first? Check our page How to apply The key deadlines are listed here as well. The key deadlines are listed here as well. This degree programme starts in September and there is no intake in February. 
Tuition fee

You will have to pay tuition fees when you enrol on a bachelor's programme. You can pay in one or more instalments. If you pay in more than one instalment a small administration fee is charged. 

More information about tuition fees 

Scholarships 

Find out more about scholarships for international students. Please note that these scholarships are one-off scholarships only, meaning that if you obtain them it is only for your first year of study. 

Student finance 

Dutch students qualify for extra financial support via a loan. Dutch students automatically qualify for this financial assistance and international students may be eligible if they have lived in the Netherlands for at least five years or are employed for at least 56 hours per month. 

Additional Costs 

You must also budget for books, excursions and field trips. You can expect to pay approximately €800 per year to cover these additional costs. During your semester abroad, you will also need to pay for tickets, housing and insurance. 

Visa and residence permit 
Help in choosing your study

We would like to help you make the right decision 

It takes a bit of thought and research to find the right programme. The Hague University of Applied Sciences organizes various activities throughout the year to give you the best possible idea of the various studies offered. You also learn what it's like to study at THUAS. This way, you can click on the registration button without a doubt in mind. Or you'll know for certain it's not right for you.   

Walk in at our Study & Career Centre for…  
Assistance during your studies

Mentoring, coaching and advice 

 As an IB student you'll be paired with a mentor to support your personal and professional development on and off campus. In year one, your mentor can act as a sounding board and help you settle in as you leave home and get used to an international classroom and the Dutch culture. Later on, mentors can support your academic growth, help you face any challenges and be on hand during semesters abroad and internships.

Study coaching and advice 
We consider you as a designer from day 1. As a young professional. So we give you a lot of space to research and design independently. But even professionals who operate independently also need sometimes a nudge in the right direction. If you are unable to find a solution, please ask a lecturer or your classmates. Together we learn more. 
During this programme you will receive a study career counsellor. He or she is your coach and sparring partner in determining your study route and in choosing the teaching methods. In the first year you talk to your study career counsellor at least 3 times about you, your studies and the study progress. 
 
For more information about student counsellors/student psychologists, high-performance sports, Dutch language support or studying with a functional disability, go to our page about support during your studies. 
Official details of the programme
Downloads
Binding Study Advice (BSA)

To continue your degree programme after the first year, you need to earn 50 of the 60 credits (EC or Credits). In some cases, the degree programme may also require that you pass a specific subject as European art of the credit requirements. We call this a qualitative requirement. If you meet the credit requirements as well as the qualitative requirement where applicable, you will receive a positive binding study advice (BSA) from the Examination Board at the end of your first year and you will be able to continue your degree programme. 

If you earn less than 50 credits or don't meet the qualitative requirements where applicable, you will receive a negative binding study advice and will have to leave the degree programme. This is why this advice is called a Negative Binding Study Advice (NBSA).  

Your academic progress may be affected by personal circumstances such as illness or the professional practice of a sport. It is important that you inform the Examination Board immediately of any personal circumstances that might apply to you. The Board can take these into account when issuing its study advice. 

Read all the rules for the binding study advice in Chapter 7 of the Programme and Examination Regulations (PER) for your degree programme.