Your start as THUAS-student
On this page you will find important starting information for your studies at The Hague University of Applied Sciences. Keep an eye on the page regularly for new updates!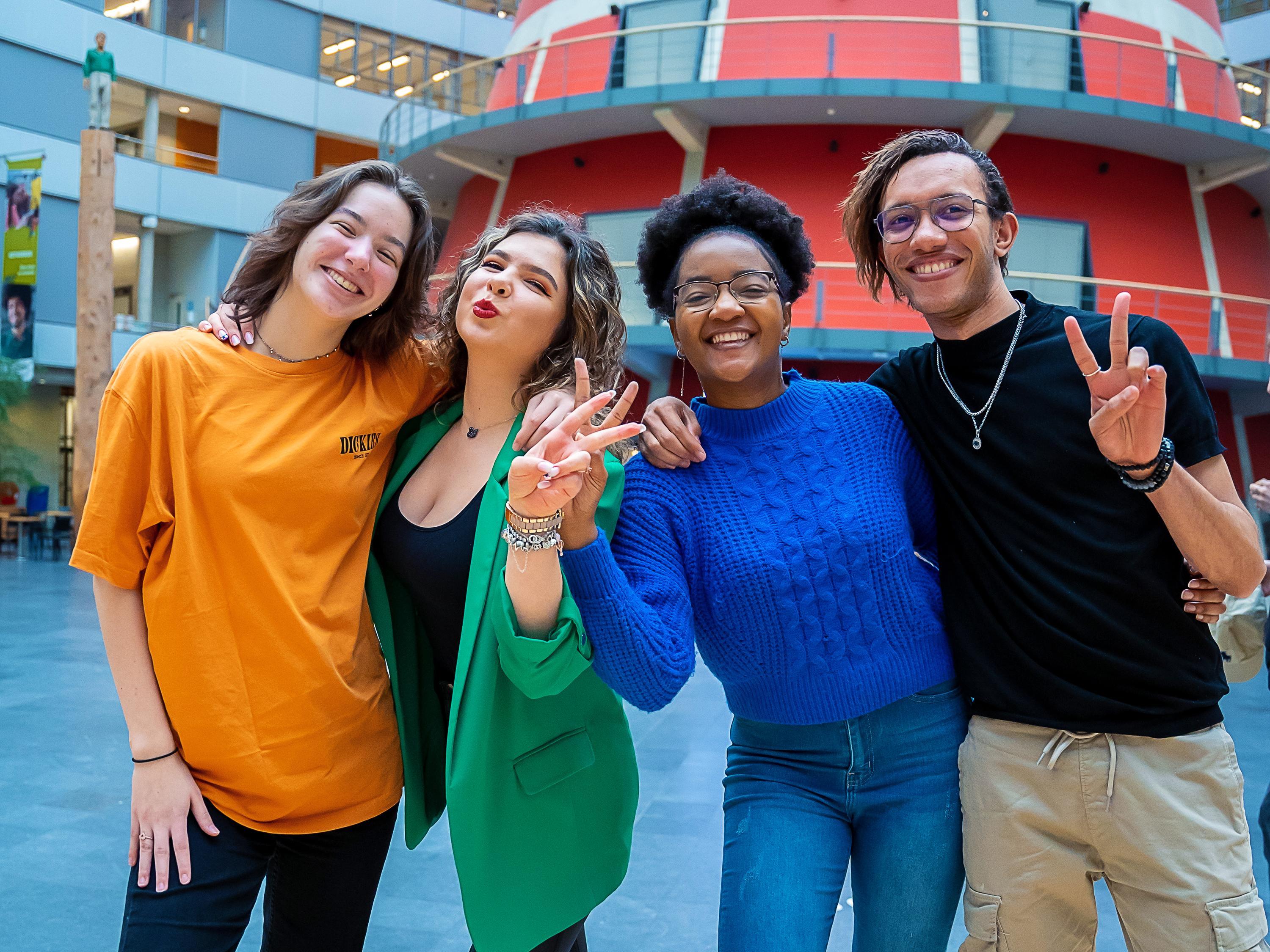 Introduction of your programme
Each degree programme organises it's own introduction. Do you want to know what your degree programme has in store for you? Click on the green button below to view information about your introduction, schedule, and booklist for your program.
THUAS Intro
You are probably curious about the university, your degree programme, your class, fellow students and teachers.  In addition to the introduction of your degree programme, you are very welcome to join the introduction for all students of The Hague University of Applied Sciences: THUAS Intro. Here you will get to know all those new people and hear what the university has to offer you. Curious about what there is to do during THUAS Intro? Check out the program.
Practical information
IT-account THUAS

As a student at The Hague University of Applied Sciences you will receive a THUAS IT account. Shortly after you submit your registration, you will receive your log-in data by e-mail. After you have activated your account, you still need to register your THUAS login information for Multi Factor Authentication (MFA). This is a 2nd authentication method that requires you to successfully complete an additional step to gain access to your account. This requires you to download the Microsoft Authenticator app on your phone and register your account/login information for MFA. Read the manual on how to do that.

Need help? Then contact the Frontoffice Facilities & IT. Your account gives access to all student computers and IT facilities of The Hague University of Applied Sciences. For example: your mailbox, Student portal, Brightspace, Osiris Student and the Student App. If you have forgotten your password, please check this page.
Campus Card

With your Campus Card you can print and photocopy at THUAS. You can also use your card to pay for catering items or to buy products in the coffee/soda/snack vending machines. If you have registered a Dutch residential address in Studielink, you will receive your card in the mail before 1 September. If you have registered a foreign residential address in Studielink, you can pick up your Campus Card by presenting valid ID at the IT Front Office of your THUAS campus. If you have any questions, you can also contact the IT Front Office.

You will find the IT Front Office on the main campus on the first floor in Ovaal 1.69 and at the Sports Campus on the first floor in D1.292.
Accommodation

Still looking for a place to live in The Hague or one of its satellite cities? Please check the information on our housing page.
Rent or buy a cheaper laptop

For your studies, it is important that you have a well-functioning laptop at your disposal with a webcam and microphone. The Hague University of Applied Sciences offers students the opportunity to purchase a laptop cheaper than the retail price through the non-profit organization Surfspot. If you don't have a lot of money to spent, it is also possible to rent a laptop every month. Look for the models and conditions for buying and renting on Surfspot.
Finalizing university enrolment

If you're not enrolled yet, Osiris Student (login using your @student.hhs.nl account) will tell you exactly which steps you have left to take. Once you've done everything, in both Studielink and Osiris Student your application status will switch to enrolled. This will also be confirmed to you via e-mail.

If after checking Osiris Student you're still in doubt as to what you need to do, please feel free to contact the Enrolment Centre. Or have a look at the general information on application and enrolment.

If you have questions about tuition fees, check out this page.
Arrival formalities

If you're an international student, there might be some (immigration) administrative formalities to complete. Please check our Arrival Services page to see how we help you get those things taken care of. Read about the kind of documents you will need to bring with you and other important guidelines relating to arrival formalities and settling in the Netherlands.   
Getting there and getting around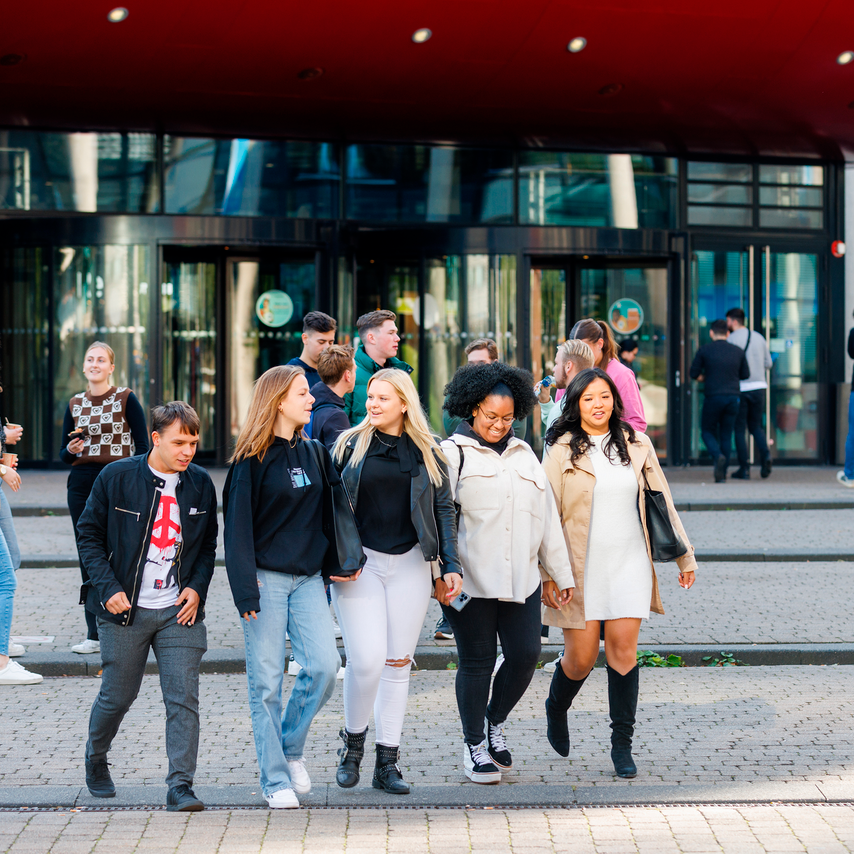 Arriving early?
Warm Welcome Week 
Some of you might be planning to arrive in the Netherlands a little earlier than the start of the semester and the introduction organised by the degree programme you will join.
From Wednesday August 16 till Tuesday August 22 between 11:00 and 15:00 you are very welcome to come to the Innovation Playground to meet with some of the other students that have arrived already. There will be drinks and snacks for you to enjoy while you exchange stories. We also have a number of activities planned for you (no need to sign up beforehand, you can do that on the spot) and we are very happy to answer questions you might have about living in The Hague or practical matters of student life in the Netherlands. The Innovation Playground is located in the Atrium of the main building of THUAS in The Hague.
Introduction in the city
Discover student life!
The Hague
HI The Hague
Can't wait to start your student life in the beautiful city of The Hague? Then join the Hague's city introduction programme: HI The Hague! You can sign up for 1 or of course for all events! Offered to you by the student and association life in The Hague. Would you like to know more about your (new) student city The Hague? Check www.studyinthehague.com/en for everything about studying and living in The Hague. 
Feel the vibe at our campuses!
Curious about what your campus looks like?
Take a virtual tour and go to specific spots within the building.