For you?
Do you want to address global problems such as terrorism, violence and threats, and create a safer society? Then choose the unique English-language degree programme in Safety and Security Management Studies.
Here you will learn critical thinking, analyse and perform under pressure and assess risks. And right in the heart of The Hague, the international city of Peace and Security. 
In 2021, Elsevier Magazine awarded this degree programme a bronze medal. 
Public safety, international security and industrial safety are the three pillars of SSMS. In years two and three, you'll get an insight into contemporary security threats, such as hybrid warfare and transnational crime. As a Safety and Security Manager, you will be on the front line and have access to secret or confidential information. This special position creates a close-knit community among lecturers and students. 
Admission requirements
You have a Dutch diploma

Vooropleiding
Vereiste profiel
Havo (senior general secondary education)

Culture & Society
Economics & Society
Nature & Health
Nature & Technology

Vwo (pre-university education)

Culture & Society
Economics & Society
Nature & Health
Nature & Technology

Mbo (senior secondary vocational education and training)
Level 4, middle management or specialised secondary education programme

To begin the SSMS bachelor's degree programme, you should have a HAVO or VWO diploma with the appropriate profile. For some profiles certain subjects are required. You could also qualify for admission with a MBO (level 4) diploma.
You have a non-Dutch diploma

To enrol for the SSMS 4 year programme you will need a secondary school diploma comparable to a Dutch HAVO, VWO or MBO (level 4) diploma and a good command of English.

Before we can decide on your eligibility, we'll need to assess your secondary school certificate.
To make sure your certificate is evaluated fairly, we work with NUFFIC, an organisation that specialises in the assessment of international education qualifications.

Language requirements

If you were not educated in the Netherlands you usually have to submit a language test to be admitted. Depending on the type and country of your diploma you may however qualify for exemption. Please check our entry requirements page for more information.
Don't meet the entry requirements?

Perhaps your academic background is not quite the right level. Or you need some help improving your English skills. Don't worry. There might be some alternative options to help you get in, and prepare yourself for a successful start of your studies at The Hague University of Applied Sciences (THUAS).

Admissions Test 21+
If you're 21 years old before 1 September 2022, but don't have a diploma or a qualification that meets the entry requirements, you can take the 21+ Admissions Test. The 21+ Admissions Test is offered at several dates between January and the start of the academic year, and consists of a digital general capacity test. Please note that you can only participate if you have an EEA-nationality or residence permit for the Netherlands that is valid on the test date.

English Academic Preparation Programme
Need help with your English? If you haven't quite reached the right level of English for your chosen Bachelor's or Master's degree programme, you can enrol for English Academic Preparation Programme. After the successful completion of this programme, you'll be ready to start your degree at THUAS and you will already have a good taste of studying and living in the Hague.
Decisions regarding your qualification for admission

There are no exceptions to the official admission requirements. The Enrolment Office is the only party that can make decisions regarding your qualification for admission based on official regulations. You can't rely on any other sources of information for your qualification for admission.
Study choice activities
Join one of our study choice activities to find out if THUAS is the right fit for you.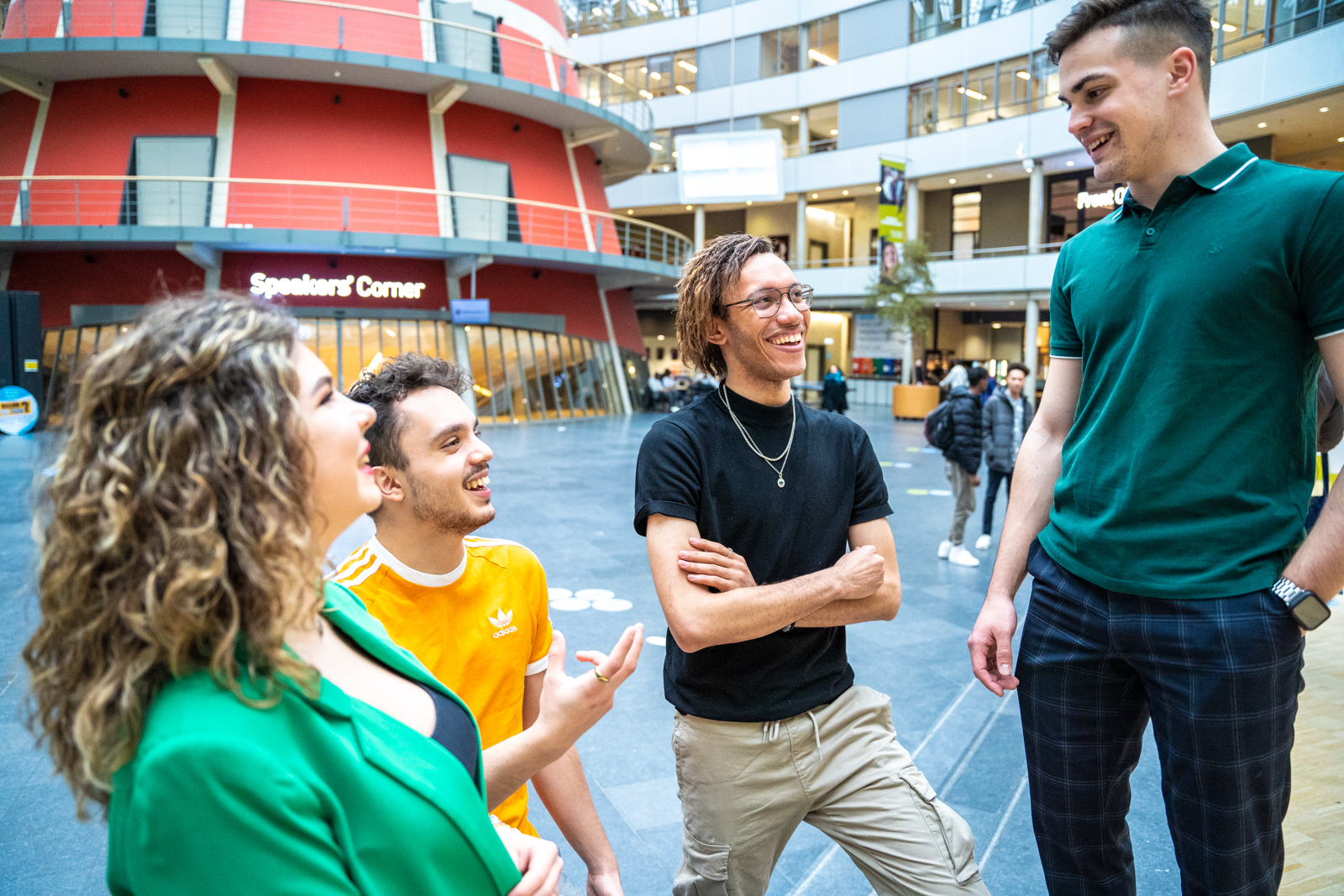 Open Day
Saturday 3 February 2024
Is THUAS right for you? A visit to an Open Day is the perfect way to find out.
Go to Open Day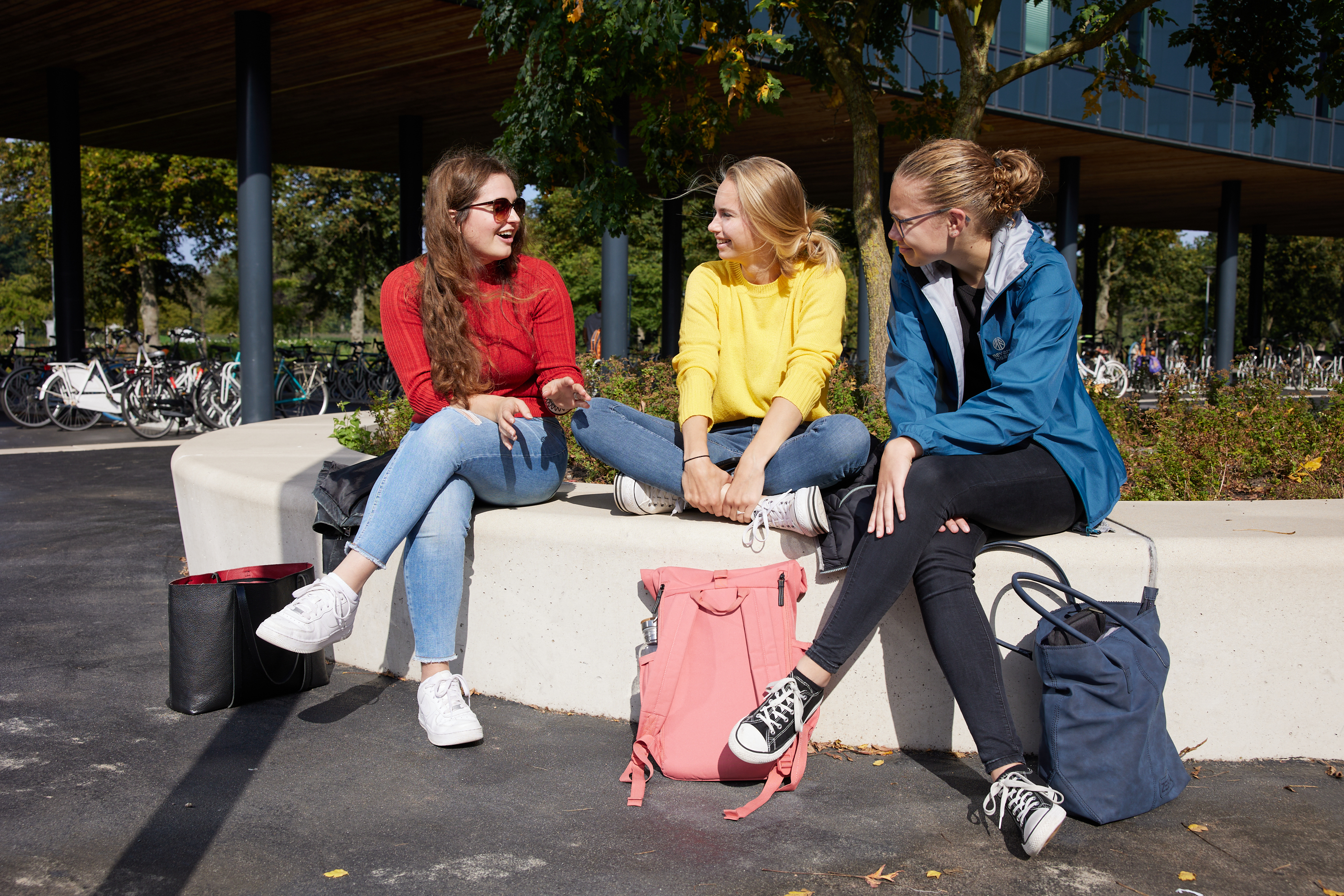 Shadow a student
On request
This is not a custom programme, but a regular school day. Spend the day attending classes together with a student.
Go to Shadow a student
Degree programme in figures
17
hours of lectures per week
36
hours of independent study per week
Degree programme content
What will you do each year?
Working methods

Lectures, seminars, study visits, self-study, group activities and project work

SSMS is the first full-time bachelor programme in Europe to be taught in English. The strong sense of international community in the SSMS classroom will help you understand how different nations deal with safety and security - and where there is room for change.

Guest lectures 

Guest lectures are given by seasoned practitioners with many years of experience in the intelligence community, NATO militaries, or national and international security and law enforcement organisations. And yes, their names and résumés can sometimes be as secretive as the work they do.

Excursions

During excursions in year two and three you'll visit military bases and explore advanced prison systems, where you'll see how the safety and security measures you learned about in year one are applied.

Professional tools

We'll also teach you how to employ important professional practices, concepts and tools like the Roper methodology, the analysis of competing hypotheses (ACH), and the Gemba Walk for industrial sites.
Minors

Shape your degree

During year three, you'll get the chance to specialise as a safety and security management professional in three minors. Choosing a minor gives you the opportunity to broaden your horizons, deepen your skills and fulfil your ambitions. As well as taking minors in the SSMS degree programme, you can follow THUAS minors at other faculties and even other institutions.

Intelligence Collection & Analysis

The minor Intelligence Collection & Analysis reflects the growing demand for intelligence analysts in foreign policy, law enforcement, military affairs, corporate security, and the natural resources and energy market. Students are familiarized with basic techniques of intelligence gathering, such as HUMINT, SIGINT, OSINT, GEOINT, and MASINT. They learn about (corporate) espionage and surveillance, counterintelligence and technologies used for the collection of information. In weekly exercises students practice the analysis of aerial and satellite imagery, use structured analytic techniques (SATs), conduct personnel security screenings, or observe and analyse counterintelligence interview techniques. Exercises are often conducted in cooperation with experienced professionals.

Safety Risk & Safety Compliance

This minor focuses on the management of safety and safety compliance, particularly in high-risk organizations. After completion of the minor, students can assess and manage a wide range of safety issues both from a risk management and compliance perspective. These include particular safety risks associated with high-risk organizations as can be found for example in the chemical industry, manufacturing, offshore activities. The minor starts with an introduction to the variety of safety functions in corporate and public sectors. Students are introduced to the RIE (Risk Inventory and Evaluation) and VGA (safety certification) as applied in the Netherlands and the basic skills to become a trainer. This is followed by several shorter units on a selection of safety topics; Occupational Health, Fire Safety, Dangerous Goods Safety, Process Safety, Personal Safety, Emergency preparedness and response and Business Continuity. Each subject starts with the exploration of the applicable legal framework and underlying technical principles. Subsequently, the knowledge is applied to real-life examples through guest lectures and field trips to companies to understand the safety topics within the context day-to-day operations.

Crime, Safety & Security

After completion of the minor 'Crime, Safety & Security' students acquire a more sophisticated understanding of major contemporary debates in criminology with reference to transnational organised crime, drug trafficking, human trafficking, crimmigration, cybercrime, corporate crime, safety crimes, environmental crime, plural policing, restorative and criminal justice and learn how to apply relevant criminological issues to policy questions. Throughout, use is made of international evidence/comparisons, and the case studies are chosen so as to give a feel for the diversity of approaches in the field of criminology and criminal justice. Each week of the minor completes with one of the following practical exercises: crime script analysis, social network analysis, situational crime prevention, cybercrime awareness simulation, multi-agency policing exercise in relation to domestic violence, mock trial. The minor is delivered in collaboration with guest speakers from Cybersecurity & SMEs Research Center (HHS), Netherlands Helsinki Committee, Rotterdam Detention Centre, CEPOL and EUROPOL.

Terrorism & Counterterrorism

The minor Terrorism & Counterterrorism bridges the gap between practitioners and academia by integrating theoretical approaches to the topic with practical elements. Such practice-oriented components of the course include exercises in counterterrorist decision-making, introductions to weapons and tactics, and exposure to experienced practitioners in fields like military force protection, police counter-terrorism, or CBRN counter-proliferation. Students learn how to categorize terrorist groups and their organizational structures, learn about models of radicalization and de-radicalisation, and examine military doctrines like counterinsurgency. Students also study phenomena such as lone wolf attacks, the terror-crime nexus, or ISIS and their recruitment of foreign fighters.

Bronze – EW Best Studies Top Degree Programmes 2021 

Each year, weekly magazine Elsevier awards medals to top degree programmes in higher education. Degree programmes from various institutions are compared at sectoral level on 11 components from the National Student Survey. Depending on the number of average scores for these 11 components, degree programmes receive a bronze, silver or gold medal.

Our programme Security and Safety Management Studies received a bronze medal from EW Best studies.
At work

Is there anything I cannot be after I graduate?

As an SSMS graduate you'll be highly employable in a range of exciting positions in various sectors, be it commercial, military or international government. Whatever career path you choose, it will be likely that you'll be on the frontline dealing with people's lives. In any case, you'll be well qualified to identify risk situations and recommend, implement and evaluate feasible safety and security interventions. You could become a safety and security expert in the field of urban development and management, conflict mediation, or climb the career ladder at a police and security organisation, or within an international airport or insurance company. The opportunities are endless.
Career perspective
What you will become
Aviation Security Manager

Policy Advisor

Information Security Officer

Physical Security Advisor

Loss Prevention Specialist

 

Security Risk Analyst
Continue studying
If you're academically minded, you may want to follow a master's after graduating from SSMS in fields more related to crisis management, international relations or with a more business oriented curriculum. Outside the Netherlands, SSMS students can follow a master's straight after graduation. You should note that some universities in the Netherlands require you to follow a pre-master's course after graduating from THUAS.

Students of the Bachelor's programme Safety and Security Management Studies (The Hague University of Applied Sciences) who fulfil specific academic and administrative criteria, and upon successful graduation from the programme, will have their application to the MSc programme 'Crisis and Security Management' of Leiden University accepted without further conditions. i.e. a Pre-master track will not be required.

Please note: those students also have to apply through Studielink and through the online application system. For more details you can contact Mr. Joery Matthys (at Leiden University) via admissionCSM@fgga.leidenuniv.nl

For the specific academic and administrative criteria, please contact Mr. Huseyin Akdogan (at The Hague University of Applied Sciences) via hakdogan@hhs.nl.

More information on the admission requirements for the MSc programme Crisis and Security Management' at Leiden University is also available here.
Practical information
What else do you need to know?
How to apply

Your enrolment request must be submitted through Studielink. Before you do, please check the official name of the programme below. Would you like to find out more about the application process first? Check our page How to apply . The key deadlines are listed here as well. This degree programme starts in September and there is no intake in February. 
Tuition fee

You will have to pay tuition fees when you enrol on a bachelor's programme. You can pay in one or more instalments. If you pay in more than one instalment a small administration fee is charged. 

More information about tuition fees 

Scholarships 

Find out more about scholarships for international students. Please note that these scholarships are one-off scholarships only, meaning that if you obtain them it is only for your first year of study. 

Student finance 

Dutch students qualify for extra financial support via a loan. Dutch students automatically qualify for this financial assistance and international students may be eligible if they have lived in the Netherlands for at least five years or are employed for at least 56 hours per month. 

Additional Costs 

You must also budget for books, excursions and field trips. You can expect to pay approximately €800 per year to cover these additional costs. During your semester abroad, you will also need to pay for tickets, housing and insurance. 

Visa and residence permit 
Help in choosing your study

We would like to help you make the right decision 

It takes a bit of thought and research to find the right programme. The Hague University of Applied Sciences organizes various activities throughout the year to give you the best possible idea of the various studies offered. You also learn what it's like to study at THUAS. This way, you can click on the registration button without a doubt in mind. Or you'll know for certain it's not right for you.   

Walk in at our Study & Career Centre for…  
Assistance during your studies

Study coaching and advice

We assume your time in SSMS will run smoothly. But we do offer personal assistance if you are experiencing any study problems. Our staff can help you keep track of your study progress and further guide your career development. If required, our lecturers can help improve your time management skills, reading and writing skills, or find the right people within the programme to answer more complicated questions. We also provide sessions especially on study skills to help you tackle the academic workload. Lecturers will also support you if you have any personal problems that can adversely affect your schoolwork. For more information about student counsellors/student psychologists, high-performance sports, Dutch language support or studying with a functional disability, go to our page about support during your studies.
Official details of the programme

This degree programme is registered in the Central Register of Higher Education Programmes (CROHO) as follows: 

Official Dutch name of degree programme: Integrale Veiligheidskunde
Official international name: Safety and Security Management
Programme code (Isat): 39268
Institution code (Brin): 27UM 

Both the official Dutch and the official international name of the degree programme (current at the time of your graduation) will be printed on your diploma.

For more information on the accreditation of this degree programme, see the Accreditation Organisation of the Netherlands and Flanders (NVAO) website.
Downloads
Binding Study Advice (BSA)

To continue your degree programme after the first year, you need to earn 50 of the 60 credits (EC or Credits). In some cases, the degree programme may also require that you pass a specific subject as European art of the credit requirements. We call this a qualitative requirement. If you meet the credit requirements as well as the qualitative requirement where applicable, you will receive a positive binding study advice (BSA) from the Examination Board at the end of your first year and you will be able to continue your degree programme.

If you earn less than 50 credits or don't meet the qualitative requirements where applicable, you will receive a negative binding study advice and will have to leave the degree programme. This is why this advice is called a Negative Binding Study Advice (NBSA). 

Your academic progress may be affected by personal circumstances such as illness or the professional practice of a sport. It is important that you inform the Examination Board immediately of any personal circumstances that might apply to you. The Board can take these into account when issuing its study advice.

Read all the rules for the binding study advice in Chapter 7 of the Programme and Examination Regulations (PER) for your degree programme.