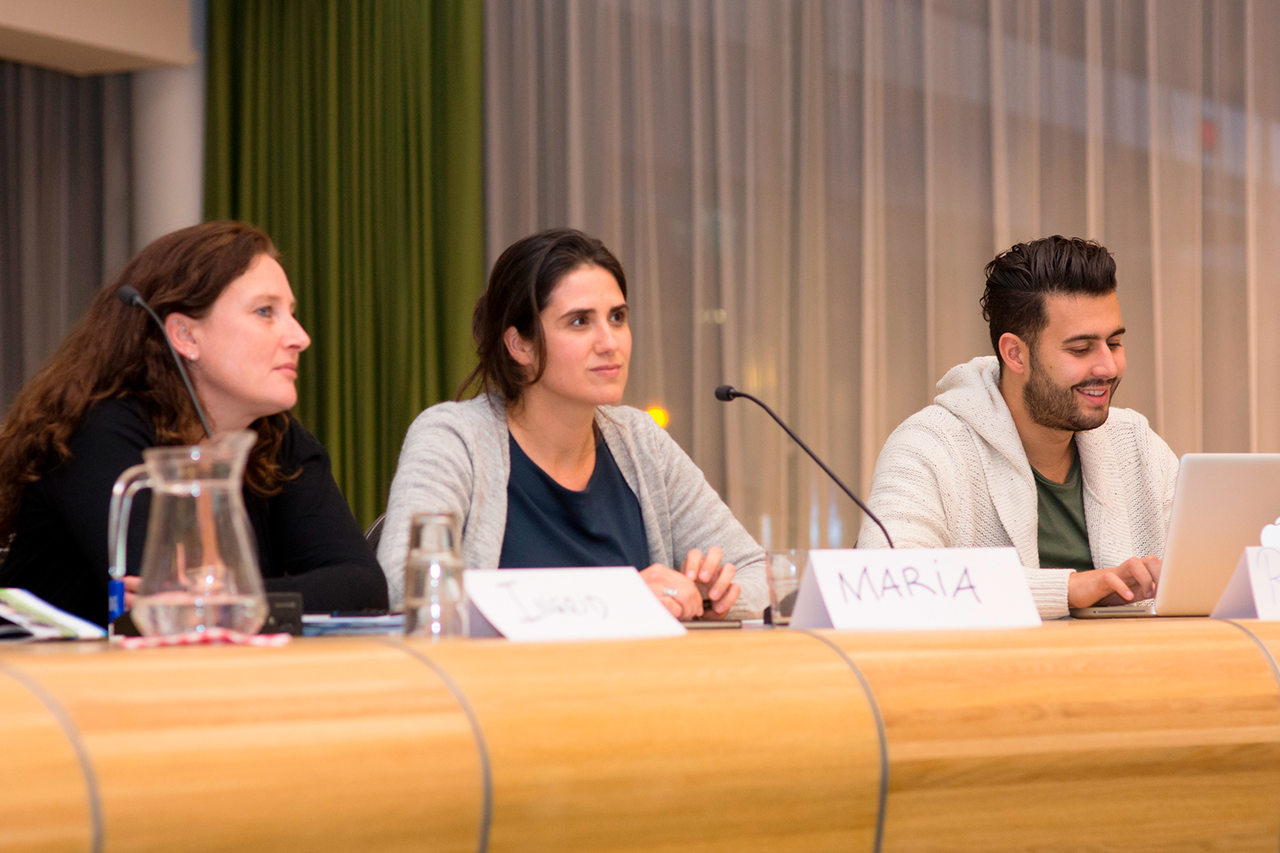 For you?
Are you interested in how governments,  NGOS and influential organizations around the world tackle problems such as climate change, economic disparity and human rights? 
Are you interested in being a changemaker with a deep understanding of "wicked" problems and the world's most intractable issues in order to effect positive, lasting change?  Then International Public Policy and Leadership  (IPPL) is the program for you.
The world is changing at an ever-quickening pace. We need game-changers who can think on their feet and expertly unravel the big issues. We will teach you the tools of the trade, whether it be drafting policy briefs and issue papers, developing  impact campaigns,  producing documentaries, grant-writing or pitching a grassroots advocacy project, just to name a few. 
We have many key international organizations and NGOs at our doorstep (in The Hague, the City of Peace and Justice), which means you can 'hit the ground running' and apply your new hands-on skills in the field. You will be in the heart of a rich international community - both in the city and the diverse classroom. During their internships, out students find themselves in a range of organizations: government ministries, international NGOs and corporations, global and European nonprofits and political movements. A vast array of jobs are open to students upon graduation; some even have started their own NGOs.
You have a Dutch diploma

| Vooropleiding | Vereiste profiel |
| --- | --- |
| Havo | |
| Vwo | |
| Mbo | Niveau 4, middenkader- of specialistenopleiding |

To begin the International Public Policy and Leadership  degree programme, you need a HAVO or VWO diploma in the correct subjects (listed below). You can also apply with a MBO diploma (level 4), if you fit the right profile.
You have a non-Dutch diploma

International Public Policy and Leadership  is a four-year university of applied sciences degree. To qualify, you'll need a high school qualification equivalent to a Dutch HAVO. Before we can decide on your eligibility, we'll need to assess your certificate/diploma. To do this fairly, we work directly with NUFFIC, an external organisation that assesses international qualifications for all Dutch Institutions of Higher Education.

Language requirements

If you weren't educated in the Netherlands and English isn't your first language, you may have to submit a language test to be admitted. You may be eligible for an exemption depending on the type and country of your diploma. Please check our entry requirements page for more information.
Don't meet the entry requirements?

Perhaps your academic background is not quite the right level. Or you need some help improving your English skills. Don't worry. There might be some alternative options to help you get in, and prepare yourself for a successful start of your studies at The Hague University of Applied Sciences (THUAS).

Admissions Test 21+
If you're 21 years old before 1 September 2022, but don't have a diploma or a qualification that meets the entry requirements, you can take the 21+ Admissions Test. The 21+ Admissions Test is offered at several dates between January and the start of the academic year, and consists of a digital general capacity test. Please note that you can only participate if you have an EEA-nationality or residence permit for the Netherlands that is valid on the test date.

English Academic Preparation Programme
Need help with your English? If you haven't quite reached the right level of English for your chosen Bachelor's or Master's degree programme, you can enrol for English Academic Preparation Programme. After the successful completion of this programme, you'll be ready to start your degree at THUAS and you will already have a good taste of studying and living in the Hague.
Decisions regarding your qualification for admission

There are no exceptions to the official admission requirements. The Enrolment Office is the only party that can make decisions regarding your qualification for admission based on official regulations. You can't rely on any other sources of information for your qualification for admission.
Study choice activities
Join one of our study choice activities to find out if THUAS is the right fit for you.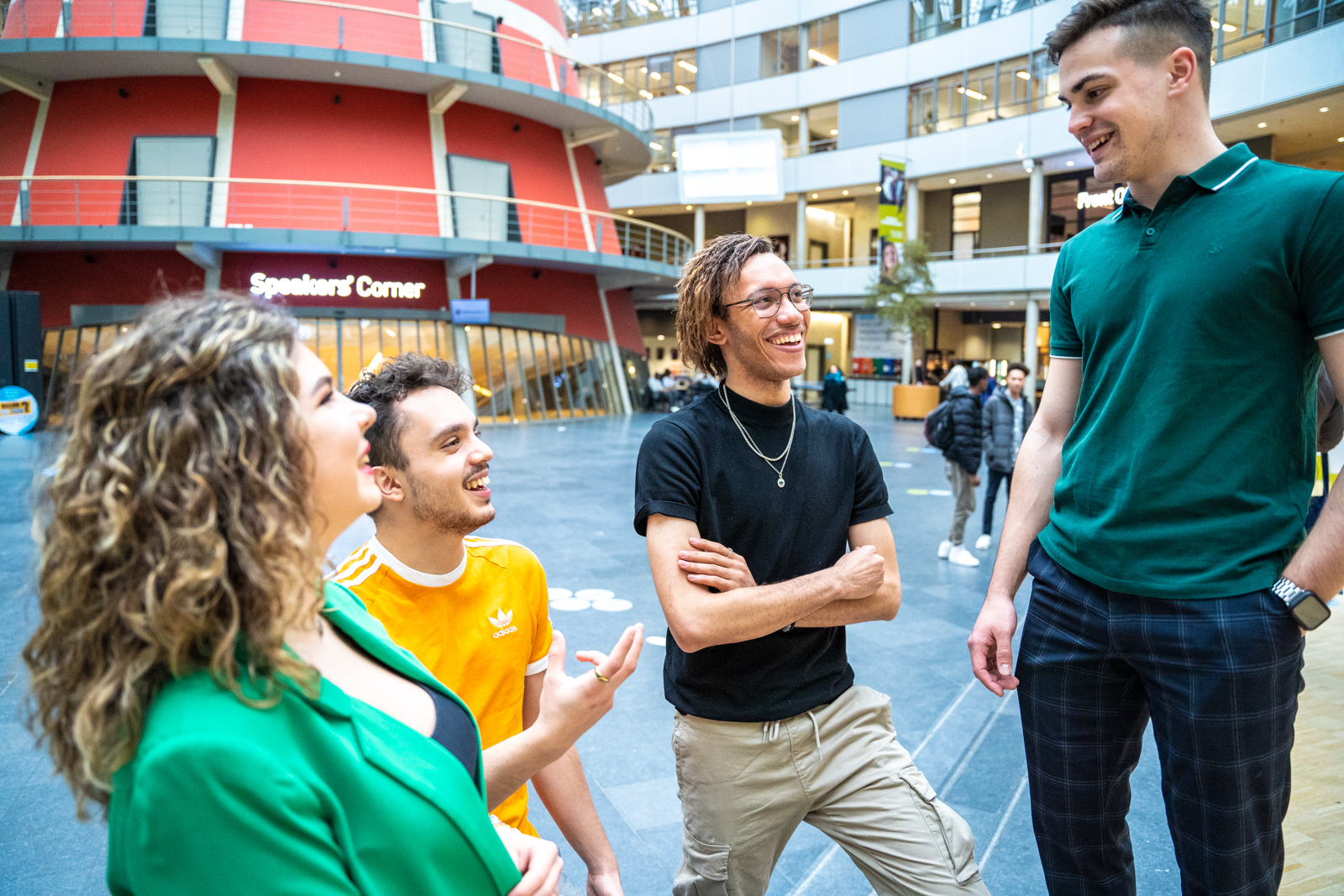 Open Day
Is THUAS right for you? A visit to an Open Day is the perfect way to find out.
Go to Open Day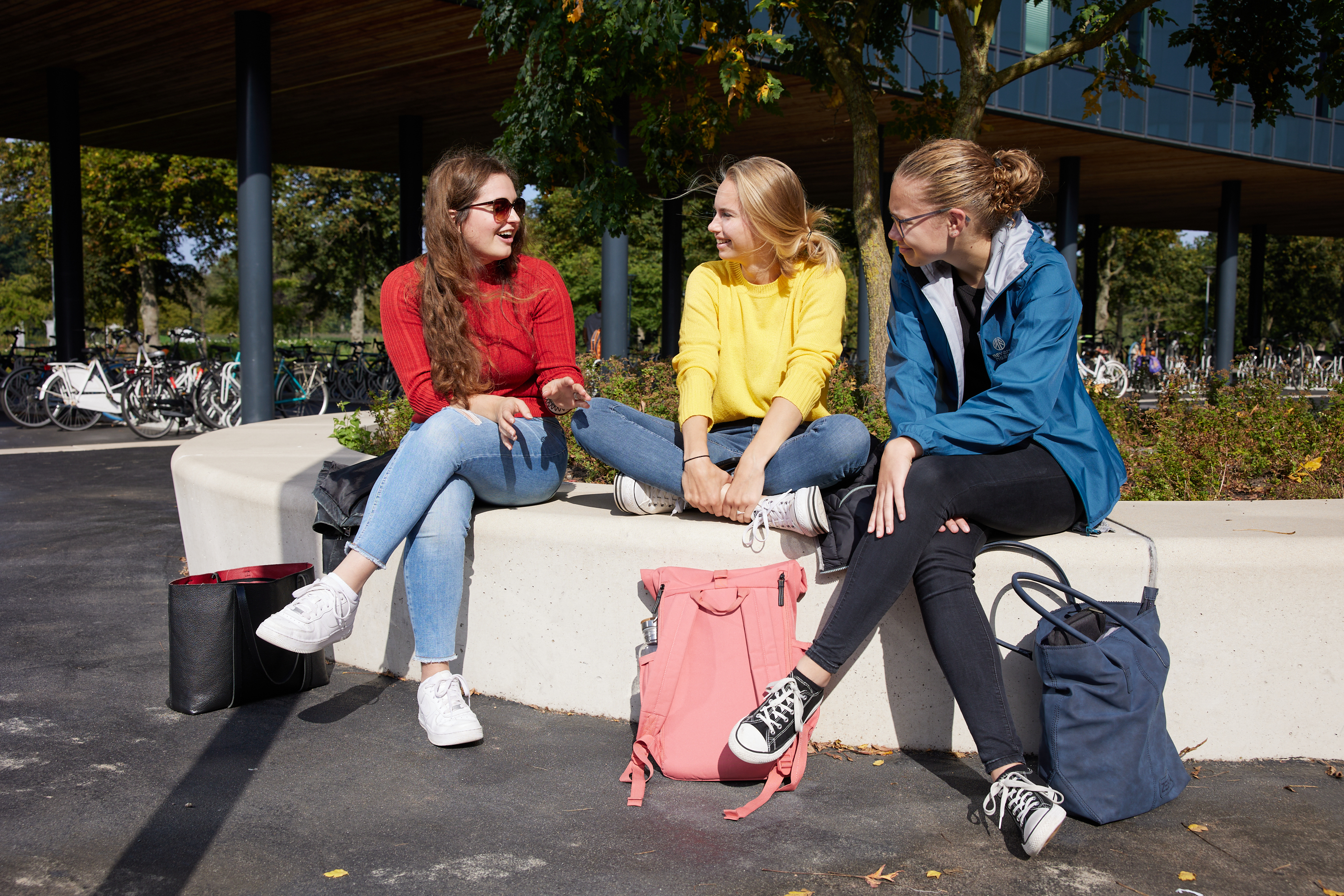 Shadow a student
On request
This is not a custom programme, but a regular school day. Spend the day attending classes together with a student.
Go to Shadow a student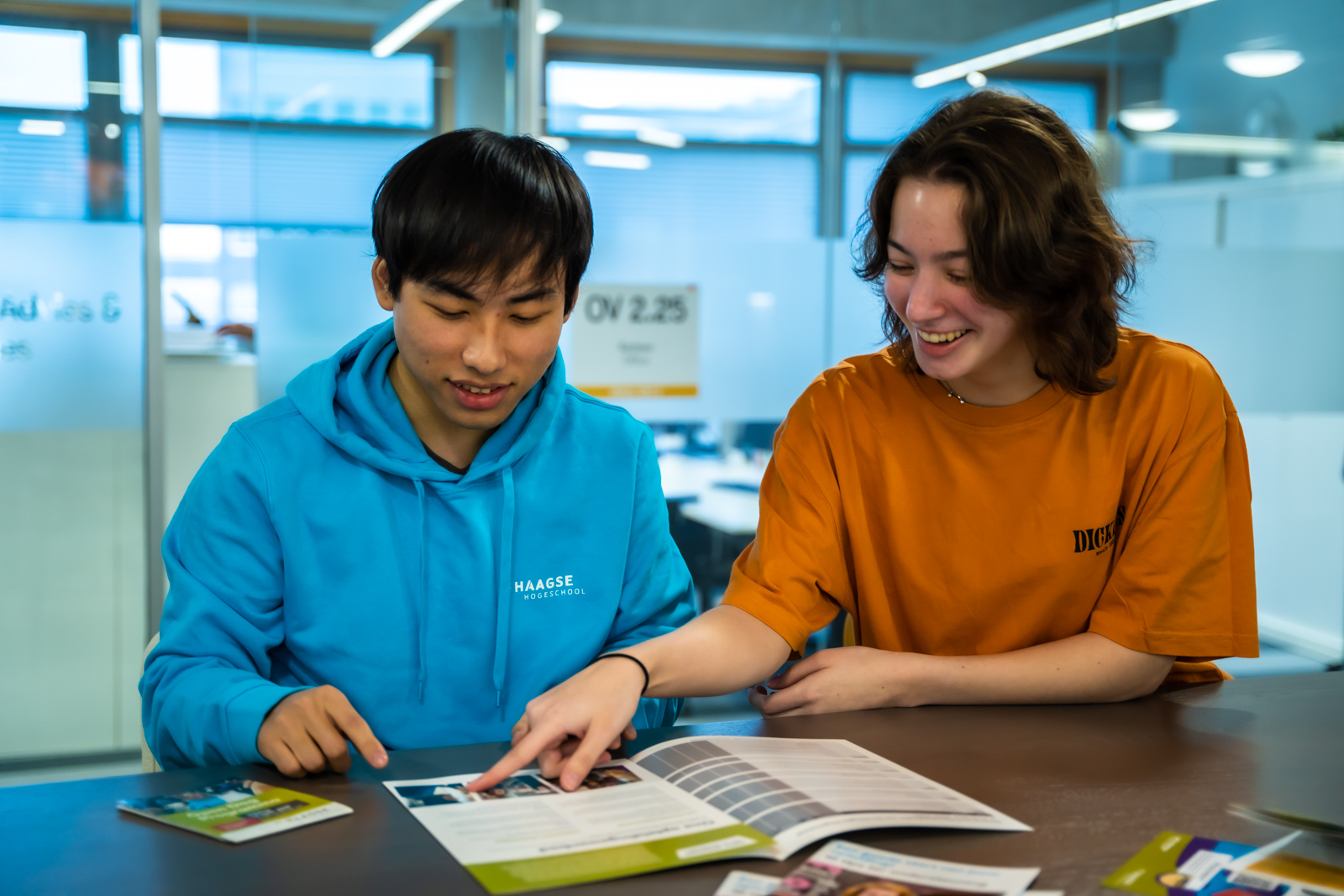 Trial Study Days
2023 - 2024
Visit us during the Trial Study Days and experience our programmes yourself. Spend the day attending classes together with a student.
Go to Trial Study Days
Degree programme in figures
18
hours of lectures per week
24
hours of independent study per week
10
hours of projects per week
Degree programme content
What will you study each year?
Working methods

Lectures, seminars, study visits, self-study, group activities and project work

We teach students  how to unravel the world's pressing issues with practical know-how, both in the classroom and as part of  group assignments. Students are encouraged to read extensively, think critically and creatively solve problems. Our student organisation, Agora,  arranges trips and guest lectures, connecting with 150 UNESCO partner universities around the globe.  IPPL also organises yearly visits to important Hague and European institutions. Year representatives can also organize class outings that cater to student interest.  IPPL students can always take part in THUAS-wide events, lectures and special academic opportunities. Simply put, there is always something going on that benefits our students and enriches their learning experience both in and out of the classroom.
Minors

Taking a minor gives your IPPL degree that extra cutting edge. Students can choose from a long list of minors offered by other THUAS departments, partner institutions in the Netherlands or abroad,   provided that entry requirements are met. Minors relevant to IPPL include:

Making Peace Not War: Sustainable Peace and Conflict Resolution

In this minor we look at causes of conflict, responses to conflict, crucial institutions in peacebuilding and the lesser-known players, indigenous groups, women, civil society and youth.

Globalisation, Governance and Development

Whenever scientists and political leaders talk about humanity's situation and outlook, the chances are they'll explicitly or implicitly refer to globalisation, governance and development. This minor helps understand their meanings, theories and trends.

Influencing Public Policy

How do you give citizens and organisations a voice, or make sure that public officials listen to policies? This minor looks at using collective bargaining and campaigning to fix public policies.

Peacebuilding, Justice and Human Rights

In this minor you'll compare and contrast the more traditional state-oriented, top-down approaches to peacebuilding with regional, local and indigenous practices.

Challenges to European Governance

This minor explores EU policy from a multi-level governance perspective. We'll look at the impact of EU policy at municipal, national and international levels.
At work

After graduation from the International Public Policy and Leadership programme your options are endless. For instance, you could apply your new problem-solving changemaker skills to a rewarding role at an NGO or government office, or to crowd-funding new grassroots projects - at home or internationally. You could pursue a career as a project manager, consultant, analyst, civil servant or policy maker, or continue your studies with a master's degree.

Is there anything I cannot be after I graduate?
IPPL gives you a range of useful skills which you can put to use in professional practice. We  keep your job options open in the rapidly changing job market. Some suggestions are provided below, but there are myriad possibilities, depending on your strengths and interests.
Testimonials
Who better to tell about the degree programme than our own students? They share their experiences here. Some of them are also ready and waiting to answer any questions you may have.
Degree programme content
What will you study each year?
Years 1 & 2
The first year is the introductory (propaedeutic) year, in the second year you will start to gain momentum and skills necessary for the professional field. You'll get to try your hand at a range of subjects and discover where your passions lie. We'll help you understand how interconnected "wicked problems" develop and give you the tools and skills to tackle them. You'll roll up your sleeves and  start to dive deep into the realms of law, economics, public policy-making, advocacy, human rights, conflict resolution, data analysis, financial management and more.
Years 3 & 4
Years 3 and 4 offer students a real chance to apply what they have learned in the prior two years and continue to enrich their knowledge and develop their skills in internships, academic exchange programs and by taking specialized minors either offered as part of IPPL or THUAS-wide. Provided that certain entry requirements have been met, you are free to choose academic-professional combinations which suit you best. The last semester culminates in either a Professional Products Track or a traditional thesis track. 
Career perspective
What you will become
Programme/project manager

Consultant

Analyst

Human resource assistant

Manager/team leader

 

Communications advisor/manager

Accountant

Entrepreneur

Civil servant

Stakeholder relations advisor
Continue studying 
More than 60% of IPPLgraduates go on to post-graduate courses. If you're hoping to pursue an international master's degree, you should be able to do so without a bridging qualification. However, its best to check your chosen institution's entry requirements.
Please note that academic universities in the Netherlands require a pre-master's programme after graduating from the hands-on IPPL degree. You can follow in the footsteps of many  of our graduates and complete a pre-master's degree in year three to pursue the Public Administration masters at Leiden University. Bear in mind that you may need to meet certain grade requirements, for example, an average grade of 7.5.
Other graduates go on to master's degrees in subjects like International Relations or War and Conflict Studies , Crisis and Security Management , Cyber/IT studies or Law.
Testimonials from our alumni
What lies in store after studying International Public Policy and Leadership? Our former students tell us where they ended up and how they look back on their study years.
Practical information
What else do you need to know?
How to apply

Your enrolment request must be submitted through Studielink. Before you do, please check the official name of the programme below. Would you like to find out more about the application process first? Check our page How to apply . The key deadlines are listed here as well. This degree programme starts in September and there is no intake in February. 
Tuition fee

You will have to pay tuition fees when you enrol on a bachelor's programme. You can pay in one or more instalments. If you pay in more than one instalment a small administration fee is charged. 

More information about tuition fees 

Scholarships 

Find out more about scholarships for international students. Please note that these scholarships are one-off scholarships only, meaning that if you obtain them it is only for your first year of study. 

Student finance 

Dutch students qualify for extra financial support via a loan. Dutch students automatically qualify for this financial assistance and international students may be eligible if they have lived in the Netherlands for at least five years or are employed for at least 56 hours per month. 

Additional Costs 

You must also budget for books, excursions and field trips. You can expect to pay approximately €800 per year to cover these additional costs. During your semester abroad, you will also need to pay for tickets, housing and insurance. 

Visa and residence permit 
Help in choosing your study

We would like to help you make the right decision 

It takes a bit of thought and research to find the right programme. The Hague University of Applied Sciences organizes various activities throughout the year to give you the best possible idea of the various studies offered. You also learn what it's like to study at THUAS. This way, you can click on the registration button without a doubt in mind. Or you'll know for certain it's not right for you.   

Walk in at our Study & Career Centre for…  
Official details of the programme
Assistance during your studies

Study coaching and advice

In years one and two, you'll be paired up with a mentor (a lecturer from the IPPL department) to support you through the academic year. As well as being your 'go to' person, they'll help you develop your time management skills, provide general study advice and guide your career choices. In year one, mentoring is part of the Professional Skills module, so it's mandatory to meet your mentor regularly. For more information about student counsellors/student psychologists, high-performance sports, Dutch language support or studying with a functional disability, go to our page about support during your studies.
Study guide

The study guide is a collection of all kinds of practical information about the study programme, such as an annual plan and a substantive description of the various subjects. The required literature is also included in the course descriptions. We are still working on our new curriculum, not all the courses mentioned, will be given next year. 
Downloads
Binding Study Advice (BSA)

To continue your degree programme after the first year, you need to earn 50 of the 60 credits (EC or Credits). In some cases, the degree programme may also require that you pass a specific subject as the European part of the credit requirements. We call this a qualitative requirement. If you meet the credit requirements as well as the qualitative requirement where applicable, you will receive a positive binding study advice (BSA) from the Examination Board at the end of your first year and you will be able to continue your degree programme.

If you earn less than 50 credits or don't meet the qualitative requirements where applicable, you will receive a negative binding study advice and will have to leave the degree programme. This is why this advice is called a Negative Binding Study Advice (NBSA). 

Your academic progress may be affected by personal circumstances such as illness or the professional practice of a sport. It is important that you inform the Examination Board immediately of any personal circumstances that might apply to you. The Board can take these into account when issuing its study advice.

Read all the rules for the binding study advice in Chapter 7 of the Education and Examination Rules and Regulations (OER) for your degree programme.