Measuring crop growth with sensors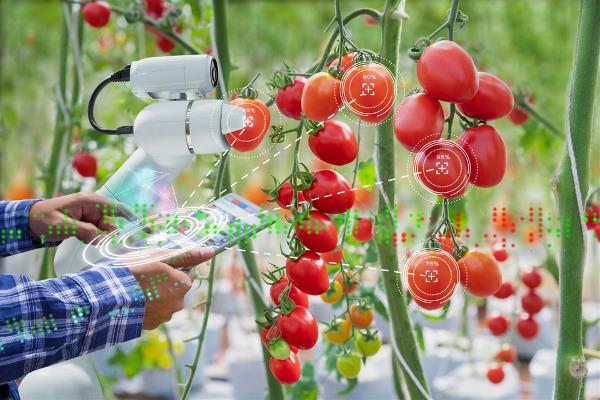 The Dutch greenhouse horticulture industry is a global leader in sustainable innovations. Compared to other countries, its ecological footprint is already low, but new technologies offer opportunities to further control cultivation and make it more sustainable. Current measurement methods damage plants and disrupt growth. The Smart Sensor Systems and Photonics research groups are researching contactless ways to measure crops with sensors and light technology such as optics and photonics. Inholland University of Applied Sciences, Lentiz vocational secondary education and various technical suppliers and growers in the Westland region are also collaborating with the project.
In the 'Well Measured Crop Growth' project, the team is researching an integrated sensor concept and developing it into a pilot project for crop tomatoes. The tomato growing industry needs non-disruptive and non-destructive measurement techniques, as current techniques are too invasive. The grower measures the stem thickness of some plants manually with a digital caliper. And a liquid flowmeter is now physically attached to some plants. It would be better if more plants could be measured more frequently and more precisely, without touching them.
The results of this study are also expected to be useful for other crops where sensor technology can be deployed throughout the greenhouse industry on a large scale.
Research with data and setups
In the project, researchers are establishing a reference crop and monitoring at least one full growth cycle. They do this by continuously measuring actual liquid flow and stem thickness in a few plants.
The team is also conducting a data analysis to look for correlations between head thickness and liquid flow measurements, based on available real-time climate and irrigation data. Are stalk thickness and stem thickness actually a reliable predictor of liquid flow, growth and final yield? And is the measured Leaf Area Index (the leaf area per square metre of soil surface in the greenhouse) a good predictor of liquid flow and, consequently, of growth?
In addition, researchers are studying alternative measurement methods and designing, building, testing and validating measurement setups and sensors to reliably measure stem thickness, head thickness and the Leaf Area Index.
Partners
The consortium consists of:
Intended duration of the project
October 2022 to October 2024
Participating degree programmes
Electrical and Electronic Engineering
Funding
The project was funded by a RAAK SME grant.
Media
Project leader
Pepijn van Willigenburg, p.vanwilligenburg@hhs.nl