E-learning course for lecturers 'How to Teach Critical Thinking with Film – an Introduction'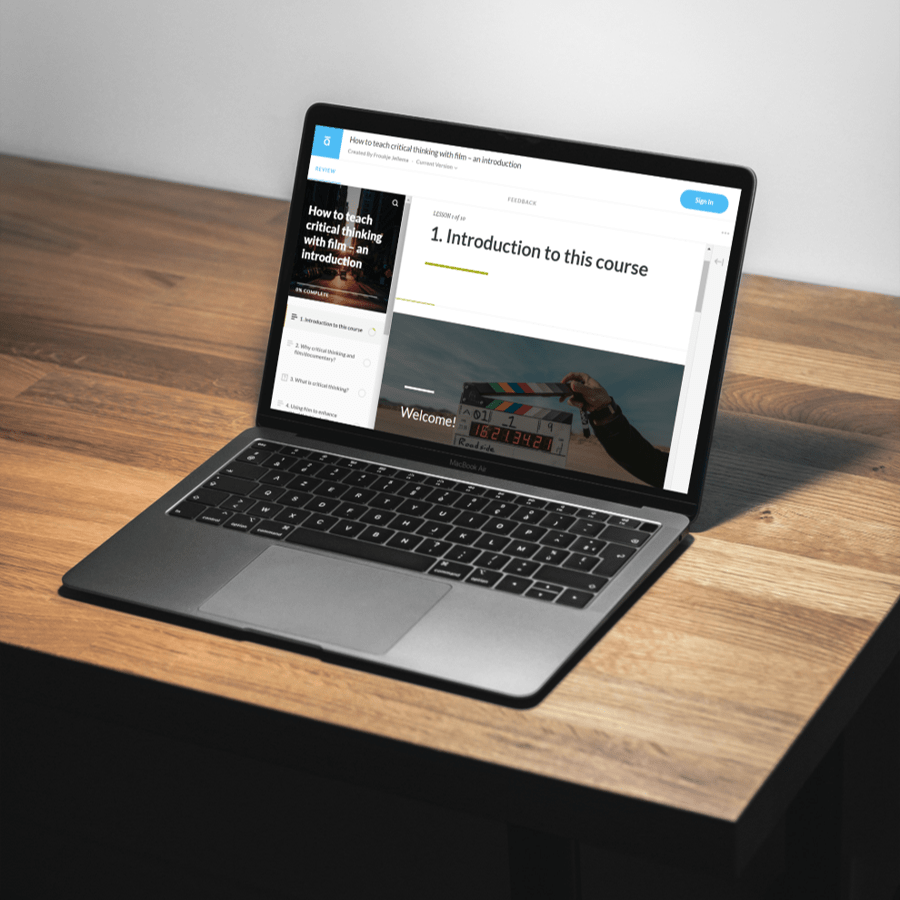 This e-learning course supports lecturers who want to stimulate students' critical thinking skills with the help of film (clips). The course is based on the research by Wypkje van der Heide (research group Change Management), and the 'Reshaping Business Education' line of research, within the Centre of Expertise Digital Operations & Finance.
You can access the e-learning course at: https://reshapingbusiness.org/e-learning-courses/e-learning-course-how-to-teach-critical-thinking-with-film-an-introduction/
Rationale behind the research project
Critical thinking often begins with questions. And questioning yourself is a good start. That's how Wypkje van der Heide started in 2016, when she became a member of the research group Change Management. She asked whether lecturers were sufficiently engaged in 'critical thinking education' within the International Business (IB) degree programme at The Hague University of Applied Sciences.
At the time, she and her colleagues were responsible for the first-year subject Business Communication, in which students reflected on a documentary by discussing it and writing an essay. She scrutinised the subject, the students, her colleagues and herself. Her conclusion? Some things could be changed.
Reshaping Business Education
It turned out that while watching documentaries (about slavery and meat consumption for example) encouraged critical reflection on the subject, the documentary itself did not become a subject of critical reflection. How does the documentary present and 'frame' the information? How are its arguments evaluated? This proved to be a step too far for first-year IB students.
Wypkje found that lecturers were asking too much of students without taking enough time for explanation and practice. In addition to this, a new IB curriculum was introduced ('reshaped'), and two explicit 'critical thinking subjects' were added. In small steps, lecturers started teaching what makes up critical thinking.

This research has been described in collaboration with Professor Jacco van Uden in a chapter of Reshaping International Teaching and Learning in Higher Education: Universities in the Information Age (Routledge 2021). 
Why critical thinking education?
The increase in critical thinking among students is not easy to measure, but findings from existing research by Avans University of Applied Sciences and Abrami et. al. (2008, 2015) show that authentic material (sources linked to the professional field), guidance by the lecturer and dialogue (between and with students) have the greatest impact in 'critical thinking education'. It is also essential that the lecturer is trained in teaching critical thinking.
Stimulating critical thinking through film
Film can be seen as authentic material – it brings concepts and models from the professional field to life. Take, for example, the films 'Margin Call' and 'The Big Short', in which viewers observe the process of what triggered the financial crisis of 2008. They get an impression of how things work in influential companies. It only takes one scene to convey that reality within the classroom and to prompt students into dialogue: a film clip leads to a conversation, and the lecturer provides guidance. 
E-learning as a tool for the lecturer
'Critical thinking education' improves when the lecturer is trained in the subject: for example, by being able to explain key arguments, recognise errors in 'biases', give appropriate feedback and not overestimate or underestimate themselves as a lecturer. In addition, the lecturer becomes 'film literate' in education by using film to teach and explain critical thinking.
The context of the e-learning course is focused on the IB programme, but it is also suitable for other degree programmes, as it's only the 'authentic material' that needs to be adapted. The critical thinking methods and use of film are in fact generic.
The e-learning course How to Teach Critical Thinking with Film – an Introduction can be accessed on Reshapingbusiness.org. The e-learning course usually takes two hours to complete. It is also possible to pause it and resume at a different time.
Award-winning team
Critical research into educational practice has influenced IB education and vice versa. And Wypkje did not achieve this on her own, but together with her Thinking in Action team. 'Thinking together' is the motto of the critical thinking subjects at IB both online and offline. This resulted in the THUAS Olive Award 2021– a nice recognition for the best team in blended learning, and not just a prize from the jury, but from the public as well.
Related degree programme
International Business (IB) of The Hague University of Applied Sciences
Contact
Wypkje van der Heide at w.vanderheide@hhs.nl