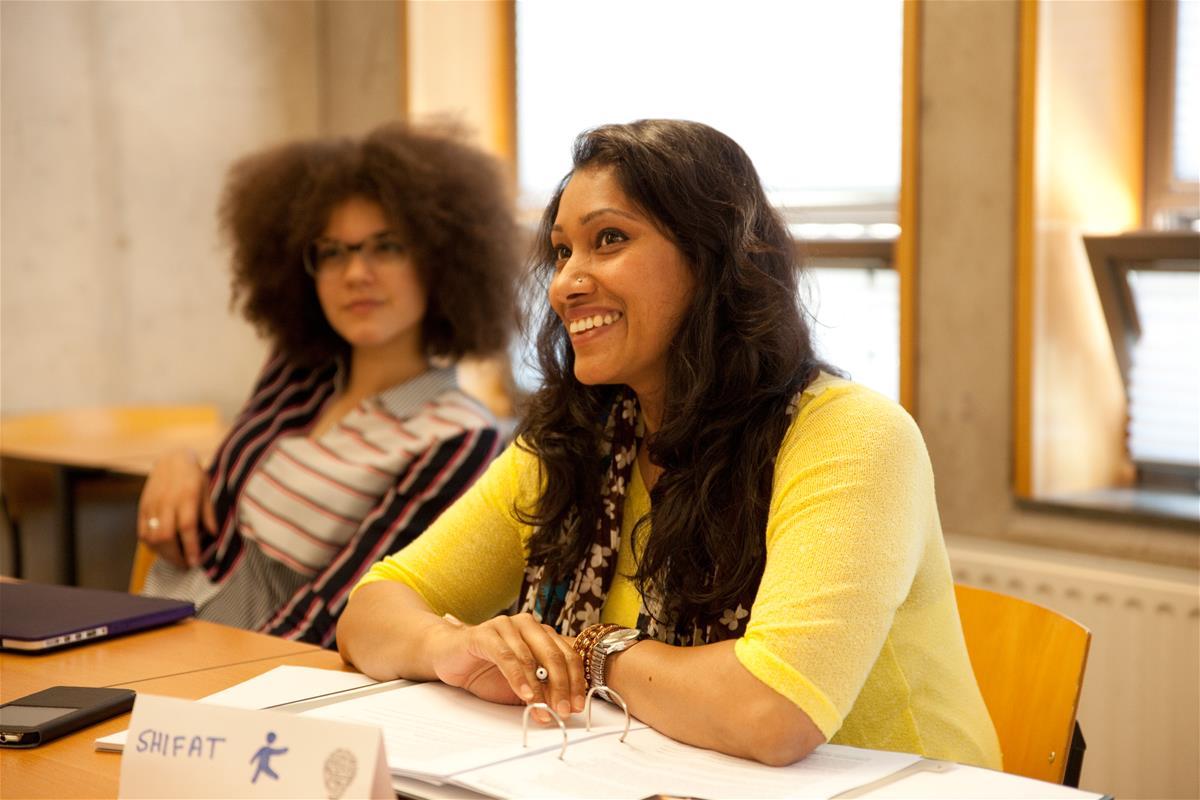 For you?
The Hague University of Applied Sciences (THUAS) has exchange agreements with a large number of ERASMUS + partners and non-Erasmus+ partners all over the world. An exchange at THUAS is a truly international experience. 
We are looking forward to welcoming you to The Hague University of Applied Sciences. At our university you will become a part of an international community and get a chance to broaden your horizon. We welcome more than 500 exchange students of around 50 nationalities every academic year.
Our exchange students gain a rich cultural experience by working alongside the large number of Dutch and international full-time students on English-language bachelor degree programmes. Our high-quality programmes encourage students to explore each other's cultures to become open-minded and independent thinkers – qualities which are essential in the present day labour market. Working in a multicultural and cosmopolitan environment becomes second nature to our students.
Admission requirements
Requirements

When you apply for an exchange at THUAS, you will create an online account that will allow you to track your application through its various stages. You can save your progress at any point and come back to it at another time.

You will also get more information regarding important topics such as immigration, accommodation and insurance.

Before applying

The Hague University of Applied Sciences (THUAS) offers a wide range of programmes. Before applying, always check with your home university for which specific exchange programme(s) you can apply and have to be nominated for. Applications for other programmes will not be processed by THUAS.

Application Start and Deadlines

| | | |
| --- | --- | --- |
|   | First semester (fall, September) | Second semester (spring, February) |
| Nomination by partner university at THUAS | April 30th | October 15th |
| Start application by student | April 3rd | October 1st |
| Deadline of application by student | May 31st | November 15th |

Letter of Acceptance
After receipt of the initial required documentation, you will receive a conditional Letter of Acceptance. The Letter of Acceptance is conditional in the sense that you still have to meet certain criteria (such as immigration matters, payments or entry requirements) before being fully accepted.
English language requirements

At THUAS we expect our exchange students to be proficient in English language. The following test scores indicate the level of English that is required:

IELTS, Academic Module. Minimum score: 6.0 overall band score.
TOEFL, Internet based. Minimum score 80

THUAS has agreed with its partner universities that exchange students are exempted from submitting a language test. We have agreed with our partner universities to guarantee that the nominated students will meet these requirements.
Signing of (Erasmus+) documents, courses, schedule and grade lists

Any academic/course/schedule related questions and documents (such as learning agreements, statements of attendance, etc.) as well as transcripts of records are taken care of by the programme/faculty you enroll for as an exchange student. 

The International Office can only redirect you to them, so please contact the programme coordinators directly.
Application link and tips

The online application will be open from the 1st of April onwards. Make sure to get nominated by your home institution first.

Before you start, you need to prepare a color scan in PDF of your passport (including all stamped/used pages in one file)
You have only applied after pressing the Submit button on the last page on the online application system
We highly recommend you use a desktop/laptop when applying (not a smart device)
The THUAS exchange experience
Introduction
The Hague University offers a wide range of courses taught in English. To find out which courses you can choose from click on the different subject choice forms and academic guides of the programme your university and/or your faculty has an agreement with. If you are not sure which programme your university has an agreement with, please use the partner list. You can use the search function to look for your country/ institution. If your university partners with more than one programme and you are not sure which one to choose courses from, please contact your international office or study abroad coordinator.
Course Offers Academic Year 2022 - 2023
For the academic year 2022-2023 please refer to the course guides below. 

Course guides for the coming academic year will be published by April 1st at the latest. In the meantime please consult the published academic guides by date for an indication of what might be offered. 
Faculty of Business, Finance & Marketing
Faculty of Health, Nutrition & Sports
Faculty of IT & Design
Faculty of Management & Organisation
Faculty of Public Management, Law & Safety
Faculty of Social Work & Education
Faculty of Technology, Innovation & Society
Practical information
Financing your study

Payment deadline

Should The Hague University of Applied Sciences not have received your payment on our bank account before the deadlines set below, we cannot apply for your entry visa, residence permit and/or health insurance.

| | | |
| --- | --- | --- |
|   | First semester (fall, September) and full year | Second semester (spring, February) |
| Deadline | June 15th | November 30th |

Bank account details for payment

IBAN Bank account number > NL80 RABO 0145 5455 63
Swift code of the bank > RABO NL 2U
Name of the accountholder > Stichting HBO Haaglanden
Name of the bank > Rabobank
Address of the bank > Bezuidenhoutseweg 5
Postal code and place > 2594 AB The Hague
Country > The Netherlands
Payment reference* > [your full name and THUAS student number] 

* Make sure you always mention your full name and THUAS student number (ex. John Smith 18121506) as a payment reference, otherwise we are not able to track the payment.

Fees and costs 

Legal fees

For the application of your immigration (entry visa and/or residence permit) is € 210,- ONLY for non-EU/EEA

Student Health Insurance (incl. third party insurance)
Semester 1 (15 August 2023 until 10 February 2024) = € 318
Semester 2 (15 January 2024 until 31 July 2024) = € 356
Full Year (15 August 2023 until 31 July 2024) = € 628
Full Year (15 January 2024 until 31 February 2025) = € 699

Please add up the applicable fees and costs for your situation and take into account possible transfer fees charged by banks when you make the transfer. Insufficient payments cannot be fully processed.

Payments by credit card, PayPal, and/or other methods are not possible.

Cancellation

Cancellation of your exchange period has to be done in writing and has to be sent to exchange@hhs.nl mentioning your student number and the reason for cancellation.

Should you cancel your application after we have submitted your entry visa and/or residence permit application, the legal fees paid on your behalf cannot be refunded.

Please note: cancellation of accommodation has to be done directly with the party offering housing, and different fees and rules may apply.
Facilities and services

Facilities

On campus, there are state-of-the-art computer facilities, media labs and science labs to help students study. We also have several restaurants and extensive sports facilities .
Read more about our facilities.

International Student Services

We also have an International Office. We can give you practical advice on visas, residence permits, insurance, financing and housing as well as scholarships when you go and study abroad. Read more about our International Student Services. 

Special needs

More information on special needs can be found here.
Contact the course