Professor Monique Berger inspires with personal stories during inaugural lecture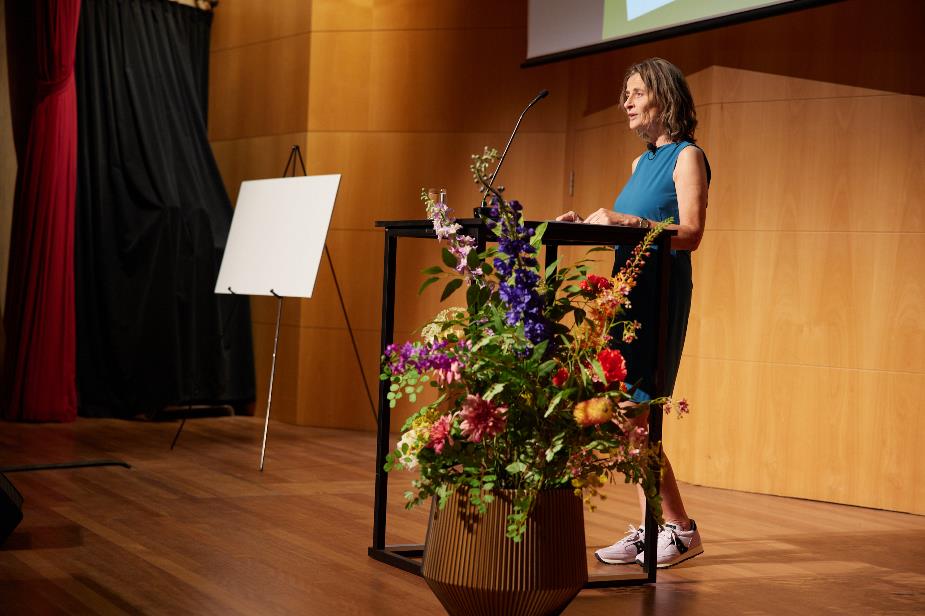 An enormous drive, passion for her profession and determination. That's what professor Monique Berger exuded during her inaugural lecture on 16 June at The Hague University of Applied Sciences. To a packed auditorium, she proudly told about the ambitions of her Technology for Inclusive Movement and Sport Research group. Also special were the beautiful personal stories of both Monique and the guest speakers present. In this article, we summarise the most important moments of the afternoon. 
What immediately struck me was that there was a personal touch to the whole programme. How could it be otherwise? Everyone who gets to know Monique is influenced by her contagious enthusiasm for life and her mission. This was also evident during the introduction of Son Burgers - Geerinckx, Dean of Faculty GVS: "Monique and I have known each other for 10 years. You owe this moment, here today, to your years of investment in your passion for teaching and research. I want to thank you for the open and vulnerable conversations we have had together over the years. You have made a wonderful journey at THUAS, from lecturer to professor. According to colleagues, you should have been appointed professor long ago and today is the day. I am very proud of you."
On the theme: "Move along"
The theme of the inaugural lecture was 'Move along'. Clear and simple, but with double meaning. Of course, on the one hand the theme refers to the research group's literal ambition: the development, evaluation and implementation of technological innovations to get everyone moving and to optimise movement. Because exercise is healthy, makes you happy, gives you self-confidence and creates a sense of belonging. But the underlying meaning is deeper. Moving along is exactly what society also needs to do to ensure that people with disabilities can move around and play sports. Everyone must do their bit.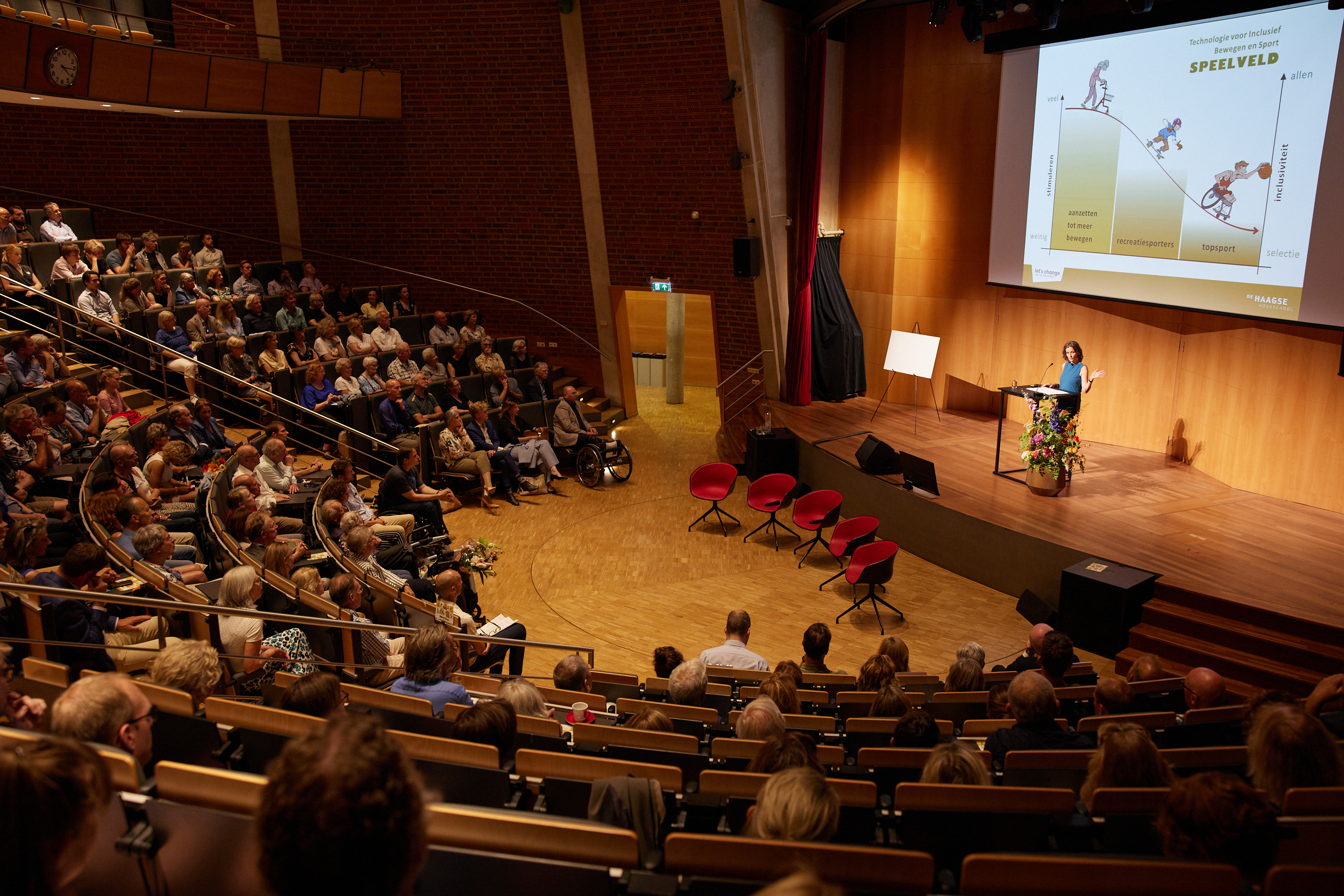 Why this research group?
Monique said: "I love sports and exercise, it makes me happy, gives me a lot of pleasure and energy. I wish that for everyone. The seed of the research group was sown at a wheelchair basketball match in Beijing during the Paralympic Games of 2008, when I, together with a group of people from the business world and researchers from Delft University of Technology, was sitting in the stands at a match the Netherlands was playing in and we thought... Those wheelchairs, can't they be improved? And so the ball started rolling. The programmes and projects we develop all take place within our playing field (see image below). Examples include the development of sports aids or a smartwatch for wheelchair users.
The most important thing our team is working on is finding out how technology can be used for people with a disability to get them to do more and better exercise and sports. Because only 27% of people with physical disabilities meet the exercise guideline (150 minutes of moderate/intensive exercise per week and muscle strengthening exercises twice a week). That has to change."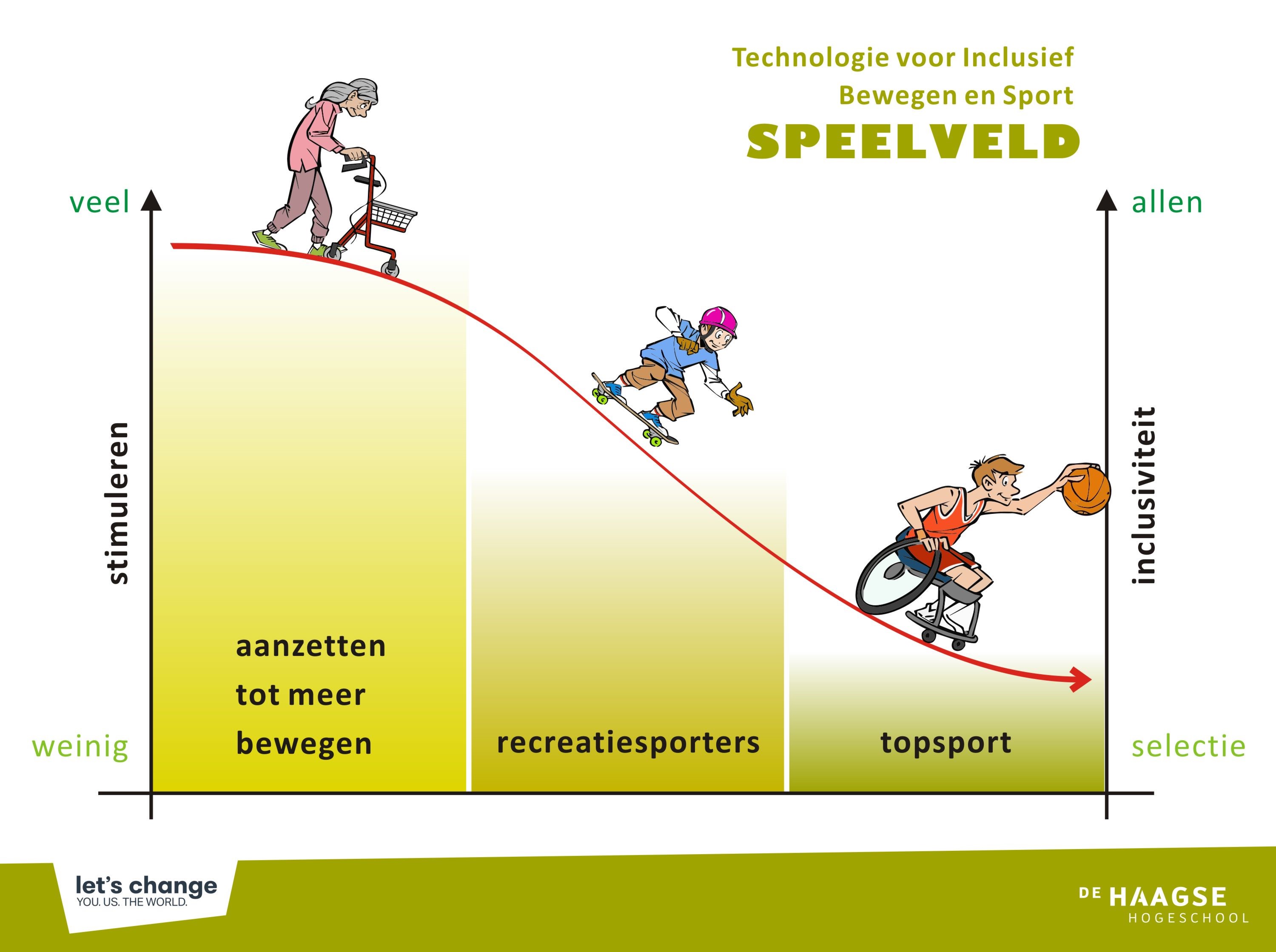 Inspiration in abundance
Besides Monique, various guests spoke during the programme. A lively panel discussion was held, during which Gertjan van der Linden (former Paralympic athlete & national coach of the National Wheelchair Basketball Team), Sjoerd Dreteler (experience expert, psychologist, political scientist and member of the research group TIBS), Martijn Schaaper (director InMarket and Rollz) and student Sport Studies and minor "Niemand Buitenspel" Doris van der Burg animatedly answered questions from the audience.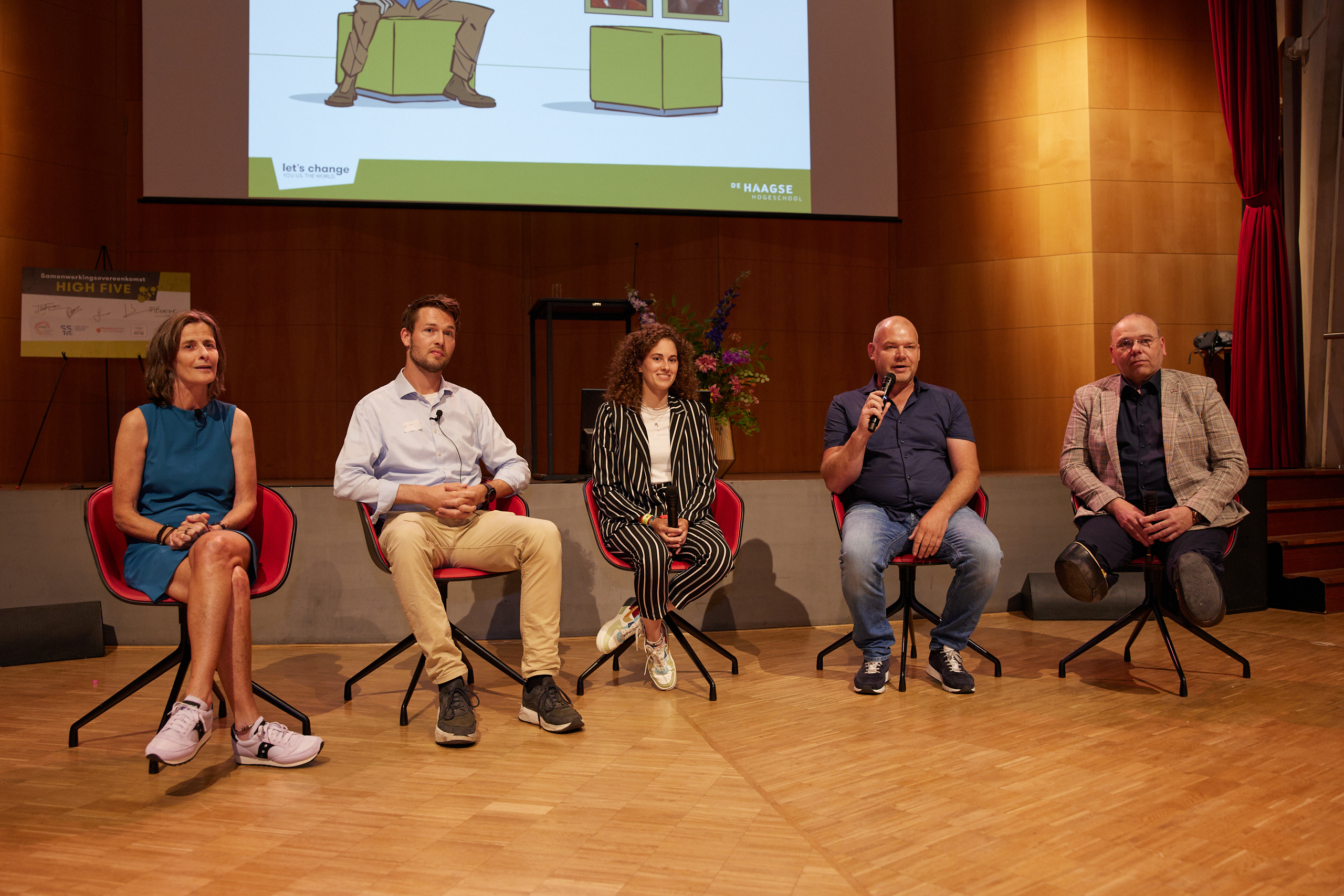 But Sjoerd's personal story made a particular impression. He told how, as a four-year-old, he fell off his bicycle and woke up severely handicapped after a two-week coma. What followed was a years-long struggle with the outside world to show what he could do. From the rehabilitation centre to education, he was underestimated everywhere. Sport became for him a way to take his mind off things, to feel like an equal. And with result: he became a professional para-alpine skier and completed both psychology and political science studies. His story reflects the power and impact of sport like no other. Sjoerd: "My mother always said: 'You are no less than other children, physical obstacles can be overcome'. Thanks to her and, of course, a lot of hard work, I have come so far."
Cooperation on Paralympic Issues
There was also a first, namely the signing of a symbolic cooperation agreement between various knowledge institutions and TeamNL to further stimulate the development of paralympic top-class sports programmes. On stage, CASA (Centre for Adapted Sports Amsterdam), Sport Science Innovation Groningen, THUAS, Sport and Exercise Centre of Expertise and NOC*NSF talked about their ambition to work together intensively and in a structured way specifically on paralympic themes. What a great milestone!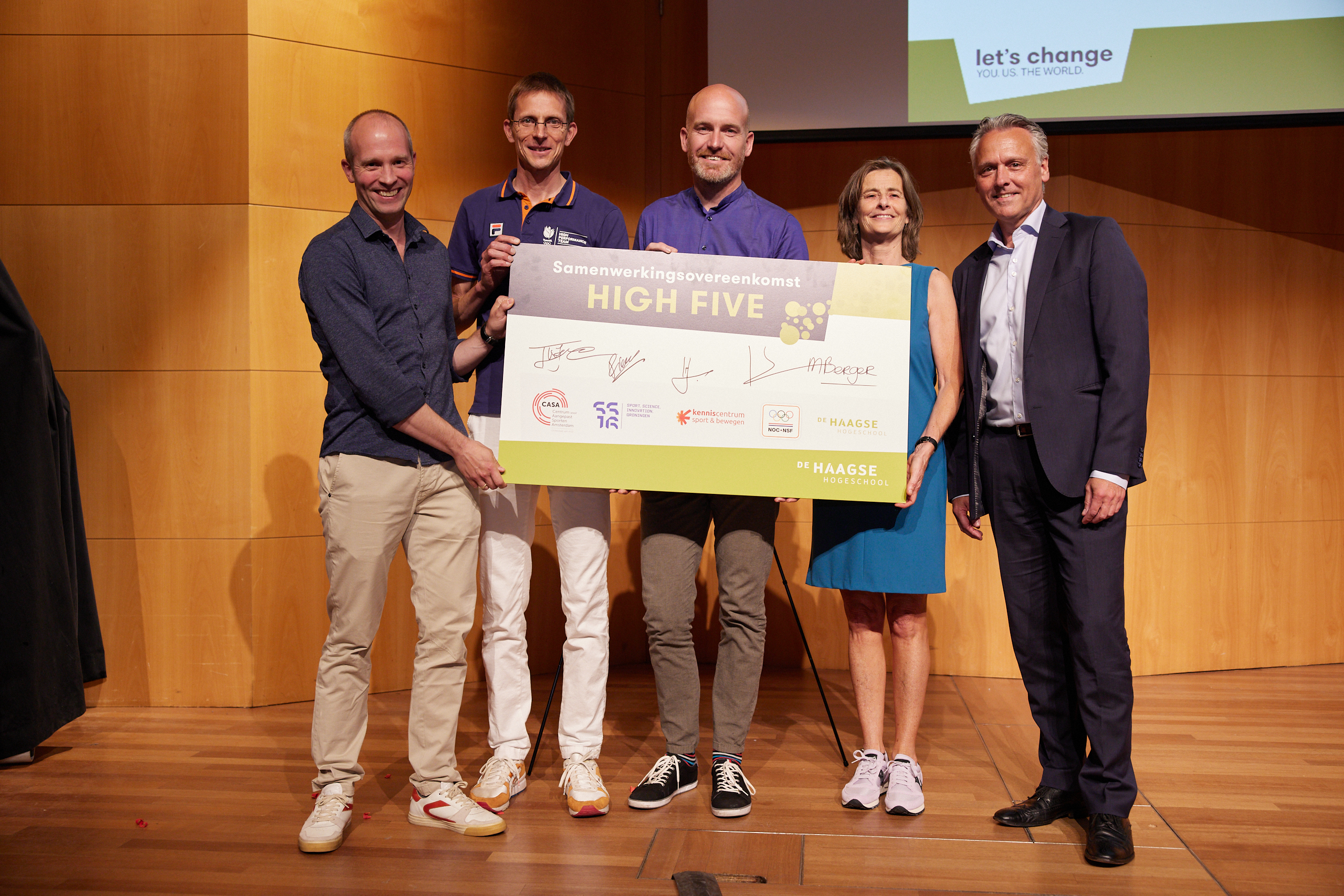 Emotion and gratitude
At the conclusion of her inaugural lecture, Monique said when her team's mission was accomplished: "We sincerely hope that in a few years' time, exercise and sport will really be possible for everyone. And above all, that the word inclusive is no longer needed because it has become so obvious, that we can start to focus more on the I of Innovation. As soon as we can change the name of our research group to Technology for Innovative Movement and Sport, our mission will have been accomplished!".
Of course, this mission cannot be achieved alone and therefore, at the end of her speech, Monique thanked all the partners and stakeholders who contribute to the work of the research group. "There have been so many people involved in the creation of this research group, too many to mention. All of you, here in this room, have contributed in one way or another. I stand here thanks to your intentions and commitment. So: thank you, thank you, thank you," concluded an emotional Monique.
Would you like to know more about the projects of the Technology for Inclusive Movement and Sport research group? Or are you interested in a cooperation? Then check out the website of the research group TIBS for more information and contact details.