Home rehabilitation for the elderly (Medical Delta Living Lab Geriatric Rehabilitation@home)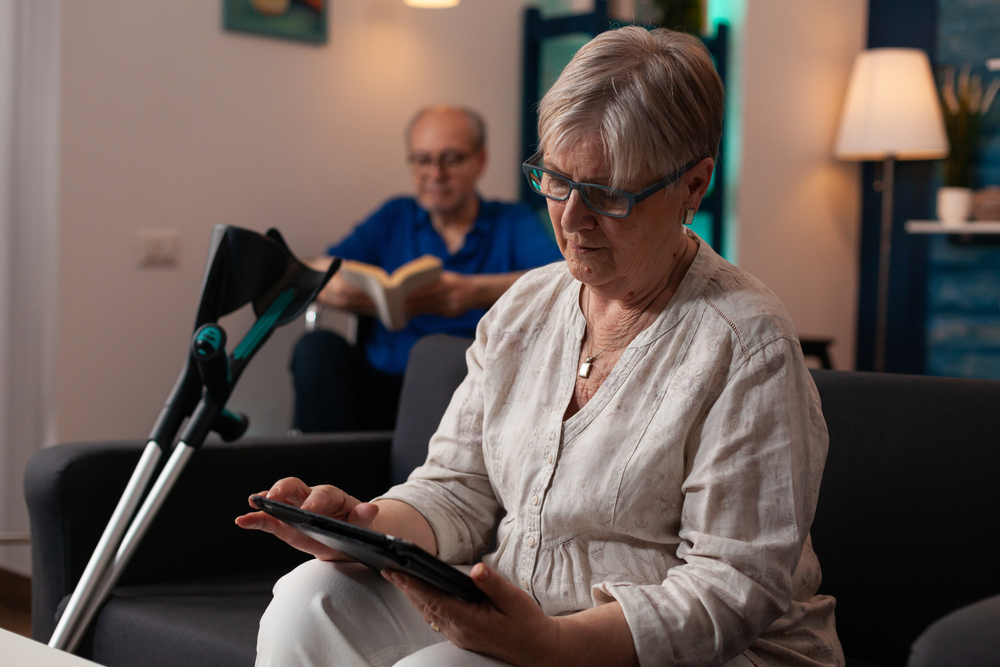 For many elderly people, rehabilitation at home is easier than following a rehabilitation programme at a healthcare facility. It prevents the patient from being dependent on others to get to the rehabilitation facility. Also, the patient does not have to wait until the scheduled appointment to work on their recovery. Various e-health applications can support this. But how do they best meet the needs of patients, treatment providers and family carers? Which applications work well for whom? And when? The Rehabilitation and Technology Research Group is conducting research to find answers to these questions.
With the increasing number of elderly people in the Netherlands, e-health applications offer opportunities to reduce the pressure on healthcare and allow people to live at home for longer. Healthcare professionals can use e-health to adapt the care to the needs of an individual patient and ensure that all treatments are coordinated. Researchers of the research group are conducting the studies together with various knowledge and professional partners in the Medical Delta Living Lab Geriatric Rehabilitation@home.
Technology supports home recovery
Using e-health, the researchers want to ensure that elderly people living at home and undergoing rehabilitation can retain control of their lives and manage on a daily basis. The researchers also want to develop applications that support and relieve informal carers. Vital functions can, for example, be measured remotely and certain apps encourage more exercise.
In the living lab, the researchers conduct tests in practice in which elderly people, their carers and healthcare professionals play an important role.
Stronger together in home rehabilitation
In the Medical Delta Living Lab Geriatric Rehabilitation@home, the researchers of the research group collaborate with researchers of Inholland University of Applied Sciences and Rotterdam University of Applied Sciences. Healthcare institutions Stichting Omring, Pieter van Foreest and Basalt are also partners in this project.
Besides researchers from The Hague University of Applied Sciences, students and lecturers from the Human Kinetic Technology and Mechatronics degree programmes are also involved. In the 'living lab' they will get the opportunity to learn, research and work with elderly people in practice. 
The collaboration pays extra attention to knowledge development and exchange between universities of applied sciences, universities and healthcare institutions. In this way, we can make e-health for rehabilitation healthcare for elderly people at home more widely applicable and accessible.
Duration
This project runs until September 2024.
Read more
Contact
Jorit Meesters
j.meesters@hhs.nl