Energy Transition HTM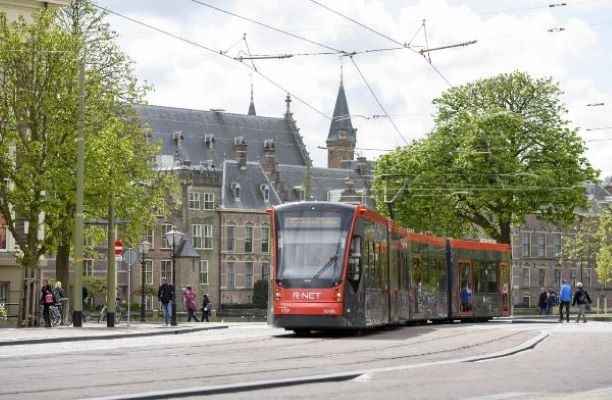 The Hague may be missing opportunities to make the Energy Transition cheaper and faster. Large roofs and facades of buildings and HTM's existing infrastructure are being used sub-optimally for generation and distribution, respectively. This can be done differently. There is much to gain for the energy transition! This project will therefore investigate the more optimal use of these generation and distribution possibilities. In addition, the possibility of own use of the generated sustainable energy will also be investigated.
In view of the research questions below, lecturer-researchers and students from Mission Zero (Spatial Development and Electrical Engineering) are working together with governance specialists on the following research questions:
What additional generation capacity can be realized on HTM infrastructure nearby rooftops and facades?
What capacity is available, in seasons and across the day, at this infrastructure, and to what extent does this principle of underutilized electrical infrastructure also play out in other infrastructure?
Does increased reusal of braking energy substantially impact this capacity?
What needs (generation and consumption of energy) can be met with this additional capacity, taking into account differences throughout the day and in seasons?
What can HTM itself (own use) do with extra generating capacity / renewable energy, e.g. electric charging of buses and storage for use during peak demand?
Are there barriers in (public) governance, formal and informal institutions, and resulting legislation and regulations that prevent, hinder, delay or otherwise frustrate the use of this capacity?
Goal of the project
The purpose of the project is to investigate whether and to what extent the existing HTM infrastructure offers opportunities to provide additional energy distribution for residents of The Hague.
Final product / Intended results
An accurate calculation of sustainable generation from locations around HTM connections, expressed in kWh for both flat roofs and large vertical facades.
Insight into and a calculation of additional distribution capacity in the event of better use of HTM infrastructure, based on a number of substations.
This also includes the possibility of improved recovery of braking energy.
An overview of the possibilities for self-consumption of sustainably generated energy, including an estimate of the percentage of self-consumption in relation to the total amount of energy purchased and returned to the grid.
An overview of obstacles and possible solutions in the area of governance to use HTM infrastructure for additional electricity distribution.
Project Manager
Pepijn van Willigenburg
Researchers involved
Lecturer Sander Mertens
dr.ir. Baldiri Salcedo Rehola
dr.ir P.J. van Duijsen
dr.ir. Gerben Hoogendorp
ing. Diëgo Zuidervliet
Project start and end date
Activities will start at the beginning of April 2021, with a lead time of one year.
Courses and/or minors involved
Electrical Engineering, Spatial Planning, HBO Law.
Power Minor (possibly more).
Funding
For this project, The Hague University of Applied Sciences and its partners will receive a total subsidy of €55,000. The remaining costs will be paid by the partners out of their own pockets.
Partners
HTM
CityTec
DC Opportunities R&D