Autonomous wheelchair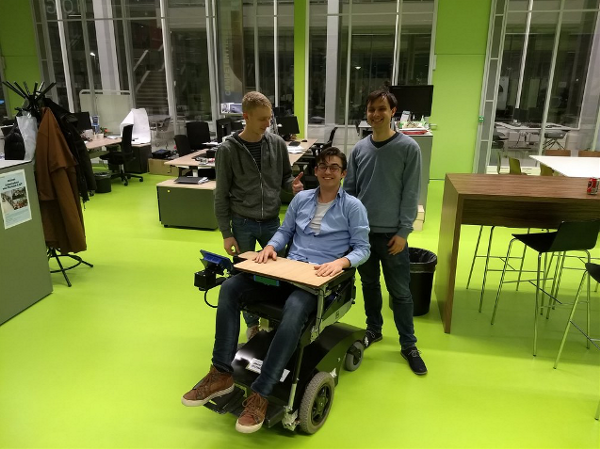 The research group Smart Sensor Systems of The Hague University of Applied Sciences researches the application of mobile and intelligent robotics. It's conducting research on making wheelchairs safer and more user-friendly with new functions such as: 'automatic driving', 'collision detection' and 'support when performing difficult manoeuvres'. This project is part of the Smart Mobility & Smart Control research line of the Research group Smart Sensor Systems.
Objective
Create a smart control module for existing wheelchairs (and possibly also for wheeled walkers and mobility scooters). The control module should be user-friendly and safe, and result in the increased participation of wheelchair users and a reduced workload for care providers.
Improved quality of life
What impact does a wheelchair with such 'smart functions' have? To answer this question, Klaasjan v. Haastrecht of the SmartLab Sophia Revalidatie consulted with occupational therapists from Tyltylcentrum De Witte Vogel and the Sophia Revalidatie rehabilitation centre.
Conclusion: 'Smart functions' for existing wheelchairs help to improve the quality of life for various groups of people. This includes people with some of the following conditions:
a chronic progressive condition;
ALS;
MS;
a high spinal cord injury;
a perception disorder.
In addition to improving the quality of life, it also makes care for these groups of people more efficient. For example, people in rehabilitation centres can be sent to a specific destination without the need for nursing staff to push the wheelchair.
Further development
In cooperation with students, a first prototype of the 'automatic wheelchair' was developed, which demonstrated the principle of automatic driving. However, we still need to improve reliability and driving comfort before it can be tested in a real-life environment. Further development is conducted in co-creation with rehabilitation and/or care institutions, collaborating companies and The Hague University of Applied Sciences.
End product/intended outcomes
Prototype of an automatic wheelchair
Project leader
Rufus Fraanje
Participating researchers
John Bolte
Duration
Ongoing project
Degree programmes and/or minors involved
Mechatronics - Robotics and Vision Design minor
Funding
Research group reserves
Publications
Media