Opening of the academic year 2023-2024
Thursday 31 August marks the official opening of our new academic year. Our moderators, colleagues Mendeltje van Keulen and Tariq Sewbaransingh, will give you a warm welcome at 4pm in the Aula of our main campus on Johanna Westerdijkplein. We hope to see you there!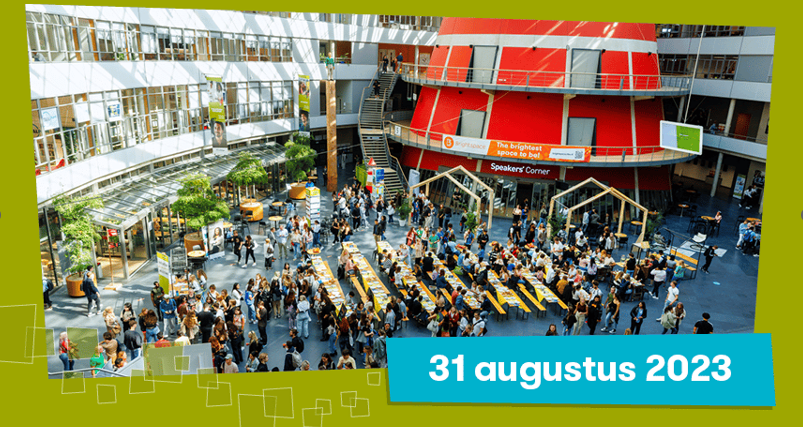 Course in perspective 
This year's Opening is all about the movement we are making as THUAS. With our new Strategic Plan called Inquiry-based learning with impact, a new course for the next five years was set last year. We'd like to put that course in perspective: what are we moving towards, with what purpose, what steps have we already made and what important steps will we make in the coming academic year with each other and our partners? Moderator Tariq interviews our Chair of the Executive Board Elisabeth Minnemann and puts these - and more - questions to her. 
Future generations 
Besides diving deeper into the movement THUAS is making, we like you to get inspired by the theme Contribution to a sustainable and just world from our Strategic Plan. We do this together with Jan van de Venis, a lawyer specialised in human rights and the environment and Acting Ombudsman for Future Generations. Jan will take you through his story on involving future generations in policies with an impact on tomorrow. 
THUAS Award Show 
We will end the Opening with our THUAS Award Show. Just like last year, we will put a spotlight on students and staff who, alongside their studies or work, have made a special achievement. We will gladly give them an applause after which we can toast to a new academic year together!
 NOTE: AN ENGLISH-LANGUAGE INTERPRETER IS PRESENT
Programme in a nutshell
Warm welcome by our moderators Mendeltje and Tariq
Tariq interviews Chair of the Executive Board Elisabeth Minnemann about the movement we are making as a university of applied science
Keynote by Jan van de Venis about his thoughts on involving future generations in policy with an impact on tomorrow
THUAS Award Show: we put a spotlight on colleagues and students!
Reception – time to connect.
Will you join us? Please register in advance!