HBO-ICT uses study advance funds to support SEN students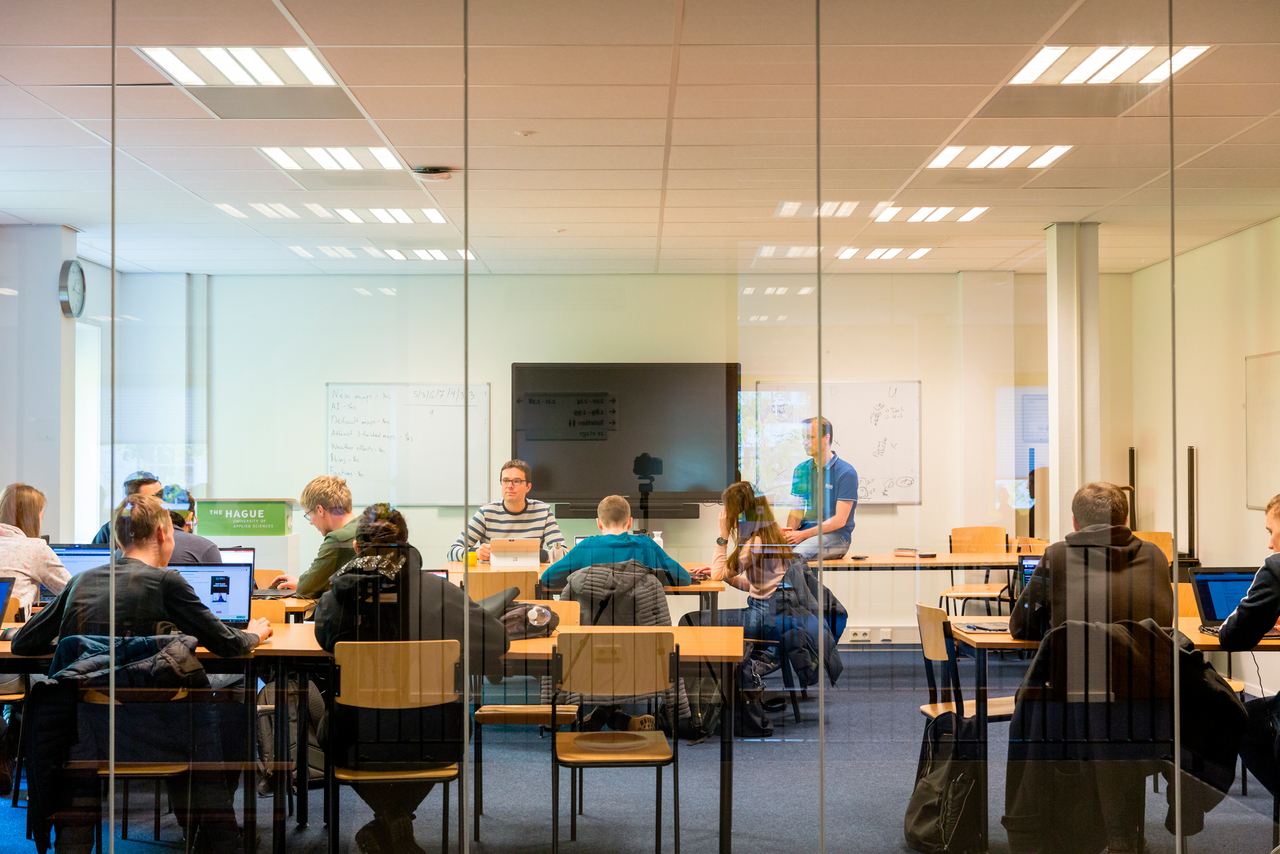 "It's so wonderful to see them graduate and be in demand" 
When she was first hired as a lecturer/SEN specialist for HBO-ICT almost five years ago, she had her work cut out for her. With her background as an ortho-pedagogue and education psychologist, Machteld Schölvinck was the right person to support students with special educational needs (SEN). The HBO-ICT degree programme was willing to allocate study advance funds for this group of students. Now Machteld is working with a colleague to provide SEN support. 'It's so wonderful to see the students graduate and immediately find a great job.'
The HBO-ICT degree programme has a relatively high enrolment of students with some form of autism. That is why more than five years ago degree programme manager Sandra van Steenvelt decided to create a position for SEN support. Machteld: 'I am very proud of Sandra and faculty dean Han Biemans . They realised there was a need for this. You need that support from management to be able to assist these students. Now, after more than five years, HBO-ICT has become much more feasible for students with autism or any other kind of special educational needs.'
Unambiguous
'We are talking about teenagers who often already have a painful history of failure by the time they enrol at The Hague University of Applied Sciences. In kindergarten they were already excluded from the group, because they behaved 'oddly'. Unable to cooperate, they ended up in special education, because there was no need for collaboration there. When they have the perseverance to enrol in an HBO-ICT degree programme, they actually need to collaborate a lot in the first semester.
Five years ago I began the challenge to help the students get through the first six months and to provide them with good support throughout all of their study years, by taking the time to really listen to them. The first hurdle turned out to be the subject presentation on Blackboard. All subject coordinators have their own way of filling in Blackboard. Upon my request this was standardised. The unambiguity and clarity was not only good for SEN students, but for all students.'
Scrum
'HBO-ICT works a lot with scrum. But not in the first semester. I had conversations with students who experienced their third-year internship as a period of calmness. During their internship everything was done as a scrum, including the daily stand-ups: I did this yesterday, I am doing this today. There is always the standard question: are there things you find challenging, do you need help with anything? These daily stand-ups provide a good overview for students with autism. A set time, a clear overview of who does what. And being asked if they need support with anything daily also helps them overcome their fear of failure. Scrum is a professional method that gives SEN students a lot of overview and structure: you achieve success by taking small steps forward and evaluating every step.
The first semester in HBO–ICT is a challenging hurdle. By implementing scrum in that first semester, we were able to help students with autism to better overcome this hurdle. After that everything becomes relatively easy. Most students will choose programming as their major. They are really good at this.'
A different kind of graduation
We learned that graduation was also a hurdle for SEN students. Machteld: 'Normally you don't get a lot of support during the graduation phase. It's your final test. But you do have to produce a hefty thesis to demonstrate your knowledge. A semester like that can be a nightmare if you have difficulties with planning and organising. Instead of producing a thick stack of papers, all students will create a report of their meetings with their examiners with a maximum of two pages. They do have to showcase the professional products that they created in that semester. During this period they meet four times with their graduation coordinator for evaluation and feedback. This way we were able to implement the scrum cycle in their graduation phase as well.'
Awareness upon enrolment
Nowadays Machteld Schölvinck is also able to identify special education needs students much quicker. 'When I just started, I would only notice them during the first semester. That was unfortunate, because by then they had already suffered a great deal. Now when students register via Studielink, they can indicate if they need extra support. I will send those students a letter by June, hoping that their parents will also read it. In that letter we invite the student and their parents for a meeting. This gives them an opportunity to get to know the school before the summer break. They will learn how Blackboard and Osiris work. We also give them their login information, so they have time over the summer to figure everything out. It's also nice for the parents to see how everything works in our degree programme. Sometimes I agree with the students and parents that if I am worried about anything, or if the parents are worried, that we can reach out to each other. I motivate this to the student by telling them: the first semester is very challenging for all students and I want to make sure that you get all your first semester credits.'
Two wishes
Degree programme manager Sandra van Steenvelt told me something very important during my first six months at THUAS: 'Our SEN students are the canaries in our coal mine. If we don't get it right, they will be the first to drop out. If we can prevent their drop out, it will have a positive effect on all students.' My colleague and I gladly put in the effort. We have achieved a lot in the last five years. There are still two wishes left on my wish list.
I would love it if all lecturers – many excellent people who love their subjects – would prepare their classes with the canaries in the mine in mind. Imagine that as a lecturer you need to explain the meaning of two concepts instance methods and constructors. It would be great if you ask yourself: what does the class look like when I explain this? What do they need? What is the best way to explain these two concepts? What clear examples can I use? What mistakes have students often made in the past? What questions can I ask to make sure the students have understood everything? What questions can I ask to make sure they don't commit the most common mistakes in instance methods and constructors?'
And her second wish? 'Every degree programme attracts a certain type of student. It would be wonderful if every degree programme would do what my colleague and I are doing at HBO-ICT. That will help a lot more than simply giving a training in dealing with fear of failure. Or planning and organising a workshop. Instead ask yourself: how can you accommodate the characteristics of your students to develop a better degree programme, so fewer students drop out?'
Seen and acknowledged
Machteld Schölvinck has a passion for 'her' students. 'Some students tell me that they have had experiences of failure in other degree programmes. These same students are able to graduate with us. And often within the established time frame. With a lot of self-confidence. And with a good job in their pocket. That is amazing. They are seen and acknowledged. That is why I do my job.'