Working together on a green city: how do you stimulate that?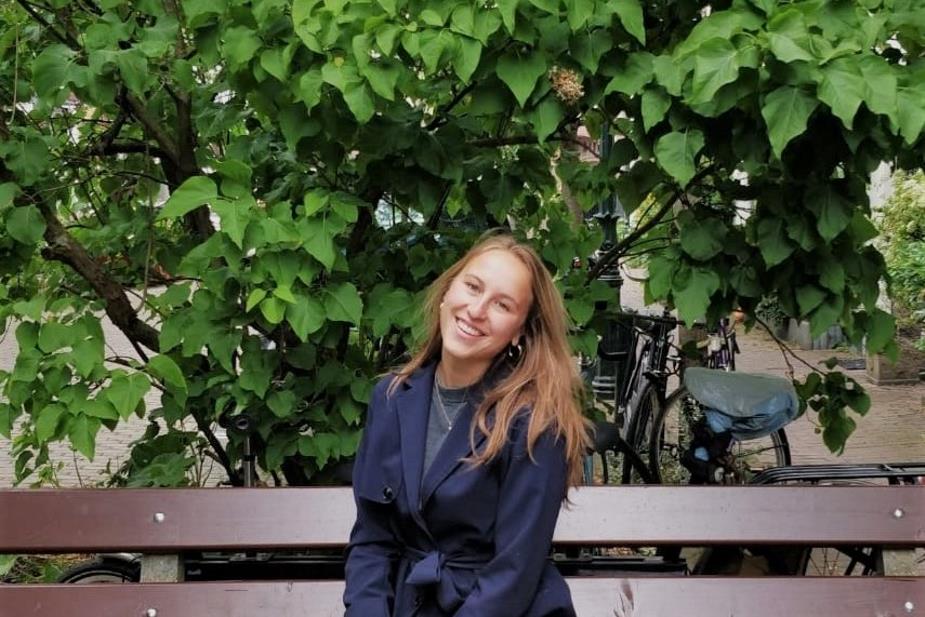 Fera Overdiep is sure everyone can help to make the Netherlands greener. Her graduation research for the Spatial Development degree programme focussed on how to stimulate shared responsibility in nature in the urban area of Zuid-Holland. Would you like to remove a few tiles next to your front door and plant sunflowers or a pear tree? Good idea! With help from the municipality and a nature organisation, you can create a lovely facade garden. Fera discovered that urban greening energises her.
A facade garden, neighbourhood garden, adopted greenery
A facade garden is one example of how residents can provide more nature in the city. There are more ways. Adoption greenery, for example. This means that, as a neighbourhood or school, you take over a piece of public green space from the municipality and help with the weeding or pruning. Or how about a neighbourhood garden. These emerge when a group of people turn a paved square into a green space or vegetable garden, where they can get together and undertake fun activities. 
Fun and challenging assignments
Fera defined her graduation project by herself. She contacted the Nature and Environment Federation of the province of Zuid Holland (NMZH) because of their Nature in the City project. Fera: 'We came up with this new research during our discussion. Very nice, because this really interests me. I fully support the idea of working together to make the city greener by properly dividing the tasks. At the same time, it was also quite challenging; this is a current and difficult subject that gives many parties - including the NMZH - sleepless nights. Because how do you share responsibility properly? At the end of the day, I was the expert.'
Participation and the Environment Act 
Why this particular research? An important reason is that the Environment Act will come info effect next year. The Environment Act unifies and modernises dozens of laws that govern our living environment. All existing laws and regulations are combined into one law. Fera: 'Active participation, is one of the pillars. Municipalities need to promote much more participation and they are seriously struggling with this. In addition, we have to make urban areas greener to achieve the nature targets for the province of Zuid-Holland.' 
Neighbourhood garden instead of lawn
To provide carefully considered advice, Fera did several things. She immersed herself in studies on shared responsibility and got on her bike to ask municipalities question and to visit fun greening initiatives. For example, she saw how a housing cooperative, in consultation with the tenants, planted a neighbourhood garden with native plants instead of a lawn. 'A frequently heard argument is that a lawn is cheaper to maintain, but it has much less ecological value. It's useless for the bees, so to speak. So it's nice to see that things can be different.'
Children are engaged with each other in nature and learn in a playful manner 
why that is important
At another location in Zoetermeer, she saw happy schoolchildren working in their mini-forest. As long as there is little to see - it starts with seeds and saplings - the main thing is for children to experience what it's like to be involved with nature and how important that is. A kind of outdoor classroom. Fera: 'I think that's a good thing in any case: to emphasise education and participation, so people get to experience nature. With a bit of luck, this will lead to more facade gardens, now or in the future.
Paradise in the city
'I also went to the Groene Mient: a sustainable village in The Hague. The residents formed an association and together they created a small paradise. They apply the principles of permaculture: everything in balance, vegetation complementing each other. You need a clear vision for that and that doesn't work everywhere in the city, of course. But there it does work. If everyone has the same expectations, it's easier to divide the responsibility. A superb initiative, and a fine example of how participation and shared responsibility go hand in hand'.  
An energising specialisation
Through all the interviews, Fera was able to make connections between the various parties, such as initiators, municipalities and nature organisations. And she noticed how much energy she got from this specialisation and all those motivated people. She would like to advise residents on behalf of the municipality. She also wants to do a master's degree in the future. But not right away. Fera: 'When I get my diploma, I want to take a break from studying. It would be so much fun to actually finish a project and I think that you learn the most in the field.' 
Visualisations for clarification
Her report and recommendation are almost ready. Fera: 'It already looks good. Providing a visual representation is something you learn in Spatial Development: it's best to be short and concise in your writing and use visualisation for further explanation. I happen to enjoy doing that. Once she graduates, she will miss the students and lecturers at Spatial Development. It's a small degree programme so you have very close contact with people. No, I never regretted my study choice for a second.'

Are you interested in your environment and would you like to see a greener world? Read more about the Spatial Development degree programme at The Hague University of Applied Sciences.