Update on press conference 25 January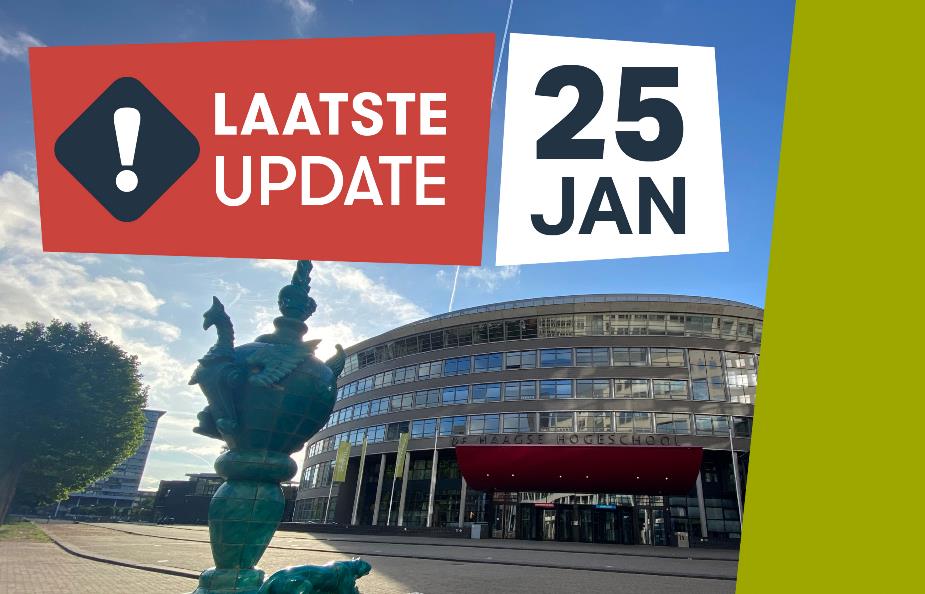 On Tuesday 25 January, there was another government press conference. No further relaxations were announced for higher education. This means that we will continue as previously announced: until at least until 4 February our regular education will mainly take place online, with the exception of exams and practical classes. The second semester will start on Monday 7 February when the regular, in-person timetable will again be in operation - within of course the conditions and measures in force at that time. 
Face mask policy: an obligation, also in the classrooms 
As you have been able to read, it is compulsory for students and staff to wear a (preferably medical) face mask in all areas of THUAS. This also applies in the classrooms. There are only a few exceptions to this:  
If you are sitting down and are able to keep a 1.5 metre distance from eachother. 

If wearing a face mask is a hinderance for a lecturer or when teaching or during research activities and a distance of 1.5 meters can be kept, he/she may decide to take off the mask. The teacher/researcher should then remain at the front of the class. This also applies to students that e.a. need to make a presentation for the class, they may take off their face mask with the approval of the lecturer or researcher.    

Taking off the face mask to eat or drink something is only allowed if with a minimum distance of 1.5 meters from others. 

For THUAS employees the standard still applies: work from home as much as possible. Employees that do need to work on campus, are also obliged to wear a face mask. Only in workplaces where 1.5 metres can be maintained and/or where people are seated in a workplace behind Plexiglas, may the face mask be taken of. 

You may have a medical reason for not wearing a face mask. If that is the case, you are in possession of a 'eigen verklaring uitzondering mondkapjesplicht' (declaration for an exception to the face mask obligation).   
If you, as lecturer or researcher, have doubts about certain situations then please discuss them with colleagues or with your supervisor. If you have any questions, you can also contact the Safety Reporting & Advisory Centre. 
We are aware that this situation continues to demand a lot from us, such as wearing face masks in lessons where 1.5 metre distance cannot be maintained and enforcing the rules. Nevertheless, we are pleased that more and more is becoming possible again in everyday life. We therefore urge you to respect the measures in place at our college and to continue to test yourself twice a week, so that we can ease the restrictions as much as possible within higher education.   
The Executive Board   
Elisabeth Minnemann, Hans Camps, Rajash Rawal