"Twenty years ago I just wanted to get out of school"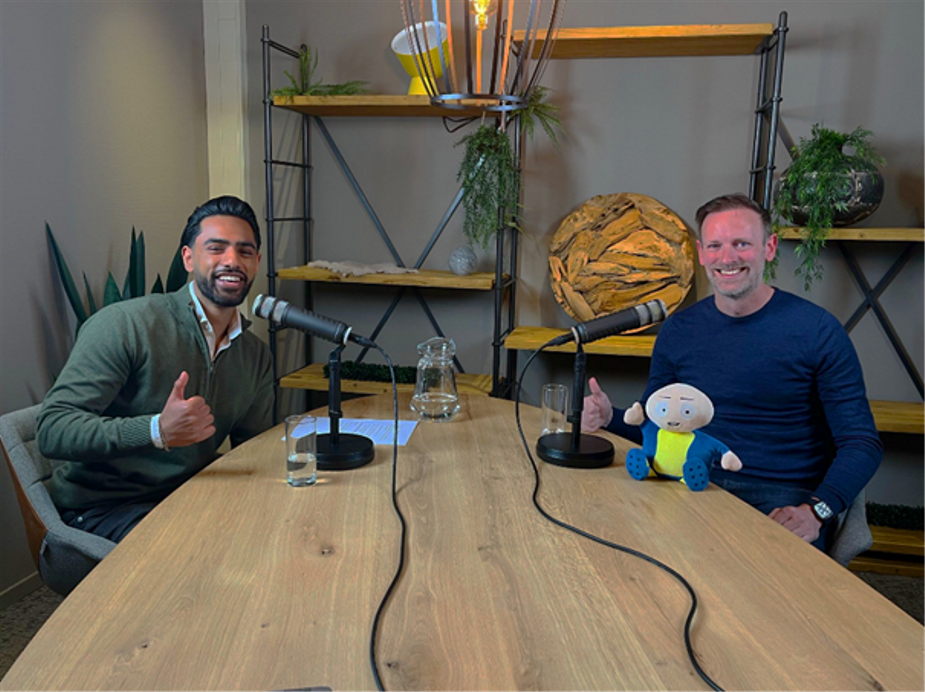 Now that society is rapidly digitising - we can even control our thermostat remotely - the field of ICT is increasingly broadening. How does a fourth-year HBO-ICT student see this? How does an alumnus with a lot of ICT and entrepreneurial experience see this? A conversation with Shera Guiliano Doekhi and Jeroen Derwort about the degree programme, the opportunities of today's ICT professional and the future.
We are talking via MS Teams, the digital communication tool that became big during corona. Shera Doekhi has found a quiet spot in the Dutch Innovation Factory. But he is soon discovered. Several people greet him during our conversation. Not surprisingly. Shera is committed to the community of the Dutch Innovation Park. And he is becoming increasingly well-known for his great passion: talking to interesting people in The Dutch Innovation Podcast, which will be available from September via YouTube and Spotify. In the meantime, he is getting his network excited by posting regular updates about the podcast on his LinkedIn and private Instagram (@SheraGuiliano_) so that everyone knows about it.
Creator of OSM
Jeroen Derwort is 42 years old and a father of two. He developed Online Soccer Manager (OSM), the football game that has been and is played by millions of people worldwide. He has a huge passion for programming. As an IT entrepreneur, Jeroen is a role model for younger people like Shera. ICT and the internet hold no more secrets for Jeroen. That is clear when you look at his website. Don't expect any glamour stories, by the way. "Twenty years later, with two companies and exits to my name [...], it's hard to imagine that in my adolescence I had so little self-confidence that I didn't even dare to go to the supermarket. But that's how it was."
Educational environment
Shera has a different attitude to life now than Jeroen had in the past. He enjoys the degree programme space in Zoetermeer. "It's a unique environment where you can develop yourself well. You will learn and have the opportunity to work closely with companies inside and outside the Dutch Innovation Community. Everything under one roof." Twenty years ago, Jeroen just wanted to get out of school. Because school bored him so much, he developed OSM as a student. "No, I don't think a single teacher knew about this at the time." As a students supervisor, he is now a regular at the Dutch Innovation Factory and in the main building of The Hague University of Applied Sciences. "It has improved so much. You really can't compare this to the educational environment of twenty years ago."
This is a unique environment where you can develop yourself well
All across the world
Shera tries to keep with developments in cybersecurity as much as he can. "Last week I received a guest in my podcast who is actively engaged in cybersecurity. Developments happen very fast in this area. This man said that the agricultural sector is also interesting for cyber crime. This offers great challenges for students with my differentiation.
As a programmer, Jeroen thinks cybersecurity is 'important stuff'. He still enjoys programming. "I have started and sold two companies. The advantage of selling a company and starting again is that you can then work with programming language to solve problems from scratch." He sees many opportunities for HBO-ICT students who want to specialise in software development. "You can do your job anywhere in the world. You can also easily do it remotely. Go surfing in Portugal and also develop software for your boss or for your customers."
Inspired
Shera wanted to become a presenter from an early age. During the corona period, he discovered the podcast medium. "Really great, man! I invite guests with a certain specialty and we talk about education, entrepreneurship, innovation and technology. You learn from people you would otherwise not easily speak to. And everyone who listens can benefit from it. I started the podcast together with a fantastic team because I want to show students the opportunities for further development during and after graduation. I'm also constantly inspired by the conversations. You also see how quickly ICT develops. I'm very curious to see where we will all end up."
The future
"ICT is very much on the move," agrees Jeroen. "The things that I learned twenty years ago at The Hague University of Applied Sciences were trendy then and outdated now. You never know which way it will go. This is why ICT remains an interesting and challenging field. Developments happen so fast that you really have to make an effort to get back into it if you have been out of ICT for a few years."
Shera finds it difficult to look into the future. "Entrepreneurship attracts me. I have a whole life ahead of me. This will allow me to experiment a little in business first while gaining a lot of professional expertise." Jeroen would like to write a book about his experiences as a person and as an entrepreneur. "I'm an entrepreneur. I like programming. But I have also developed a passion for education. I now supervise students on behalf of THUAS. The next five years will show me which way the scales will tip."
Twenty years ago, I could never have imagined that I would become this person
Community
Both are enthusiastic about the Dutch Innovation Park community. Shera: "Here we want to bring education and entrepreneurship together. I see increasingly bigger partners joining us." Jeroen: "Such a community starts from idealism. Companies are joining now because there are win-wins to be had. They are interested in the students as future staff members. In this a community, it's easier to interact with them. This is good for the students, for the university of applied sciences and for the companies."
Shera is an easygoing person. He can present himself very well. For Jeroen - now an example for Shera - this was quite different in the past. He likes to address the students who are just as unsure of themselves as he was twenty years ago. "Use the help you can get. Come out of your shell, you will be able to achieve a lot. Twenty years ago, I could never have imagined that I would become this person."