Three nominees for Social Worker 2022 announced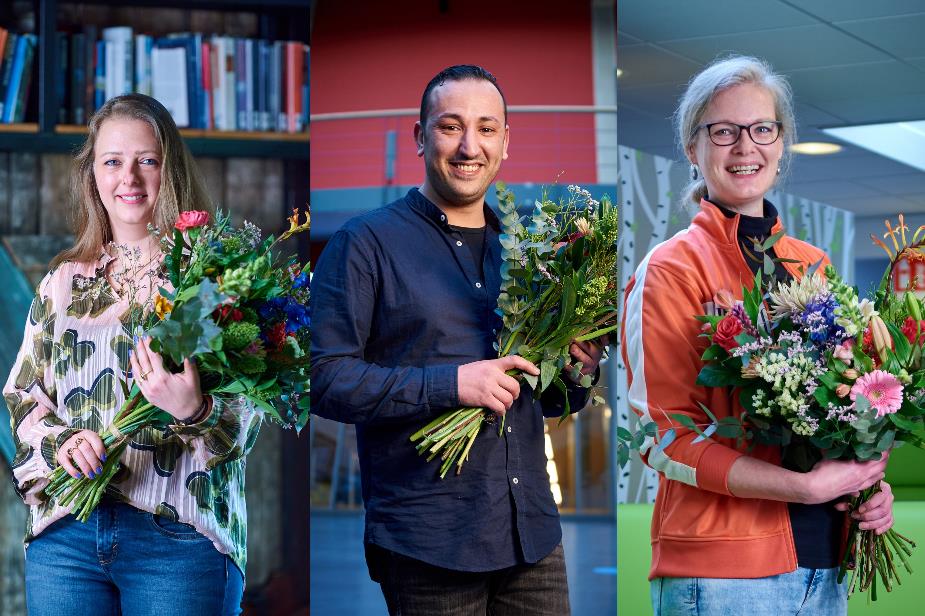 Utrecht, 23 February 2022. Nadine de Koning, Redouan el Khayari and Diana Huurnink have been nominated for the election of the Social Worker of the Year 2022. They were chosen by the jury from the shortlisted candidates. All three shall play an important role as ambassadors of social work in the coming year. During the Annual Social Work Congress 2022 on 18 May next, it will be announced which of them wins the title. Sociaal Werk werkt! [Social work works!] organises the election to give social workers and the profession more visibility.
On 21 and 22 February, the project manager Mascha Boelaars of Sociaal Werk werkt! surprised them by announcing the news of their nomination and offering them flowers. "It is so important to put social workers in the spotlight," says Mascha. "In the coming period they will present themselves to their peers and the public, and from 4 April everyone can vote via our website."
Nadine de Koning, nominated as youth social worker, Welzijnskwartier [Welfare district] Katwijk
"This is really cool and special. I was asked if I wanted to participate in the election and I thought: well, that sounds nice. But now it is getting serious. I see it as an adventure in which prevention and investing in youth are my focal points. All areas of life of young people must be addressed, and an important part of this is the connection to education. We should not cut back on youth, but rather invest in them."
Gwen Spies, Director of Welzijnskwartier [Welfare district] Katwijk
"Nadine is a real source of inspiration. All our social workers are enthusiastic, but Nadine is superlative when it comes to taking young people further. It is great that she has been nominated. She can thus show what she does and how social work is a profession that requires expertise."
Redouan el Khayari, nominated youth worker/social worker, Wijkz and lecturer/researcher, The Hague University of Applied Sciences
"I feel really honoured by this nomination. Social workers stand up for vulnerable people who are disconnected from the system. I am proud to contribute to this. Everyone deserves to be able to develop and enjoy a good quality of life. My ambition is to bridge gaps. Not only the one between the system and the social environment, but also the one between the different social environments. We have a wonderful profession!"
Sahila el Assili and Ouarda el Assili are colleagues at Wijkz
"Redouan is a great example for young people and students. He shows that the impossible is possible. He motivates young people as a role model and because he is always positive about other people's chances: anything is possible!"
Hester Brauer, Social Work Programme Manager at The Hague University of Applied Sciences
"In my view, Redouan is the social worker of the future: a critical social worker who wants to change structures."
Diana Huurnink, nominated youth worker, Avedan
"What a wonderful compliment from the organisation that they nominated me. That alone gave me goose bumps. It is so great that I have been nominated. There is much to be done in social work and, in my opinion, especially in youth work. So I would like to stand for that. My utopia is that one day we will have eliminated all the problems we now face on a daily basis and social workers will no longer be needed."
Ilse Saris, managing director, Avedan
"I am incredibly proud that Diana has been nominated. She is close to and beside the young people and always seeks to deepen their understanding, giving them a message they can take with them. She is also inventive and always has innovative ideas for dealing with difficult challenges in society."
How to connect social work, politics, education and media
Sociaal Werk werkt! organises the election to make the crucial profession of social worker more widely known. A LinkedIn poll recently showed that as many as 94% of respondents think the profession is too unknown. "Through the election, we give the profession extra visibility and make important connections between social workers themselves, politics, education and media," said Mascha Boelaars.

The nominees will be seen and heard in many places all over the country for a period of a year. As ambassadors of social work, they offer guest lectures in education, participate in local, regional and national events as well as political debates. If you want to find more information about the election, please visit the website: sociaalwerk-werkt.com.
About Sociaal Werk werkt!
As the labour market fund of the employers' and employees' organisations FNV Care & Welfare (Zorg & Welzijn), CNV Care & Welfare (Zorg & Welzijn) and Social Work Netherlands (Sociaal Werk Nederland), Sociaal Werk werkt! is committed to the profession, an attractive sector and a healthy labour market with good employment conditions.