Teacher trainees present their wonder assignment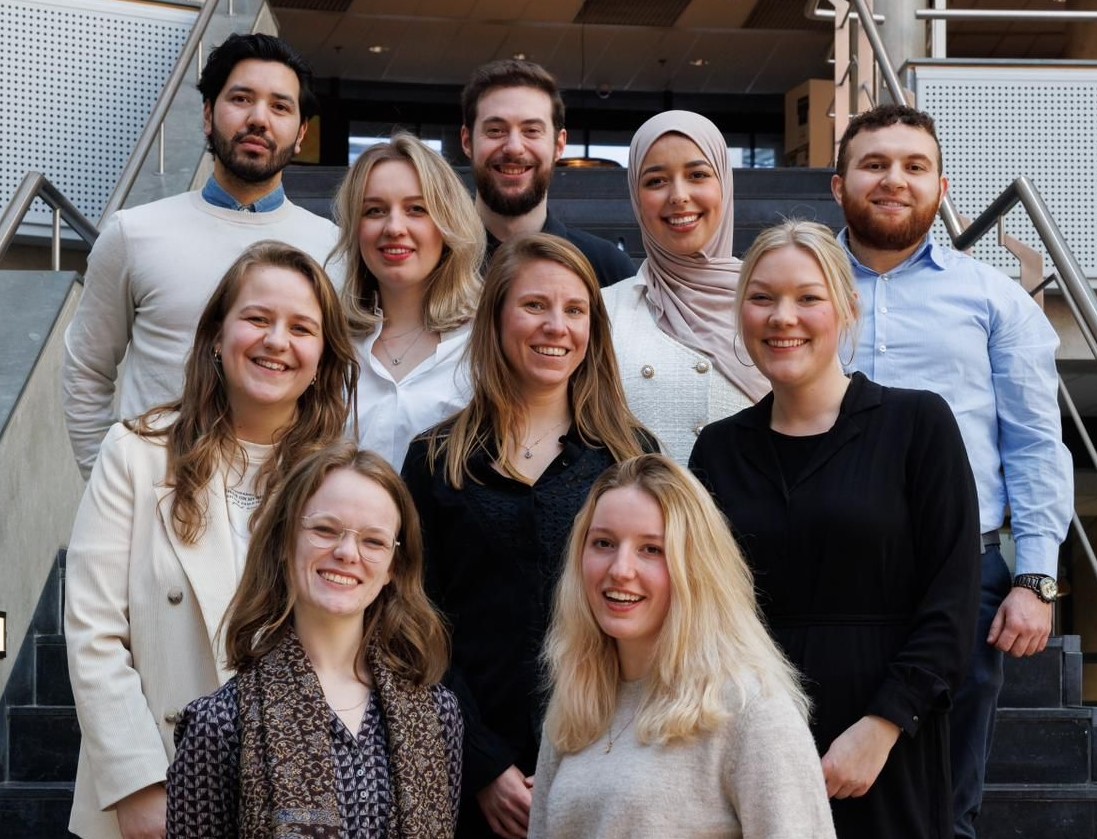 'This group shows ownership in a mature way' 
Offering beginning young teachers a great start: with this aim in mind, The Hague Center for Teaching & Learning has been organising a teacher trainee programme since 2020. To the group that started in January, chair of the Executive Board Elisabeth Minnemann gave a 'wonder assignment'. On Monday 13 March, the group came up with a presentation, attended by many interested people. The young teachers received applause at the end. "It's been a long time since I attended such a good presentation," is how one of the attendees put into words what many will have thought.  
What can you wonder about when you are taking your first steps as a teacher at The Hague University of Applied Sciences? "About the water zebra you have to cross outside," confessed Brenda Slagter, teacher trainee at European Studies, who welcomed everyone. "Now I walk across it thoughtlessly." Wonderment was the central theme of the presentation, which the trainees had divided into the themes of "Welcome and collaboration" and "the New Learning". On each theme, one or two trainees told what amazed them in it. And after each theme there was an opportunity for interaction.  
A flower bouquet 
Sietske van der Wal is a teacher trainee at the PABO: "On my first day, a colleague welcomed me with flowers. Now every trainee has been warmly welcomed, but some are still waiting for that bouquet. There is an open atmosphere and a nice culture at THUAS. We do see big differences between courses. To name but a few: at HBO-ICT, as a trainee, you are mainly a coach. At HBO-V, you teach and may be asked to participate in a research group. And in Pedagogy, you mainly teach. It would therefore be a good thing if study programmes would cooperate more. For instance, HBO-ICT and PABO could set up a project on how to optimally use ICT in primary education. Talking about cooperation between study programmes gives depth and breadth." 
Jealous teachers 
Mohamed el Morabit, teacher trainee at Business Administration, was amazed that the young teachers were given all the space they needed to develop themselves, to talk to fellow teachers. "Then you hear stories about work pressure. About teachers envying us because they were once thrown in the deep end. In my experience, teaching is never finished. It is linked to society and current affairs. Teachers have many tasks. Because of the high workload, there is little time to share things with colleagues. This then happens mainly during meetings, which sometimes make those inefficient." 
Working together 
Elisabeth Minnemann, chairman of the Executive Board, was happy to take advantage of the invitation by Alisena Lali, teacher trainee at HBO-ICT, to comment on the presentation so far. "What triggers me is the point about cooperation between courses. That should be commonplace within THUAS. But because of the workload, that cooperation is lacking. Can you tell us what we can do to realise this attitude THUAS-wide? What lessons learned or what niches have you discovered?" Brenda Slagter cannot give her an answer yet, but sees an invitation in the question. "If everyone thinks it makes sense, we are quite willing to start considering these questions."  
Several attendees then come up with ideas: collecting best practices, working more efficiently by working together. "Let us become the change agents here who encourage colleagues to look beyond their own study programme," says someone. Another attendee: "Collaboration is much easier than we often think: you just have to start doing it." The presentation clearly inspired on this point. 
The New Learning 
'The New Learning' was the second theme of the presentation. The trainees were surprised that New Learning has hardly been given a stage at THUAS, while the business community has widely embraced the New Ways of Working. Ouiam Bousnin, teacher trainee at the Human Resource Management programme, explained how this study programme has a best practice in its hands with the Internship Point. "There, HRM students support fellow students from all programmes who have faced internship discrimination. They help them with networking, language delays and applying for internships. In this way, they raise awareness that students are responsible for their own learning process. To underscore that ownership, other programmes deploy talent minors. You can take these if you are very committed to your education. By doing so, these programmes reward students' intrinsic motivation." 
Startled by low attendance 
The New Learning cannot happen without an adjustment of rules. Now that much more is possible, rules are becoming more diffuse. Jacopo Valtulina, teacher trainee in Business Administration, expressed surprise at this. "Programmes are not consistent in this. I am shocked by the low attendance of students in classes. How do you deal with that? How do you deal with students who think their smartphones are more important than the lectures? What answer do you give to a student who wants to take all classes online? We wonder if more concrete and consistent policies are needed on these points." 
Expecting ownership 
This second theme also provokes discussion. The solution found by Industrial Engineering & Management seems to be very much in line with the New Learning. "At our study programme, students are given a lot of freedom. But we also expect ownership from them. If they don't come to class, they have to make sure they can do the assignments with knowledge input they have acquired in another way. And otherwise they fall through the basket." 
Elisabeth Minnemann: "We are working on the new educational vision. Our vision should make clear to students what the added value is for them to come to us. I am curious whether this issue also plays a role in programmes that focus more on coaching." She gets an answer from HBO-ICT. "With us, students are mainly coached. That is starting to work well." 
Going through the same process 
After the presentation, a beaming Danielle Dersjant - who, together with Dieuwke de Boer, is the initiator of the trainee programme - says she is happy with this group of trainees. "I think it is great how they have taken up this assignment and presented the results to us. This group shows ownership of their trainee programme in a mature way." 
Trainees Hannah van der Ham and Jacopo Valtulina take that compliment with a smile. They talk about how quickly this group created a mutual bond. Hannah: "As if we have known each other for years." Jacopo: "I come from the business world. There you don't show the back of your tongue so easily. But I have never asked so many questions to myself and others as in this training programme." Hannah: "As trainees, we are all in different study programmes. Yet you go through the same process. That makes it nice to share your experiences." 
Finding the right balance 
As trainees, they have studied the new Institutional Plan and are thinking about a new educational vision. Hannah articulates what both of them think about this: "As a university of applied sciences, you are there for the student. Then it is good that research is more integrated into education. Then, as a lecturer, you would prefer to provide tailor-made solutions. But sooner or later you always come up against the challenge of finding the right balance between ambitions and workload. It is the big challenge for all lecturers to find and maintain that balance."