SYMPOSIUM 'HYDROGEN-ERATE IDEAS'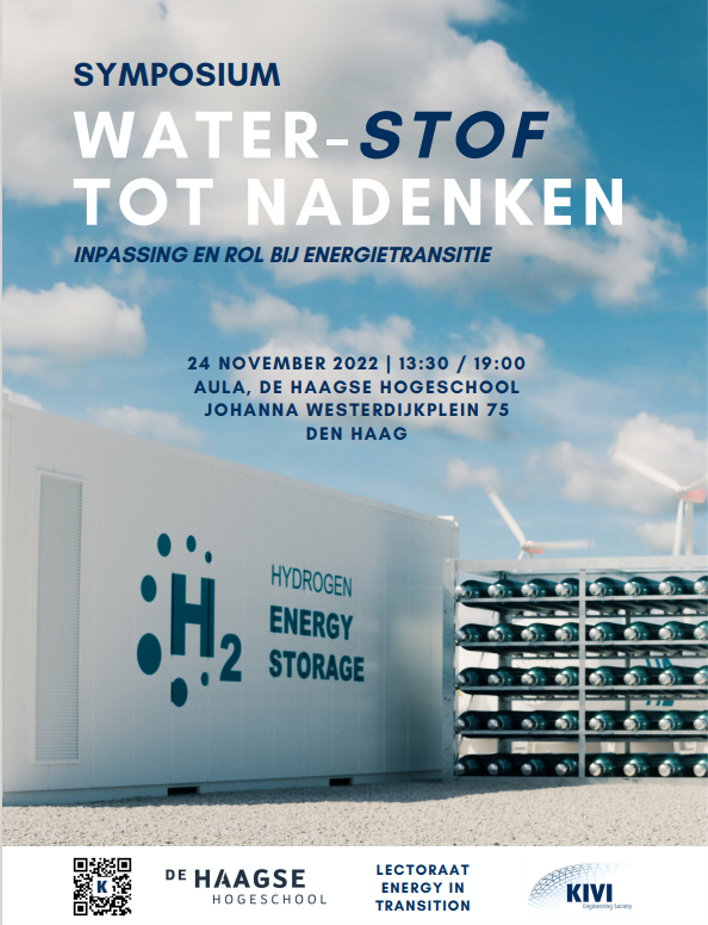 The themes of energy transition and becoming natural-gas independent are more urgent than ever! The question is: What could be the role of hydrogen as an energy carrier in this? What are the options? What problems are we running into?
To discuss this, the Energy in Transition research group of The Hague University of Applied Sciences, in collaboration with KIVI, is organising the symposium 'Hydrogen-erate ideas' this Thursday, 24 November. During this symposium, we will highlight the opportunities for hydrogen use from four perspectives:
Are we going to produce hydrogen ourselves or buy most of it?
Energy supply and demand do not always match, how can hydrogen make a difference in this?
How can we produce hydrogen and how do we use residual heat more effectively, and what does that mean for our system choices?
What can we do locally in the built environment to unburden the energy grid?
Our speakers will give you insight into their practices and solutions for the various issues they face. In between the presentations, Sander Mertens, professor in Energy in Transition, will highlight his KIVI chair and talk to you about system choices. In fact, there are several roads that lead to Rome. Are we on the right track, are we making the right system choices? Should we stick with hydrogen for heavy transportation and industry, or is it useful to give hydrogen a role in the built environment?
There will also be an information fair with some examples from our research practice that are relevant to the topics of this symposium. make sure to visit the displays before the event, during the break or during the network happy hour. With this symposium, we want to 'Hydrogen-erate ideas' and demonstrate that there are tremendous opportunities if we start thinking more systemically.
Mark the date on your calendar. We will be announcing our speakers and the full programme soon! Interested? Sign up for free here.