'The Strategic Plan is a steppingstone to the flexibilisation of education'
For Arend Jan Pleizier, personal learning pathways are the future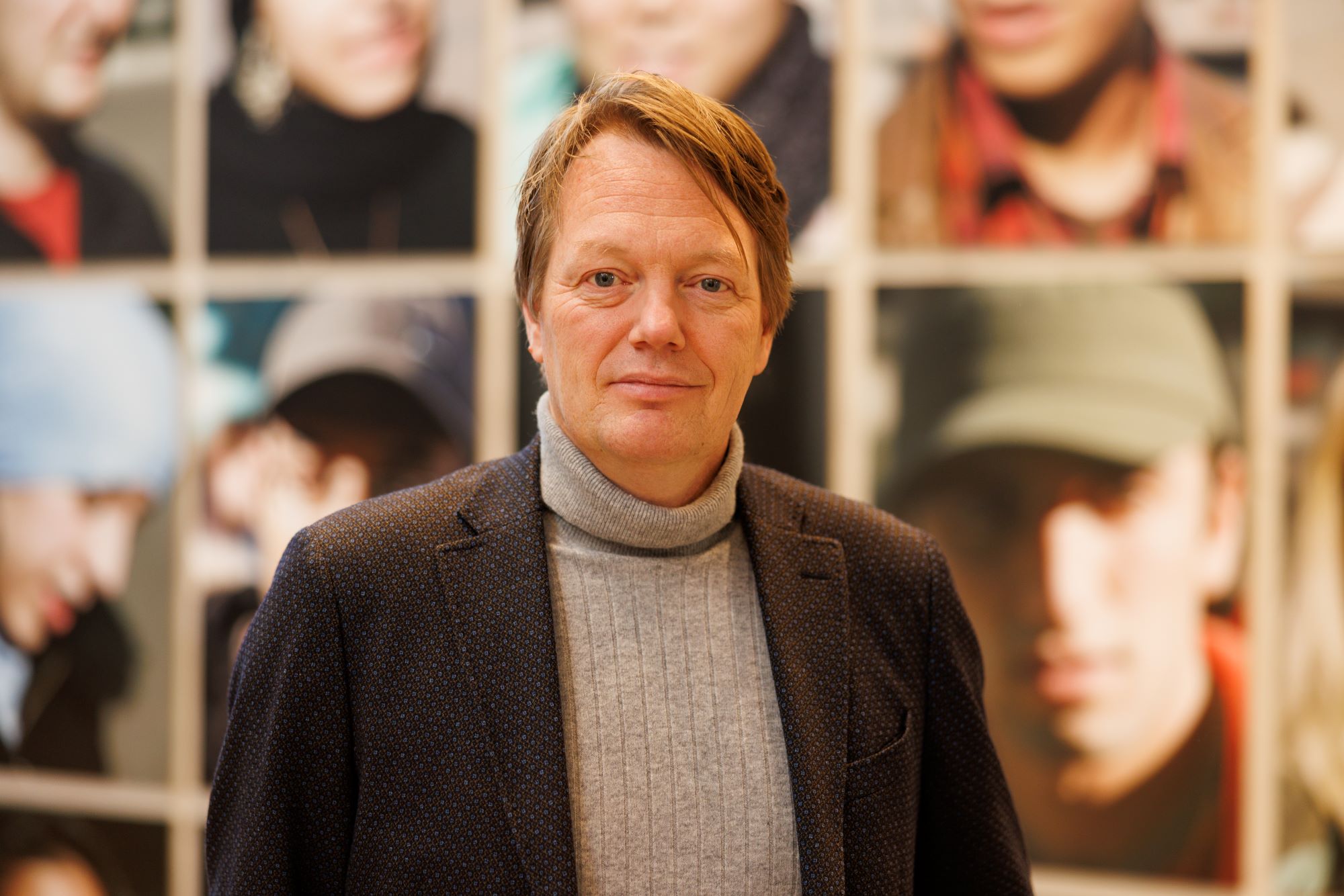 Regular higher vocational education? Full-time, part-time and dual degree programmes? If it's up to Arend Jan Pleizier, those will soon be a thing of the past. "As a student, you will soon be able to tailor your education to your needs, ambition, age and experience." He sees the new Strategic Plan as a nice steppingstone to that future situation. A conversation with the LLO/Masters programme manager within the Faculty of Business, Finance & Marketing. "I prefer to call myself the programme manager for Business, Finance & Marketing (BFM) professionals. That says much more about our target group: we have a great offering for professionals that allows them to develop their own personal learning route."
For many at The Hague University of Applied Sciences, Arend Jan is the figurehead of educational flexibility. "Our ambition is flexible education. I inspire people in this area and handle everything that stands in the way of flexible education. To arrive at this new situation, we need to prepare the organisation. Change our mindset and put the systems and processes in order. To ensure that we will soon all be able to realise those new personal learning routes, I am now mainly busy creating pathways that do not yet exist."
Using the work field
How is this new education for professionals different from the old part-time education? "The part-time degree programmes that we had at BFM until recently were derived from full-time programmes. The curriculum of part-time degree programmes is based on the curriculum of full-time degree programmes. And that, in turn, is based on the profile of the full-time student. But the profile of the part-time student is very different to that. The professional has his own field of work, where he directly applies what he has learned. We can make much more use of that workplace than is currently the case. In my conversations with teachers, I therefore encourage them to visit all their students at their workplace."
'Today's professional is working hard on his personal development'
Younger part-time student
He sees another development. "The target group of part-time education is getting younger and younger. We assume that the part-time student has already gained a number of years of work experience. That they can therefore complete their course of study with fewer teaching days. But today's professional is still working hard on his or her personal development. This professional is not yet ready to accelerate the study. That is why educational flexibility is urgently needed. I am glad that this is written in large letters in the new Strategic Plan. Let's create a Pro offering for professionals that is completely suited for those professionals."
Different ambitions
In Arend Jan's role, as a crossover between what was until recently called The Hague Graduate School and the Faculty of Business, Finance & Marketing, several ambitions from the new Strategic Plan come together. "Flexibilisation and lifelong development. This also includes building educational offerings for associate degree, bachelor and master programmes based on a concept of learning outcomes and learning path-independent tests."
As called for
When asked whether the Strategic Plan therefore came as called for for him, he says: "I embrace it, I do nothing but build on the basis of that plan. Just to name a few: developing the curriculum with blocks of a multiple of 5 EC, being able to test that knowledge and skills in multiple ways, a better connection to the labour market, etc. The form in which this happens is still new. Colleagues and students are working every day to make this their own in our programmes. We must discover and develop that form together.
Basic agreements needed
For many within THUAS, #how-then? may be a real hesitation about the new Strategic Plan. Not for Arend Jan. "For me, #how-then? is everyday practice. We will find out by just doing it. This does require basic agreements, to which everyone adheres, and which will form the new DNA structure of the degree programmes. In the words of Executive Board Chair Elisabeth Minnemann: "We first need standardisation to become more flexible." I fully share that statement. The new Strategic Plan provides the frameworks for these standard choices. Once we have made those, we can make miles together."
In Stories of The Hague, we share portraits of colleagues and students, in which they talk about the connection between their own motivations and the Strategic Plan.