Rosa Groen is strongly committed to sustainability and justice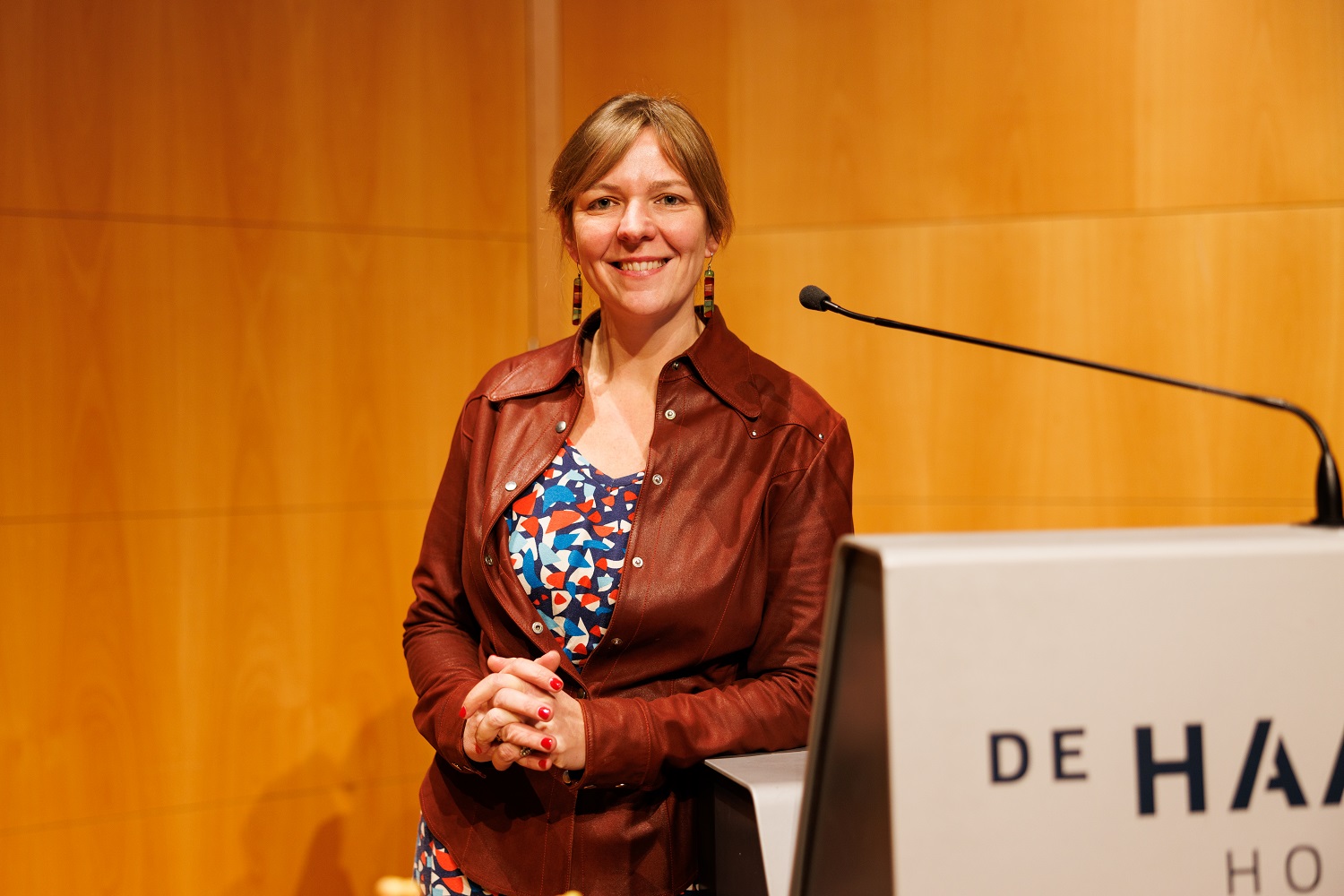 'The Strategic Plan gives me the intrinsic motivation to keep working here'
It is truly unique. The double honour of earning a PhD in the same month as well as being voted the most sustainable lecturer in higher education in 2022 fell to Rosa Groen. As of 24 November, she can call herself a doctor. And on Sustainability Day, the jury appreciated her cross-border and broadly social approach as a lecturer. This fits almost seamlessly with the content of the new Strategic Plan.
Rosa is a lecturer at the European Studies degree programme and a researcher at the European Impact Hub or Changing Role of Europe Research Group, led by Mendeltje van Keulen. 'It is precisely the combination of lecture halls and study room that I like so much. It's lovely to work out how to set up a good research project with students. Or how to conduct an interview as a researcher. You see the students' confidence continually growing.'
Hunger for knowledge
'For me, doing research is going in-depth. And for me, going in-depth is connecting with the other. I'm extremely interested in the broad field of social science. What do people do to realise their goals? How do they lobby? How do they stand up for their interests? How does collaboration come about? I have a hunger for knowledge.'
Intrinsic motivation
Rosa is an enthusiastic ambassador for the new Strategic Plan. 'I live quite far away. It takes me an hour and a half of bike-bus-train to get here. Yet, I stay here. Precisely because THUAS stands for the things you read in the Strategic Plan: Mission Zero, the European perspective, the focus on sustainability and global citizenship. Those things give me a lot of intrinsic motivation to keep working here.'
By train
All the ambitions in the Strategic Plan appeal to her. But a few stand out. 'Take sustainable and just operations. THUAS is committed to zero waste by 2030 and zero emissions by 2040. The university of applied sciences has long endorsed the UN's Sustainable Development Goals (SDGs). In that context, I advocate that lecturers and students should stop flying. In spring 2023, I have a conference in Budapest and one in Helsinki. I plan to travel there by train both times.'
Inclusion
Sustainability and justice, in the Netherlands and Europe. That is what Rosa Groen will remain committed to in the coming years. 'I approach it by making students aware of the SDGs. I will continue to advocate rail travel. I will also continue my research in the city on equality and how important Europe is in that. Young people in the Schilderswijk experience a lot of injustice. I let them know that many European youth organisations are standing up for them. I want to make it easier for them to connect with the city's policymakers who are talking about peace and justice. It is so important for young people to be heard at a local level. Then you really work on inclusion: another important theme from the new Strategic Plan.'
In Stories of The Hague, we share portraits of colleagues and students, in which they talk about the connection between their own motivations and the Strategic Plan.