Professor Luc de Witte gives food for thought on care & technology at symposium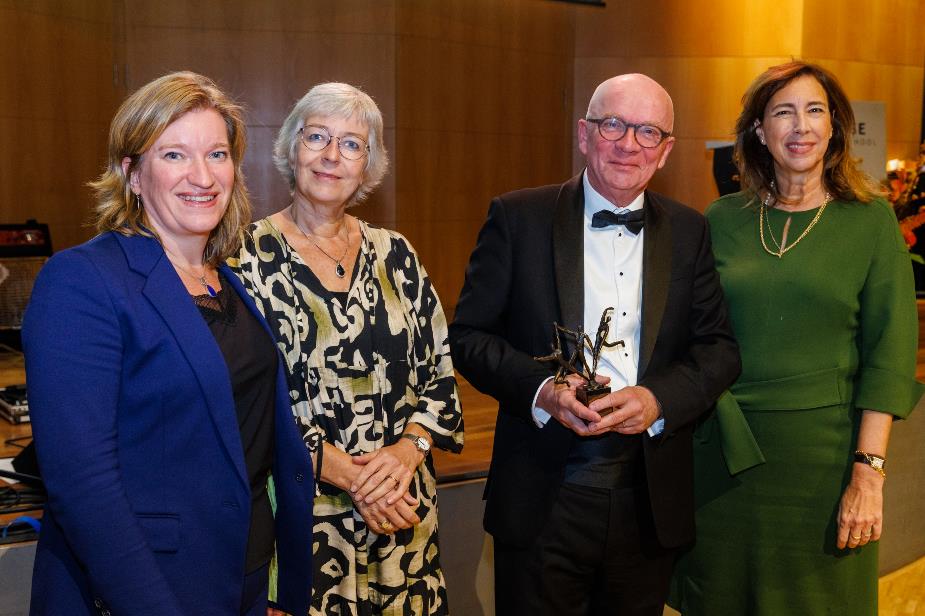 What role does technology play in healthcare? More importantly, what role could, or even should it play? These questions were the topic of discussion at the symposium 'Technology as a tool for an inclusive society and sustainable care' on Thursday, 6 October. Several renowned (international) speakers spoke at the symposium. Luc de Witte, Technology for Health professor, also gave his inaugural lecture: "My dream is for this network to become a Centre of Expertise. So we can really address the bigger issues in healthcare as a region, with shared commitment and governance. Working together is essential; we cannot do it alone."
A connector, a good mentor and a visionary: these are some of the terms Luc's colleagues in the field use to describe him. With over 300 (international) publications to his name and successfully supervising 36 PhD students, he has built an impressive research career. A modest person, he prefers to talk about what he thinks really matters: the challenges and ambitions in healthcare, and, consequently in the Technology for Health research group.
"In 2005, I gave my first inaugural lecture for Zuyd University of Applied Sciences and when I reviewed my old notes, I came to the conclusion that I could basically give the same speech all over again. I don't mean to sound pessimistic, but it's a sign that apparently, we have failed to make radical changes in healthcare. And that surprises me: how is that possible? We have the resources as well as solutions. That is where our homework lies and that is precisely why this research group is important.
By working with partners, in the Netherlands and abroad, we want to make a difference in healthcare. Our research group works on technological capabilities that support people with disabilities in everyday life. We also think about how technology can be used to provide more efficient and better care. In doing so, we focus on self-reliance and maintaining ownership."
Time for a wake-up call
At the symposium, Dr Wei Zhang from the World Health Organization (WHO) presented the impressive report 'Global Report on Assistive Technology'. This report revealed the absolutely shocking conditions of assistive devices worldwide. In 2021, 2.1 billion people needed assistive devices. By 2030, this number will rise to 3.5 billion. And we are not only talking about developing countries, but also about the Netherlands.
Luc: "It bothers me tremendously that we have this kind of problem. Imagine: could you do your job without glasses or a hearing aid? Your hobbies? The answer is no. Let alone when the issues are more complex. So how do we ensure that we can meet this need for aids by 2030? And what does that require? Irene Kitsara's (IEEE) presentation showed that we already have the solutions at our fingertips, so what's stopping us? To quote her: 'There's no time to go slowly'."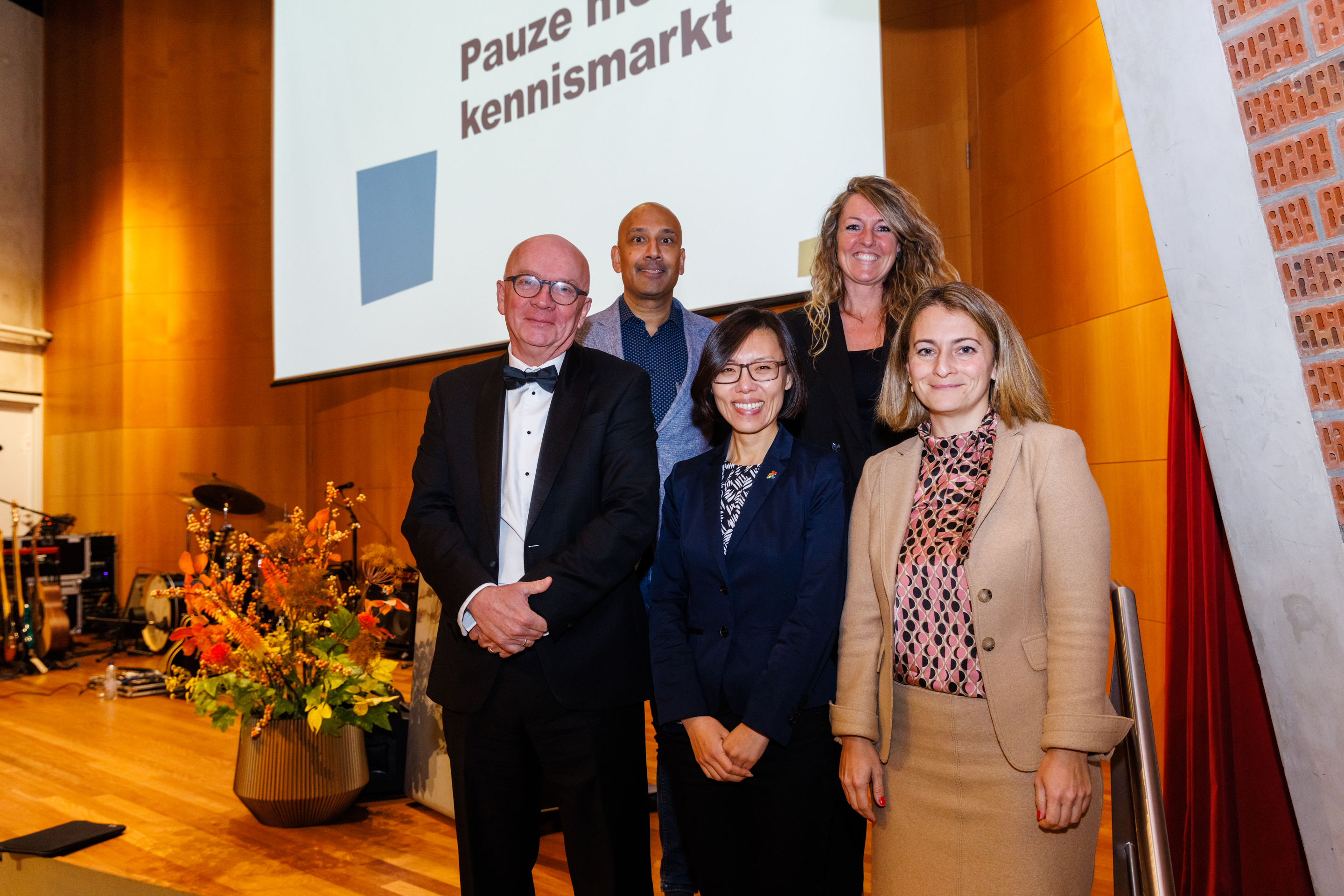 Technology for a nicer life
During his inaugural lecture, Luc told us about an event that had a major impact on his career and outlook on healthcare. "When I started out as a manager, Roelof was part of my team. An absolutely brilliant guy, wildly popular. Then he was diagnosed with MS, and he was unlucky to have a very progressive form. At 28, he could no longer walk and at 30, he could no longer write or eat independently. He was declared unfit to work by the UWV; they considered him a hopeless case and not worth investing in any adapted aids. During that time, I did everything I could to find him an adapted computer, voice control and a wheelchair. Thanks to this, he still managed to finish his PhD, even though he had been officially declared unfit for work in those years. That investment is worth 10 times what it costs: his publications are still used worldwide. At 37, he died and just before he passed away, he told me how happy he was to have managed to get his PhD. That's what care is also about for me."

"In healthcare, we often say to each other how difficult things are and that technology has to solve all the problems. I think this is a negative approach. I also look at technology as a tool that offers opportunities to make life more enjoyable or easier. Another good example is our project in which we develop robots for use in a children's hospital. This does not directly affect care, but it does affect the lives of those children who are very anxious to go to a hospital. If there is a robot to play a game with them and talk to them, their care will go much smoother afterwards."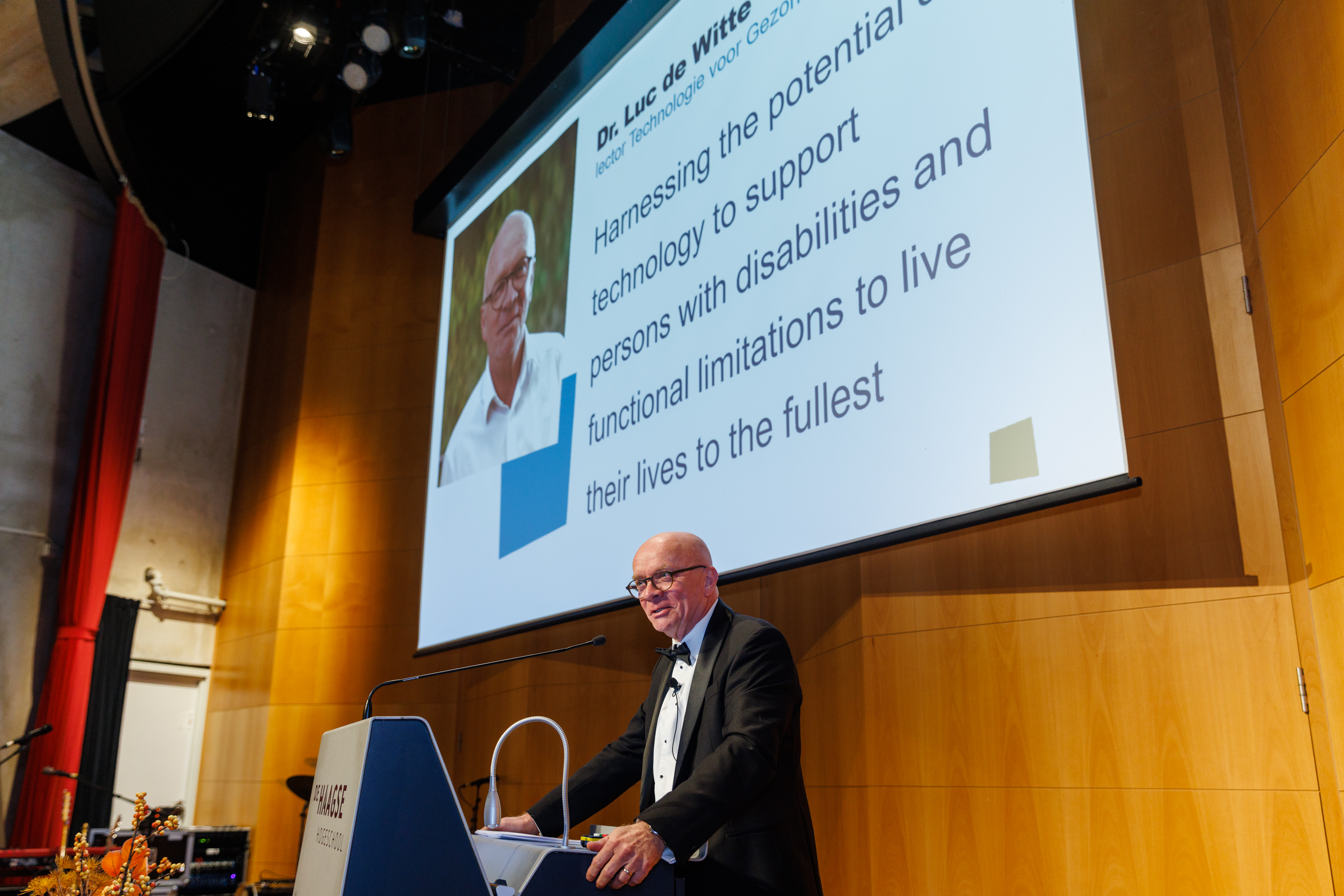 Plans for the research group
The research group has deliberately invested in 4 'open' programmes, to provide a solid foundation. Within those programmes, we look at the issues at stake and then act. Luc: "Together we decide which path to take. Within the research group we also work with 3 themes that we would like to explore more deeply. These are (making) supportive technology, (social) robots in care and supporting self-management."
The 4 programmes in the Technology for Health research group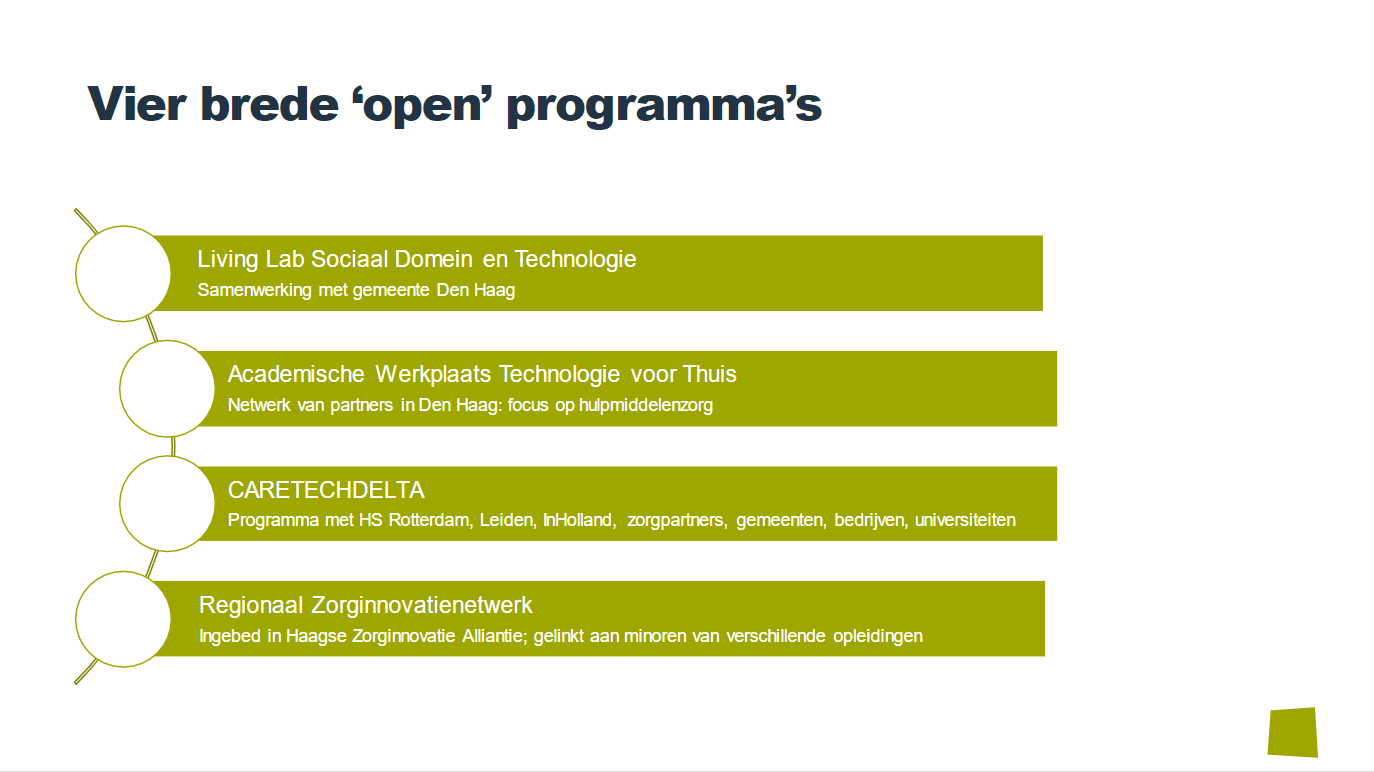 Work to be done
Technology can make a huge positive contribution to the lives of people with disabilities worldwide. BUT there is work to be done and our university of applied sciences can play a big role here, according to Luc, together with healthcare providers, governments and other partners.
Luc: "I hope that after today you will know where the needs are and at the same time see the beautiful opportunities in this area. I hope you will talk about this again at home and maybe even get excited enough to join us. Because it's hard work, but together we can do it. We just have to make sure we do it."
Want to know more about the Technology for Health research group? View the research group website or watch the entire symposium here.
--
A special thanks to all the inspiring guest speakers at the symposium 'Technology as a tool for an inclusive society and sustainable care'.
Dr Elisabeth Minneman, chair of the Executive Board - The Hague University of Applied Sciences
Nellie van de Griend, MSc, TIS Faculty Dean - The Hague University of Applied Sciences
Dr Sanne de Vries, Director of the Health Innovation Centre of Expertise - The Hague University of Applied Sciences
Dr Wei Zhang, Technical officer - World Health Organization
Irene Kitsara, European Standardisation Initiative Director Global Business Development - IEEE Vienna
Damiët Groen, Task manager Care & Tech innovation - Municipality of The Hague
Hemanth Ramanna, cardiologist at HagaZiekenhuis & research group member of the Technology for Health research group