Pabo student named National Teaching Talent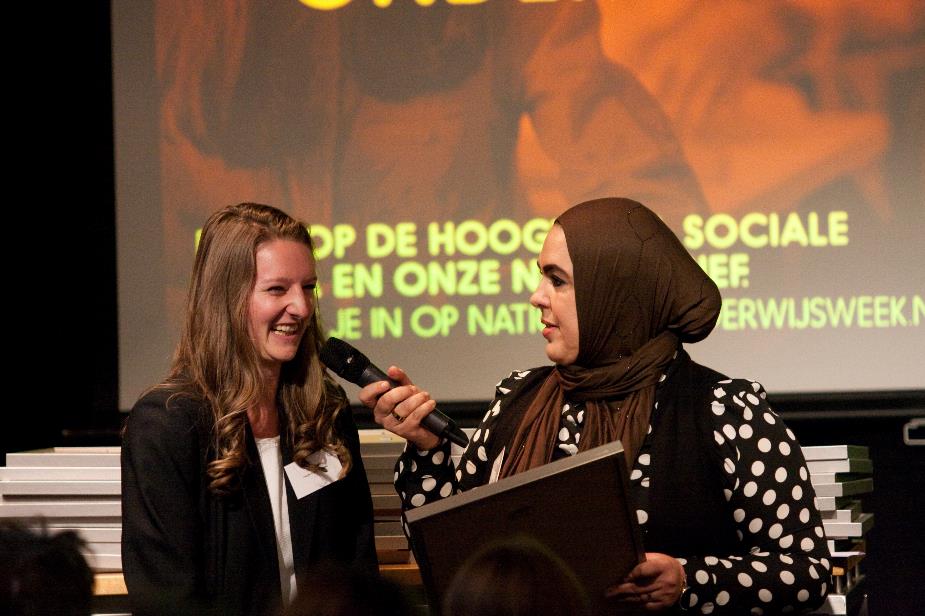 Leslie Bordewijk (25) has been named National Teaching Talent 2022 for primary education. Every year, the National Education Week Foundation invites teacher training programmes to nominate their students for the title of talented teachers-in-the-making. Out of all the Pabo degree programmes in the country, Leslie received the award for designing an interactive worksheet for iPad use.
Since 2020, Pabo students of The Hague University of Applied Sciences no longer conclude their studies with a thesis, but by designing a product that has a practical application in schools. That is how THUAS works on co-creation and training teachers in partnership with the Training School.*
Worksheet for iPad
Leslie teaches at Dalton school De Schutse in Maasland and developed and designed the Ipad worksheet herself. 'The combination of the Ipad and a real-life application is well chosen and also reflects how ICT should support education,' the jury stated about her design. Leslie is happy with the award: 'I think it is quite special to have been named National Teaching Talent. We know that young children learn best by touching and feeling things. At the same time, it is important that children learn to use modern technology, such as iPads. With my design for the interactive worksheet, I was motivated to use the iPad in a way that students also use it in real-life, because that is how they learn best.'
Proud
Elisabeth Minnemann, chair of the Hague University of Applied Sciences board said: 'We are extremely proud of Leslie. This award shows that close cooperation with our external relations is essential for the quality of our education and research. Cooperation between the Pabo degree programme and the training schools in the region is incredibly important. After all, it is our joint mission in this period of extreme teacher shortage to train enough qualified teachers so that every child can go to school and receive a good education.'
Child development
'What I love most about working in primary education is being part of young children's growth and development and, in the process, give them the confidence that they matter. It is really nice that I was able to graduate from THUAS with a professional product that the school and students can use immediately. That is quite different from a thesis that ends up in a cabinet or dusty drawer,' affirms Leslie Bordewijk.

*At the Zuid-West Holland training school, the school boards and the THUAS Pabo degree programme work closely together to train new teachers.
Additional information
Watch the video about Leslie's design.