NSS 2023 results: THUAS keeps an upward trend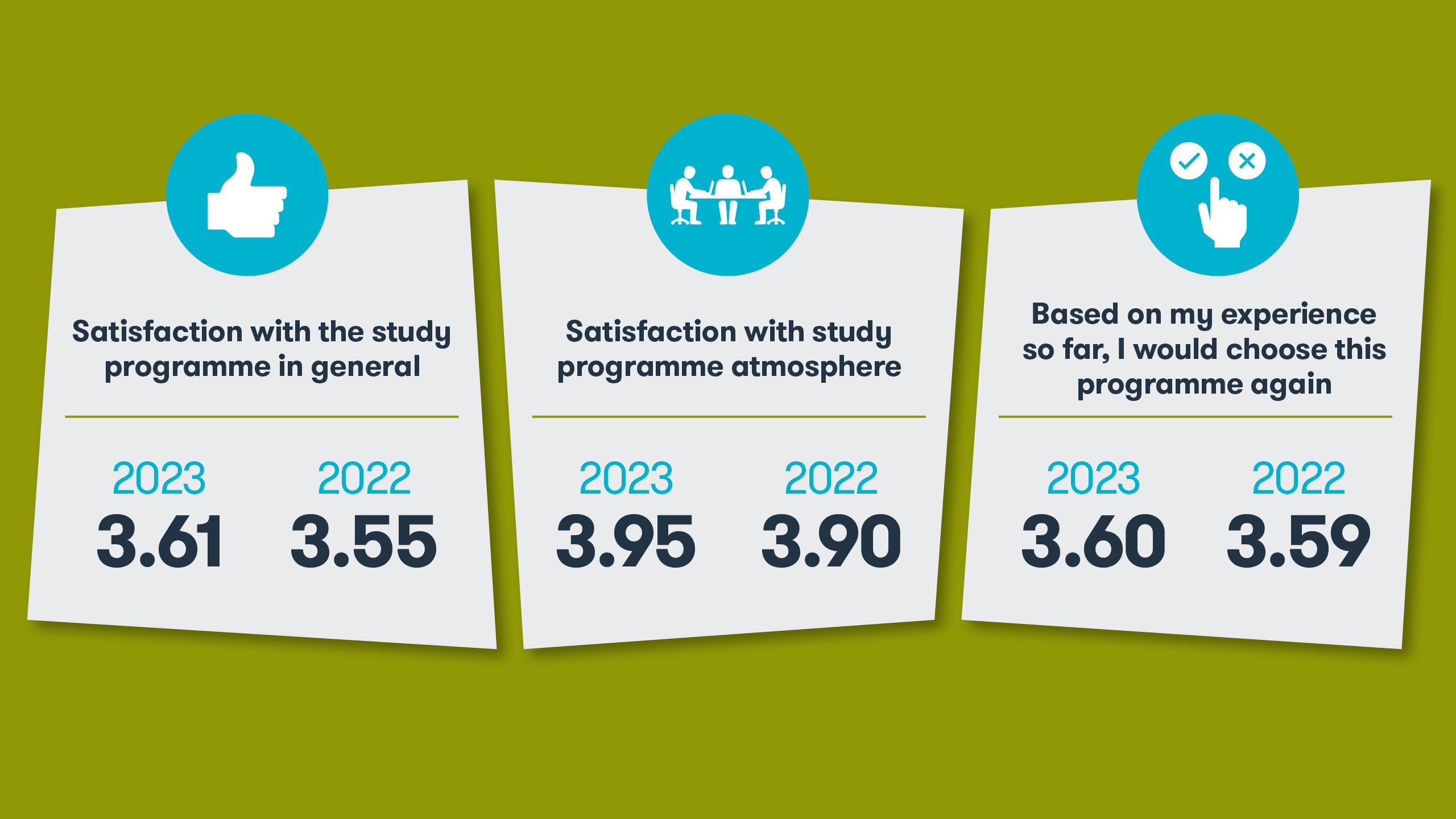 According to the National Student Survey 2023 (NSS) conducted by Studiekeuze123, students at The Hague University of Applied Sciences are more satisfied with their study programmes and experience the atmosphere at their study programmes as positive. With these great results, our university maintains the upward trend of recent years!  
We see strong scores on many themes of the NSS, which are stable compared to last year. Elisabeth Minnemann, Chairman of the Executive Board: "We are achieving results to be proud of virtually across board, which translates into the once again improved result for overall student satisfaction." 
"As THUAS, we work day in and day out for and with our students," said Arend Hardorff, member of the Executive Board and portfolio holder for Education and Quality Assurance. "The results offer a great incentive to work on further improving our education." 
Social Safety and Atmosphere 
The Executive Board is particularly proud of the high scores with regards to respectfulness, social safety and atmosphere. "A safe learning environment is an important prerequisite for student success. That is why I am very pleased that students experience THUAS as an inclusive community. They indicate that they feel safe to be themselves and that lecturers provide a pleasant environment to ask questions," Minnemann says.  
Student Welfare 
New this year are questions regarding students' welfare. Students indicate that they are doing well (3.72), but feel that even more attention should be paid to their welfare within the study programme (3.24). Hardorff: "Students' welfare is a high priority within our university of applied sciences. THUAS wants to be a pleasant learning environment for everyone. In the coming years, we want to further strengthen this theme. For example in the form of buddy projects and attention to this topic during introduction activities." 
About the NSS 
The National Student Survey is a national survey in which students annually give their opinions about their study programme and institution. Students are questioned on a variety of topics, such as content and structure, study facilities and the connection to professional practice. Arend Hardorff: "We greatly value the opinion of our students. With the NSS, among others, they can really make their voices heard. We are pleased that our students indicate they are more satisfied than last year and we continue to improve ourselves continuously."