Nominees Food Boost Challenge 2022 announced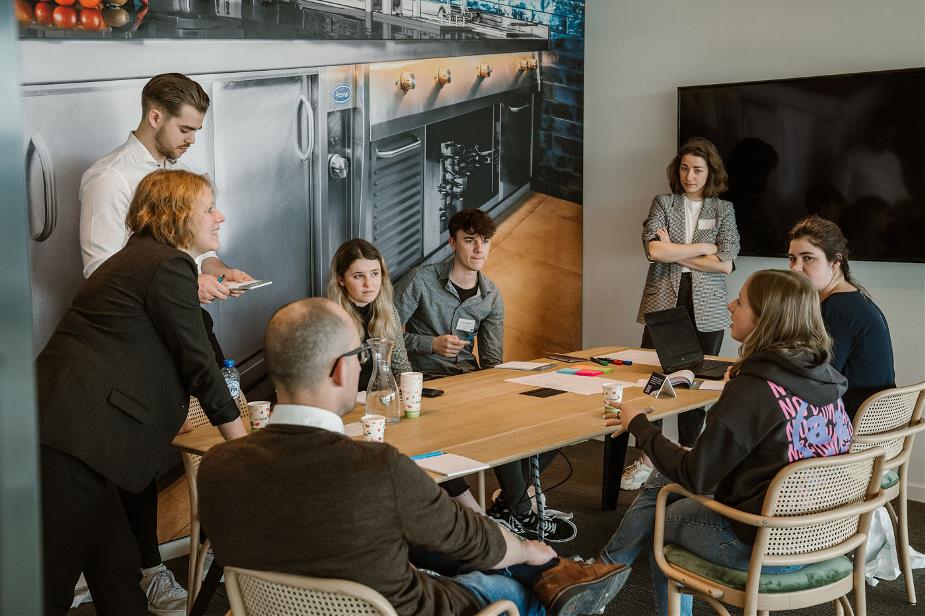 The nominees for the Food Boost Challenge 2022 have been announced. The jury selected ten nominees from 25 innovative and inspiring innovations. They were presented last Friday during the matching and co-creation day of the challenge at Van Gelder Groenten & Fruit. Five teams of universities of applied sciences students and five teams of research university students will take up the challenge with their ideas to tempt young people aged 12 to 20 to eat more fruit (products) and vegetables.
These innovations will tempt young people to eat more fruit and vegetables
A hot topic which is also being considered in The Hague and in other cities. For how do we together create an environment where healthy food is accessible to all and is preferred to the excessive unhealthy offer?

Together with the initiators Medical Delta Living Lab VIT for Life, HortiHeroes, Foodvalley NL and The Hague University of Applied Sciences and the 34 involved partners, the teams work on a prototype that will be presented on a national stage during the pitch event on 24 May.

The teams could submit ideas in various categories: products, hotspots, technology and routes to market. All four categories were represented in the ten nominations and judged on innovativeness, potential impact, ambition and team:
An educational social app that supports better mental and physical health  
 An online programme where healthy recipes, events and new products come together
Smart supply of fruit and vegetables in your own fridge
A trendy vending machine with healthy snack variants
Hybrid meat containing vegetable substitutes
A healthy alternative to biscuits
Appealing vegetable snack
Quick and tasty supply of fresh fruit and vegetables at hotspots for young people
Fresh tasty smoothies at cleverly chosen locations
An annual challenge that makes eating fruit and vegetables attractive
'It is very cool to see that experienced and young food innovators really work together to take the concepts further and very unique that the target group (from Lentiz MBO (senior secondary vocational education and training)) was also represented to increase the impact' - Puck van Holsteijn, on behalf of the initiators of the Food Boost Challenge.
Matchmaking and co-creation
On 18 March, the nominees were officially presented to the 34 partners from retail and producers to banks and investors. During the pitches, all eyes were on the stage and the ideas were received with loud applause. Immediately afterwards, the partners could indicate with which students they wanted to 'speed-date'. In these speed dates, the partners were further introduced to the students' concepts and presented themselves. Partners and student teams were paired up and in the afternoon they tested their ideas with representatives of the target group, students of MBO Lentiz. Through this validation and co-creation, the consortia of students and teams will take the next steps in the coming months towards developing and testing their prototype and making a clear pitch for the final.

'A very valuable day with new insights, relevant network. We are eager to have the opportunity to test our assumptions and ideas together with young people' - says a participant of the Food Boost Challenge.
Going into battle with an open mind
The battle is not over yet. The ten nominees will present their innovation on a national stage during the 'pitch event' on 24 May. The professional jury shall then select the winners. This will be an important day for the students, as the winners can look forward to:
€ 5,000 prize money for the winners
€ 500 prize money for the public winners
Two return airline tickets with 4 overnight stays to Kentucky (USA) to present and validate the idea that potentially best fits the US market there this summer, offered by partner AppHarvest
National media exposure in the finals on 24 May 2022
The opportunity to present their idea at Floriade Expo 2022
Healthy future desperately needed
Why this challenge? Simply because it is absolutely necessary for a healthy future! Research shows that 17% of young people are overweight. This group structurally consumes too little fruit and vegetables, while their vitamins protect against diseases. Also in The Hague, healthy food is high on the agenda and steps are being taken to reduce the number of fast-food chains in cities. 

The Food Boost Challenge is an initiative of Medical Delta Living Lab VIT for Life, HortiHeroes and Foodvalley NL where The Hague University of Applied Sciences is making a significant contribution as a knowledge and research partner. Together with 34 leading companies, startups, NGOs and educational institutions, they have joined forces and are challenging students to develop an innovative idea.