Nick Swanepoel recognises much of his own passion in the new Strategic Plan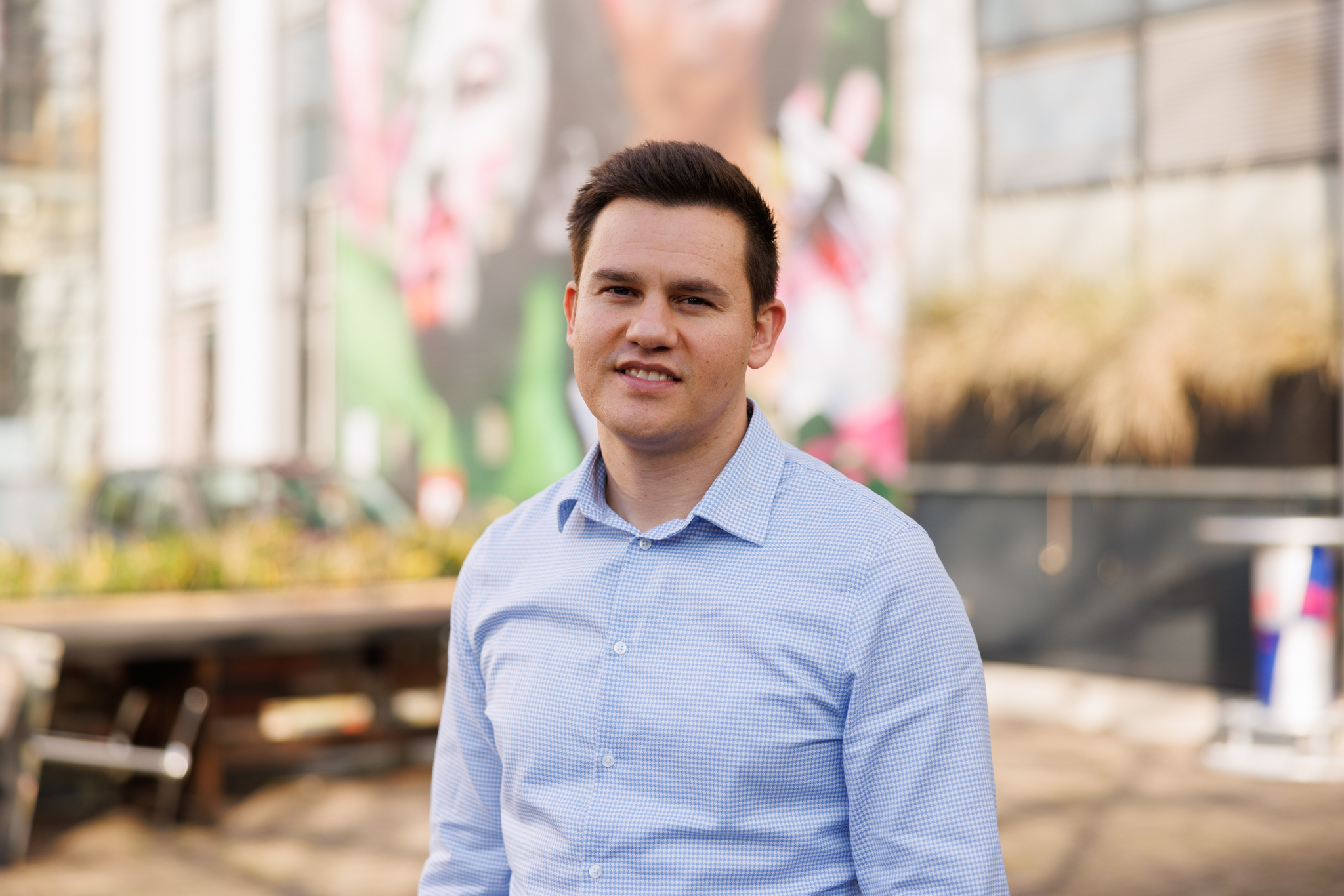 "The well-being of staff members and students is paramount to me." 
The importance of diversity is the thread running through Nick Swanepoel's career, as team leader in the Pedagogy degree programme. "The core of my job is to listen to people, their passions and ambitions, and then to support them in implementing their goals. So, it is wonderful to find that the new Strategic Plan is in line with our way of working at Pedagogy. In its translation to our education, the key question will be: how do staff members and students be the best they can be while using this plan as a framework?" 
Parenting, parenting questions and human behaviour got Nick Swanepoel thinking from an early age. As an actor, primary school teacher and secondary school teacher in his native South Africa. And now as team leader in the Pedagogy degree programme. In the latter role, he aims to create opportunities for nearly 50 teachers to shine in their workplace. "I want to give them the tools in their hands, with which they can do their work better and more enjoyably." 
Taking the first step 
"At THUAS, we often talk about diversity and equal opportunities. Great. But deep down, we are still often inclined to say to the other person: if you just adapt to our standards first, then... But it doesn't work like that. I heard a beautiful song by Casting Crowns the other day, titled, 'Love Moved First'. It moved me. The issue in the song is about being the first to step up to the other person. That's my passion." 
That song moved me. It's about being the first to take a step towards the other.
Satisfaction 
Anyone looking for Nick will find him among his people at Pedagogy. Almost constantly talking to team members to see how he can further empower them. "I can only do that if I get to know them really well. Even so, it remains a tricky puzzle. But when you do it, it's so rewarding." 
Old and new 
Nick is fine with the new Strategic Plan. "Good that its drafters gathered information at all levels within THUAS. What I regret is that we, The Hague University of Applied Sciences, have not yet evaluated the previous strategic plan: what went well, what didn't go so well, what did we achieve and secure? At the same time, I see that the new Strategic Plan provides more frameworks and is more concrete than the old plan." 
Short cycles 
The new plan is in place. What next? Nick: "If it were up to me, we'd be working on this plan in short PDCA cycles. What does that mean for Pedagogy? What priorities do we choose? How are we going to achieve this? We can make mistakes, provided that we wish to learn from them. In this way, the Strategic Plan can become the property of the degree programme." 
Denmark 
A number of ambitions in the plan particularly appeal to him. "Strengthening the international profile. For me, it is really an added value of THUAS that we can enthuse people from an international perspective.  
And then the inclusive culture of THUAS. I am convinced that it is particularly unifying when you teach from different perspectives. This ambition is closely linked to the international profile. At Pedagogy, we organise an international week every year. Partly in The Hague and partly in Denmark. The programme aims to strengthen the connection with the students. In the lecture hall, they hear about global citizenship. But you create much more inclusion, much more of a sense of global citizenship when teachers and students learn together from their experiences rather than from books." 
I am always amazed at how normal we think it is that teachers work overtime. That's what we do to ourselves.
Taking good care of yourself 
It is clear to anyone who talks to Nick Swanepoel for half an hour: with him, the well-being of students and staff members - also an ambition in the new Strategic Plan - is paramount. "To be able to do your work as well as possible, to study enjoyably, you need frameworks. Well-being is therefore the most important framework. I marvel every time how normal we think it is, that teachers work overtime. That's what we do to ourselves. We are so focused on quality that we go beyond our own limits far too easily. I am currently doing a Master's in Business Administration. One of my research topics is about how I can enable teachers to learn to take good care of themselves." 
Should the bar be lower or higher? 
"We also have that duty to our students. As MT, we encourage all SLB teachers to connect more with students. What do they need? How do you create the community you want to be as an education? How do we offer everyone the opportunity to be the best they can be? No, we do not lower the bar for the students. We raise our expectations of what they can do. If you make a test easier, you say to the students: I don't believe you can do this. As a result, their self-confidence goes down. The opposite is necessary: having confidence in their abilities. If we then find out together that some students are not in the right place, we will make sure that they end up in the place where they do feel comfortable." 
In Stories of The Hague, we share portraits of colleagues and students, in which they talk about the connection between their own motivations and the Strategic Plan.