Looking back at the Symposium 'Hydrogenerate Ideas'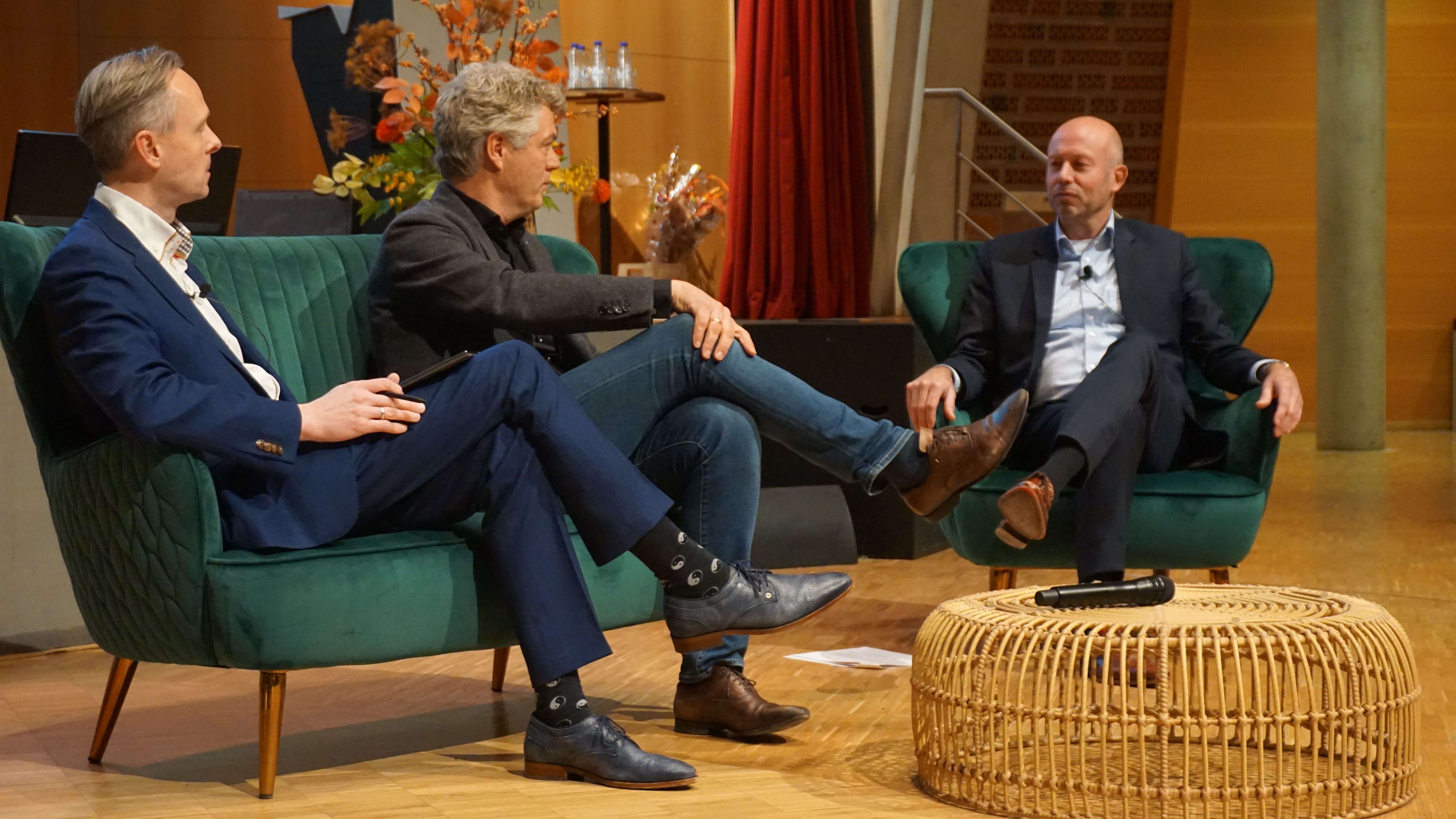 We look back on a successful symposium 'Hydrogenerate Ideas' (Water-stof tot nadenken) which was held on 24 November 2022. An afternoon of inspired speakers and interesting presentations that solicited many questions from the audience. 
One of the speakers, Marcel Belt, city councillor for Sustainability in Leidschendam-Voorburg, explained how difficult it is to implement national policies in the municipality. Sanne Castro of Joulz talked about the solution offered by Joulz for an overcrowded electricity grid. Arnoud Higler of Shell highlighted the steps Shell is taking for the large-scale distribution of hydrogen. David Molenaar of Siemens took us inside the enormous scale-up for wind energy in the North Sea in the near future. And last but not least, Arnoud van der Zee of The Green Village talked about energy hubs that will form the pivot in energy management and TGV's contribution to this.
The discussion with Sander Mertens, professor in Energy in Transition at The Hague University of Applied Sciences, about systems thinking and the role of hydrogen in the speakers' themes, also generated plenty of audience interaction. 
At the end of the symposium, we received the questions from the Poll Everywhere survey and the panel discussed the questions with the other speakers and with the audience. 
The organisers KIVI and the research group Energy in Transition (KIVI chair) of The Hague University of Applied Sciences are happy to continue along this course. We are thinking about organising a series of successors to this symposium, for example, about two other carriers: heat and electricity in the form of direct current.
The contributions of the speakers during this symposium will be incorporated in the educational programme at The Hague University of Applied Sciences.
The organisers of the symposium Hydrogenerate Ideas. 
KIVI & research group Energy in Transition (KIVI chair) of The Hague University of Applied Sciences.
Watch the presentation of the speakers here:
Speaker 1, Jacolien Eijer- de Jong, President KIVI
Speaker 2, Marcel Belt, City councillor of the municipality of Leidschendam-Voorburg
Speaker 3, Sanne Castro, Manager engineering & advice Joulz
Speaker 4, Arnoud Higles, Researcher Hydrogen Energy Carriers, Shell
Speaker 5, Elisabeth Minnemann, Chair of the Executive Board, The Hague University of Applied Sciences
Speaker 6, David Molenaar, CEO Renewable Energy BV
Discussion part 1, Sander Mertens and Sanne Castro
Discussion part 2, Sander Mertens and Arnoud Higles
Discussion part 3, Sander Mertens and David Molenaar
Want to know more about this topic? Please contact the research group via:
Astrid Jansen a.p.jansen@hhs.nl.