Lecturer Yvonne van Zaalen encourages a change in thinking about healthcare during inaugural lecture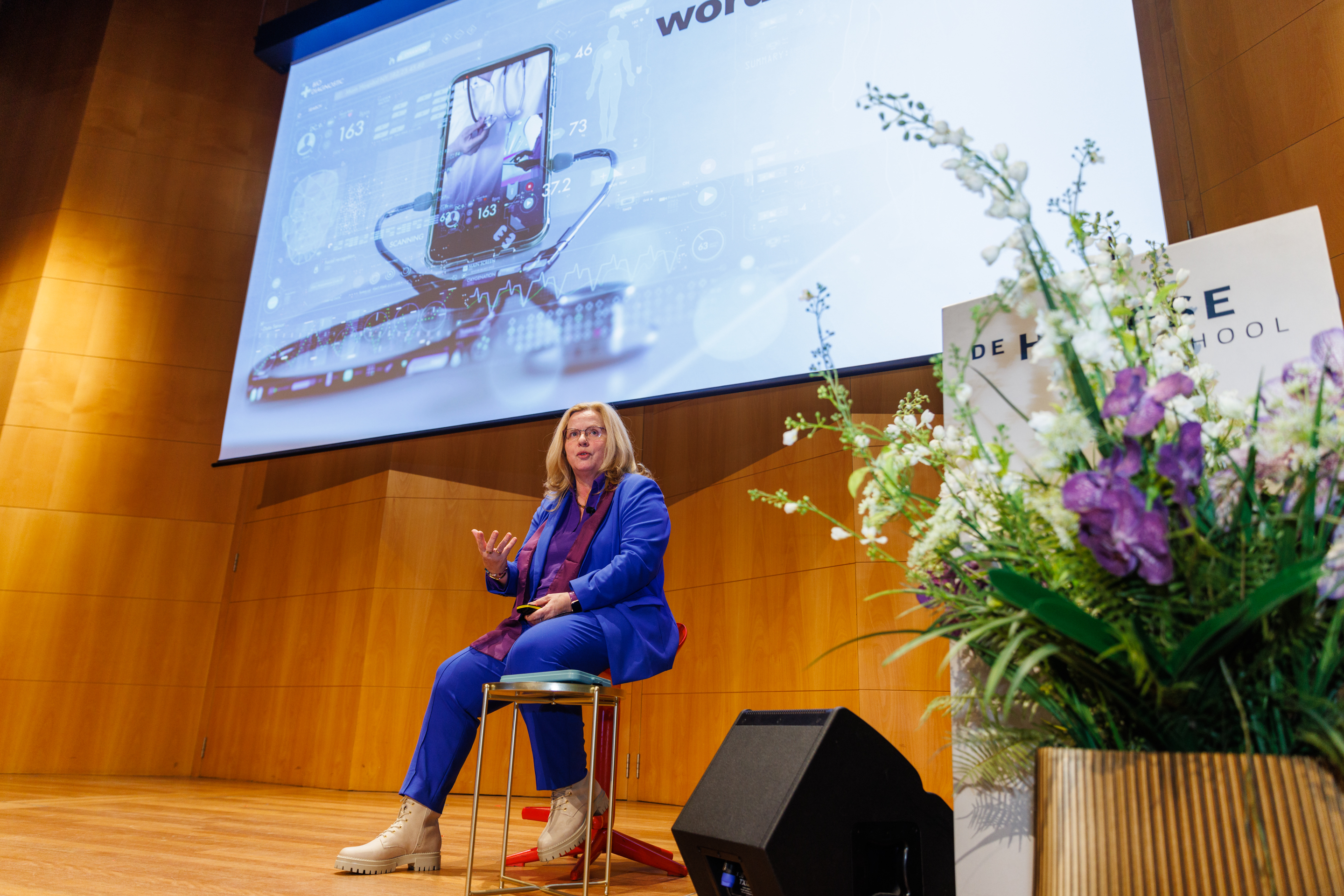 Inspired, resolute and quirky. That is typical of Yvonne van Zaalen, lecturer in Relational Care. And her inaugural lecture on 31 January was the same. During an inspiring afternoon at The Hague University of Applied Sciences, two things became crystal clear. Namely, why her new research group is desperately needed and why she leads it. "An increasingly ageing population and growing staff shortages demand a radical change in healthcare. If we keep an eye out for each other, with the support of technology, we can achieve a lot." A report of the symposium 'I want to be there for you'.
With a special version of Prince's Purple Rain in the background, the auditorium slowly filled up on the last day of January. Many attendees wore a purple garment for the occasion and the flower arrangements also had purple accents. "Due to that Prince song, purple has become 'my colour' over the years," Yvonne said. "Purple stands for connection and that is why it is an important colour today. Because transformation in care is only achieved in connection with each other."
The person behind the issue
After some lovely personal words from Yvonne's colleagues from the PAREL consortium and The Hague University of Applied Sciences, it was the turn of Lower House MP Joba van den Berg. In 15 minutes of speaking time – 'A luxury for an MP!' – she outlined how many solutions are actually available already. Halving administrative burdens, for example, or simply stopping treatments that are proven to be ineffective. "Also important: demedicalisation. Someone whose relationship ends needs a shoulder to lean on, not a psychologist. Often, neighbourliness and looking out for each other are the solution. Do not medicalise something and turn it into healthcare."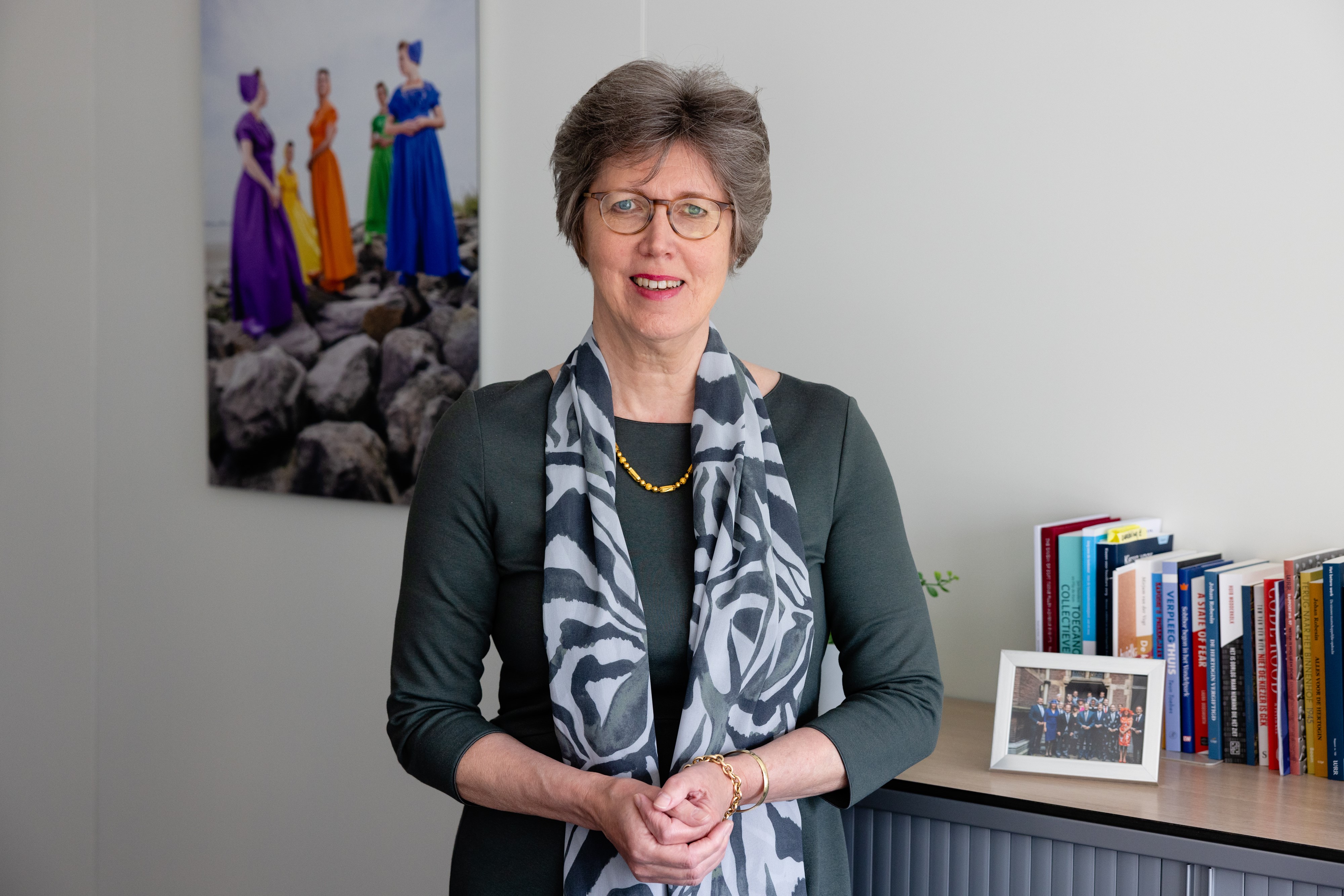 The MP mainly advocated technology as a solution approach. "With the use of existing technology, 100,000 fewer full-time jobs are already needed in healthcare. So, if it's that simple, why doesn't it happen? This research group is very aware of this: to initiate change, you have to pay attention to the people behind the issue."
Patients and caregivers in all their colours
A number of people behind the issue spoke in an engaging film and a panel discussion. They spoke about their view of digitisation in healthcare from their role as patients or caregivers. It showed how many visions there are. And so how important it is to engage and stay in conversation. For example, about questions such as: when is technological help good and when is physical help better? How do you use time that you save by using healthcare technology? And how can healthcare providers and patients give their input on technological solutions? Nicole Mencke of the municipality of The Hague: "Supply-driven healthcare technology does not work and ends up unused in the cupboard. In various living labs such as the iZi-woning, we aim for a better match between supply and demand. Collaboration in the quadruple helix is essential."
Let care and wellbeing to reinforce each other
There are many questions in society that the research group wants to answer. In her inaugural lecture, Yvonne elaborated on the various themes that they address. Loneliness, for example. "A lot of care will soon go from the second to the first line, and from the first line to family carers. We must prepare for that. But what about people who don't have a social network? Care providers often don't realise it, but people in the social domain are trained to help expand those networks. That's important information! Because healthcare and wellbeing can mean an awful lot to each other, the research group is working on connecting these two domains."
Is care becoming more impersonal?
Another question in society is whether care is becoming extremely impersonal due to the increasing role of technology. During the symposium there were plenty of examples showing the opposite. For example, from a psychiatrist who, thanks to video contact, understood much better how his client was doing, because he saw his home situation. Or from people who could talk more openly when relaxed on the sofa than nervously in the consulting room. Panel member Katrien outlined how she and her mentally fragile mother can communicate much better with emoticons than with words. "Using technology does not mean letting people go. You give them another way," Yvonne summed up nicely.
How do you really involve everyone?
Yvonne also made sure there could be no doubt: digital healthcare is becoming the norm. "And then of course the question arises: what happens to people who are not digitally skilled? Or those with low literacy levels? Do they not run a greater risk of health problems because they live with symptoms for too long? That is an important research theme of the research group," she said. "We endorse this through sustainable collaboration with, among others, the Mens Achter de Patiënt, Mammarosa, Voorall and Pharos. What we already know from research is that professionals overestimate patients' health literacy. The professionals communicate in the same way with everyone, while 25 per cent of our population has low health literacy."
Room for humanity
Among many other themes – "Where Joba was happy with 15 minutes, I struggle with 45 minutes" – Yvonne endorsed the importance of keeping healthcare professionals on board. "How is it possible that so many people passionately start a healthcare degree programme and drop out after only three years in the professional field? This is an important part of one of our lines of research: how do we ensure that those fortunate graduates actually stay in healthcare? This requires an eye for autonomy and trust in professionalism, regardless of protocols. And relying on their own competencies and expertise, and room to act based on humanity. Our vision is to give students a relational compass and curiosity about technology. Then they can use their creativity and talent to be there for patients."