"Learning to see things differently"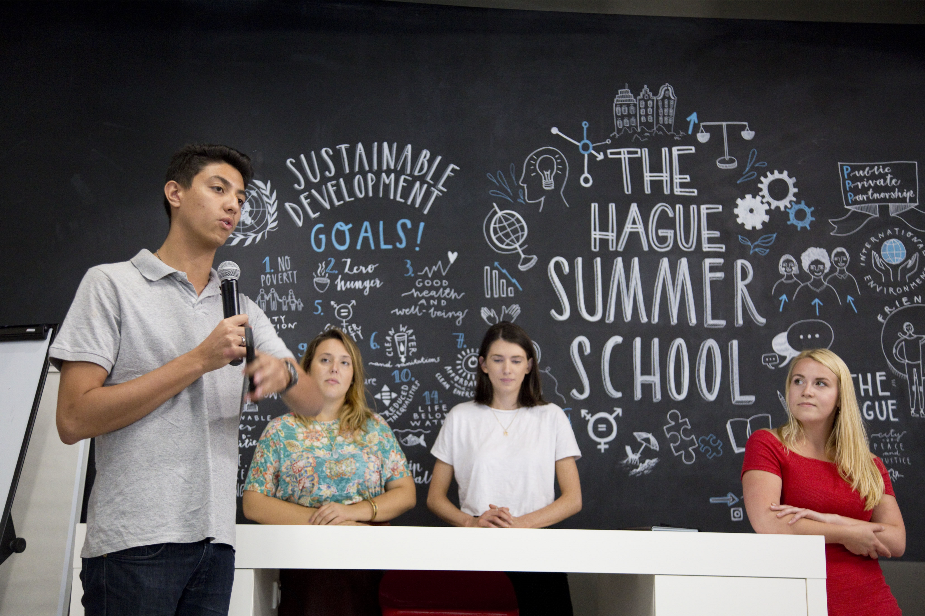 Solve global issues in an international, multicultural team and develop into a global citizen who can conquer the international labour market. Every summer, THUAS organises The Hague Summer School, where students from all over the world, working from their own cultural perspective, tackle global issues. 'You learn to look at the world with open eyes in a completely different way.'
'We all live in our own little circle, no matter where you live in the world. Coming together, learning together and discovering together in a comparative context brings insight, worldly wisdom and life wisdom,' explains Karijn Nijhoff, senior researcher at THUAS and lecturer at The Hague Summer School, a modular summer course of 2 or 4 weeks. 
Internationalisation
THUAS has been organising a Summer School since 2014. 'Internationalisation is one of the outcomes of an important spearhead for our university of applied sciences,' reasons project leader Casper Verschoor. Students from partner universities all over the world fly to The Hague to attend the summer school. 'And that's not a bad idea, because you really learn a lot. You will prepare yourself for a future international career, enrich your personal growth and develop your talents through teamwork, debate and knowledge sharing.'
International business
The Summer School consists of 2 modules; each lasts 2 weeks and earns the student 4 credits. The theme of the first module is the Future of Business and Social Challenges. 
Casper: 'Today's business world, including in the Netherlands, has a strong international focus. Most companies work in international settings with international employees. In a globalised world, it's no longer only important to have a good command of English, but you also need to interact well with other cultures and different perspectives.' Topics include the digitisation of money, the opportunities provided by blockchain and sustainable entrepreneurship. 
The Peace Palace
The city of The Hague is of course internationally known as the capital of peace and justice. This is also the theme of the Summer School's second module. It offers a programme on the protection of human rights, democracy and the rule of law. 'And of course we plan a visit to the Peace Palace,' says Casper. 
The experience matters
In the first module, Karijn gives lectures on migration, her research topic. 'I go deeper into migration history and migration theory. What is a refugee and what are the rights associated with this status? A student from America may have a completely different perspective than a student from South Korea. It's precisely this comparison and the encounter with other views that makes the Summer School particularly valuable. Information is information, but you cannot learn to understand it on the Internet. You just have to experience it.'
Multicultural teams
Working in multicultural teams automatically promotes awareness and an understanding of another point of view. Casper worked in China for a while and now sees the world's second largest economy quite differently. In the West, there is an image of a rigid, inaccessible culture. I actually encountered a lot of warmth and openness. We are all people at the end of the day. The broader your view of the world, the more you learn to see things differently.'
A night of bowling
In addition to the content programme, there is also a social programme. 'Students of the Summer School go on excursions to Rotterdam and Amsterdam. They also get together informally at barbecues or a night of bowling,' explains Casper. 'And that's just as important.'
More information
Are you interested in the Summer School? Please look here for more information.