Interview with a researcher in the neighbourhood: Marieke Breed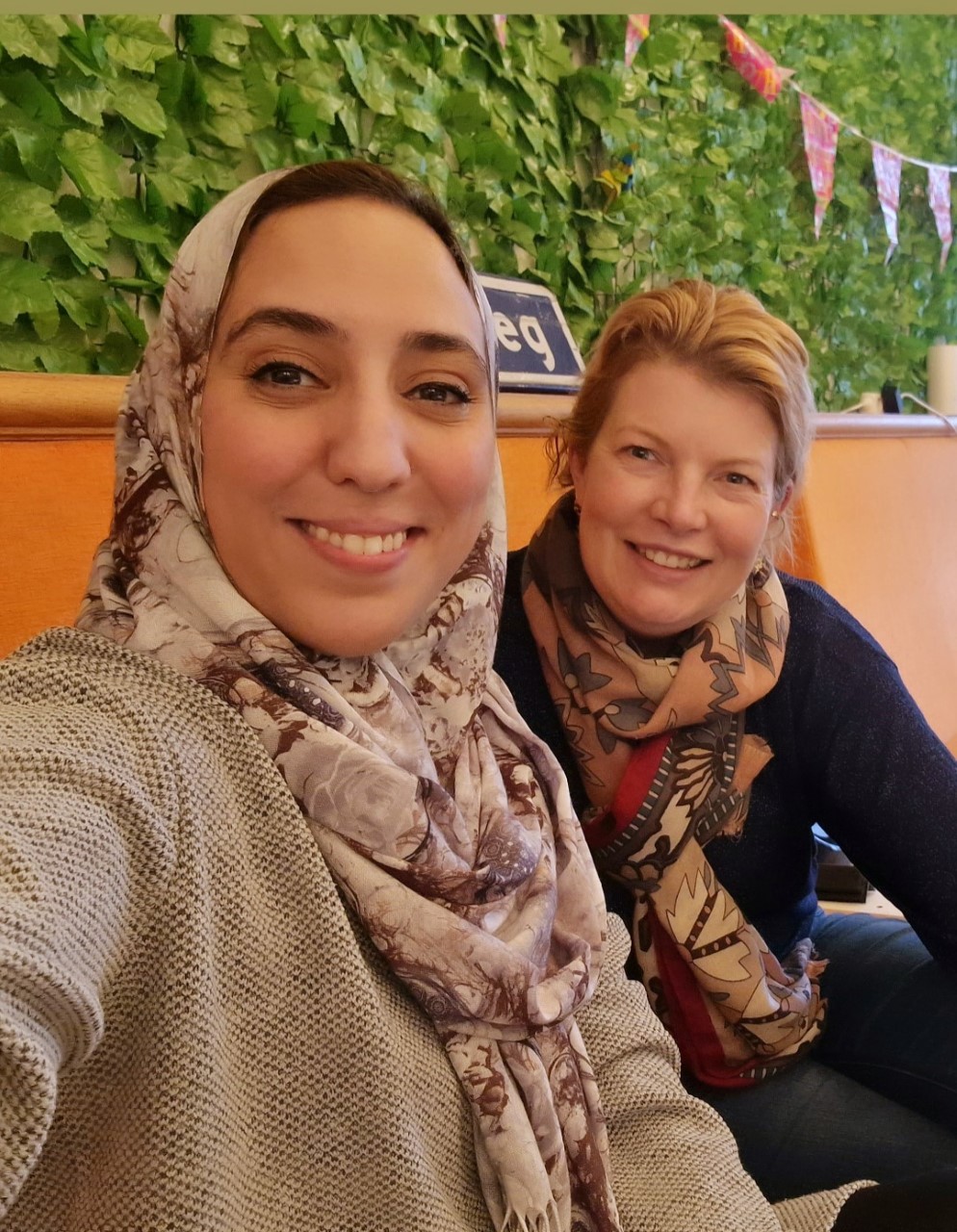 Health issues and social problems often go hand in hand. This accumulation of problems is too often still seen as individual problems. With the 'Countering syndemics' study, researchers from Leiden University and The Hague University of Applied Sciences will work with residents, policymakers and other stakeholders to develop a structural approach. The study has already started and will run until September 2026.
Marieke will mainly focus on the Moerwijk district. In the near future you will find her in various places, including in the community spaces. Ahlam Benali interviewed Marieke to get to know her a little better.
Could you tell us a little bit about yourself?
Absolutely! My name is Marieke and I live in Haarlem with my husband and two daughters, aged 2 and 6. I love having fun and good food, as well as sports such as tennis and running. When I have time, I also really enjoy painting. Not a wall, but an actual painting. I'm not that good yet! Haha! I also love animals and nature. I grew up on a farm in Drenthe and spent most of my childhood riding horses.
What motivates you in your work?
As a researcher, I really enjoy learning and experiencing new things. I love listening to people's stories. I actually learn something new almost every day.
What attracts you to working as a researcher in Moerwijk?
Many great things are already happening in Moerwijk. Also, the people I have met so far are very involved with the neighbourhood and its residents. I like that very much! At the same time, it can also be complicated, because so much is already happening. So where else can I provide support or add something? Fortunately, this study will run for four years, so I get to spend quite a bit of time here.
What is your research about?
Our research is about the accumulation of different problems in the neighbourhood. First, we want to understand how these problems affect each other and sometimes reinforce each other. Second, we want to explore what structural changes may help and actually implement these. For example, changes in policy or at organisations or within the neighbourhood. We do this in cooperation with people in the neighbourhood, with organisations and policymakers. 
What would you change for Moerwijk if you were city councillor for one day?
I'm not sure if a councillor is allowed to do that, but sometimes I think: let's take all the money that is spent in Moerwijk on all the wonderful projects and initiatives and use this to take care of all the basic needs first. So provide good housing for everyone, an adequate income, enough food, suitable (volunteer) work or another occupational activity. And then focus on all kinds of facilities like community centres, mental health support, assistance with paperwork etc. and provide these free of charge on a permanent basis in the neighbourhood. Do you think this can be done in one day? Haha!
What inspires you?
I think I am inspired to do something because I also get frustrated by the inequality that exists in society. I find it so unfair and painful to see how this is often handled. It sometimes seems like it is someone's own fault or that people have a choice to be healthy or not, but of course that's not true at all!
What expectations do you have of residents in Moerwijk?
Good question! I especially hope that people want to contribute, think about and participate in this action research in their own way. And that together we can make beautiful, long-lasting changes in the next four years. I am really looking forward to it!
What change do you hope to achieve in four years?
Wow, that's a tough question. I don't know yet how the study will unfold. It really depends on what the people in the neighbourhood believe they need. But most of all, I hope the change is made together with the neighbourhood, and also with the policy-makers. And that it will be something lasting that really benefits everyone. So definitely not a huge thick research report. Haha!
For more information or questions about the study
https://healthcampusdenhaag.nl/nl/countering-syndemic-vulnerability-het-verminderen-van-de-opeenstapeling-van-gezondheids-en-sociale-problemen/
 m.breed@hhs.nl or 06-45093144
About Ahlam Benali
Ahlam is an opinion maker, publicist and experience expert in diabetes, bullying, discrimination, injustice and women's rights. She wants freedom for everyone and opposes any form of injustice, discrimination and violence. Ahlam lives in Moerwijk. Follow her at https://www.linkedin.com/in/ahlam-benali-attouti-589060137/.