"I want to become Prime Minister"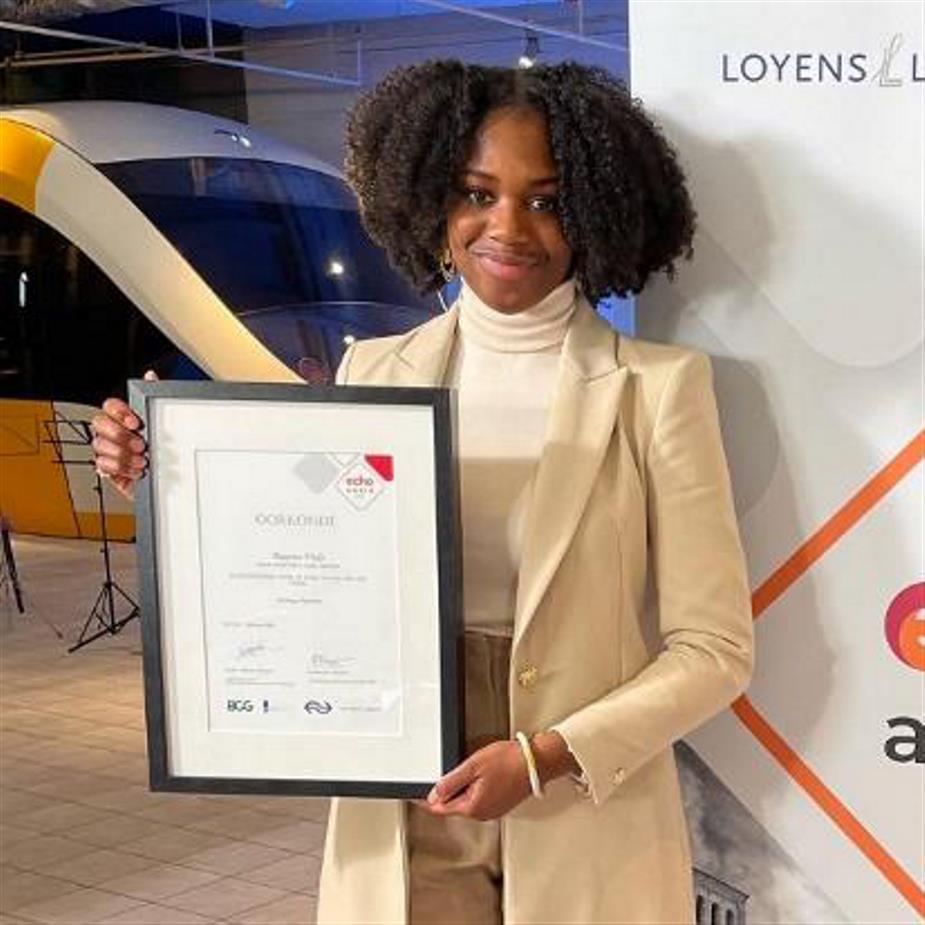 Third-year Public Administration student Maxence Vrede was a finalist at the presentation of the prestigious ECHO Award on Thursday afternoon. An award for her achievements in diversity and inclusiveness. "I want to become prime minister."
"I may not have won first prize, but I certainly don't see this as a loss. This is the beginning of something beautiful. Together we will make the Netherlands more inclusive," said the first black Chair of the Hague University of Applied Sciences General Council.
Diversity & Inclusion
ECHO is a non-profit organisation, focused on Diversity & Inclusion (D&I) in (higher) education and the labour market. Each year, successful students from a non-Western background are nominated for the ECHO Award, because they stand out due to excellent academic performances, active social involvement, organisational qualities and an innovative vision on diversity and inclusion within society in The Netherlands.
Talent of colour
A record number of candidates were nominated by all universities of applied sciences and research universities for the ECHO Award 2021. An amazing 42 students from non-Western backgrounds, "all with excellent talent of colour", said jury president and chair of the Unesco Commission Kathleen Ferrier.
Empowerment
When introducing Maxence, the brand new Minister of Education Robbert Dijkgraaf expressed his respect for her commitment to empowering students of colour. "We need talents like Maxence for the future of the Netherlands. All the finalists are winners, but the real winner is society."
Urge to prove
When choosing her secondary education, Maxence was advised to go to lower secondary school education-basic with learning support. "That's when my urge to prove myself started. My goal was to move up to achieve my ideals." And from an early age, the Public Administration student's greatest ambition was to become the first black female Prime Minister. "Not only because of my Surinamese origin, but precisely because of my belief in respect and openness to each other. All Dutch people deserve a sincere government."
African roots
As a student at THUAS, Maxence quickly joined the student association Tribez, an association by and for students with African roots. There, she dedicated herself to helping international students find their way and supporting them in their language and culture barriers. "And we also celebrate African culture!"
A history of slavery
Together with Kula Skoro, The National Theatre and others, Tribez advised the city council of The Hague on the construction of a slavery monument. In line with this, Maxence advised former alderman Bert van Alpen on including the history of slavery in educational material for primary schools. "It's important to tell the ugly stories of our history. And also the inspiring stories of resistance fighters of colour from that period."
General Council Chair
As the first black chair of the General Council, Maxence is aware of her position as a role model. "Unfortunately, as a person of colour, it's sometimes still difficult to make your voice heard. I want to influence the policy of our beautiful university of applied sciences so we become even more inclusive."
Big step
According to Maxence, society is slowly moving in the right direction. "Inclusiveness is subjective and needs to be discussed more. By admitting that we are not there yet, we are already taking a big step. That is progress." And education plays a major role in this. "As an educational supervisor at the ProDemos foundation, I give tours to young people through the Upper and Lower Houses of Parliament. And that's important. Because maybe you have nothing to do with politics, but politics certainly has something to do with you. And we are, after all, the future."