HBO Monitor 2022 sees many job opportunities for university of applied sciences graduate students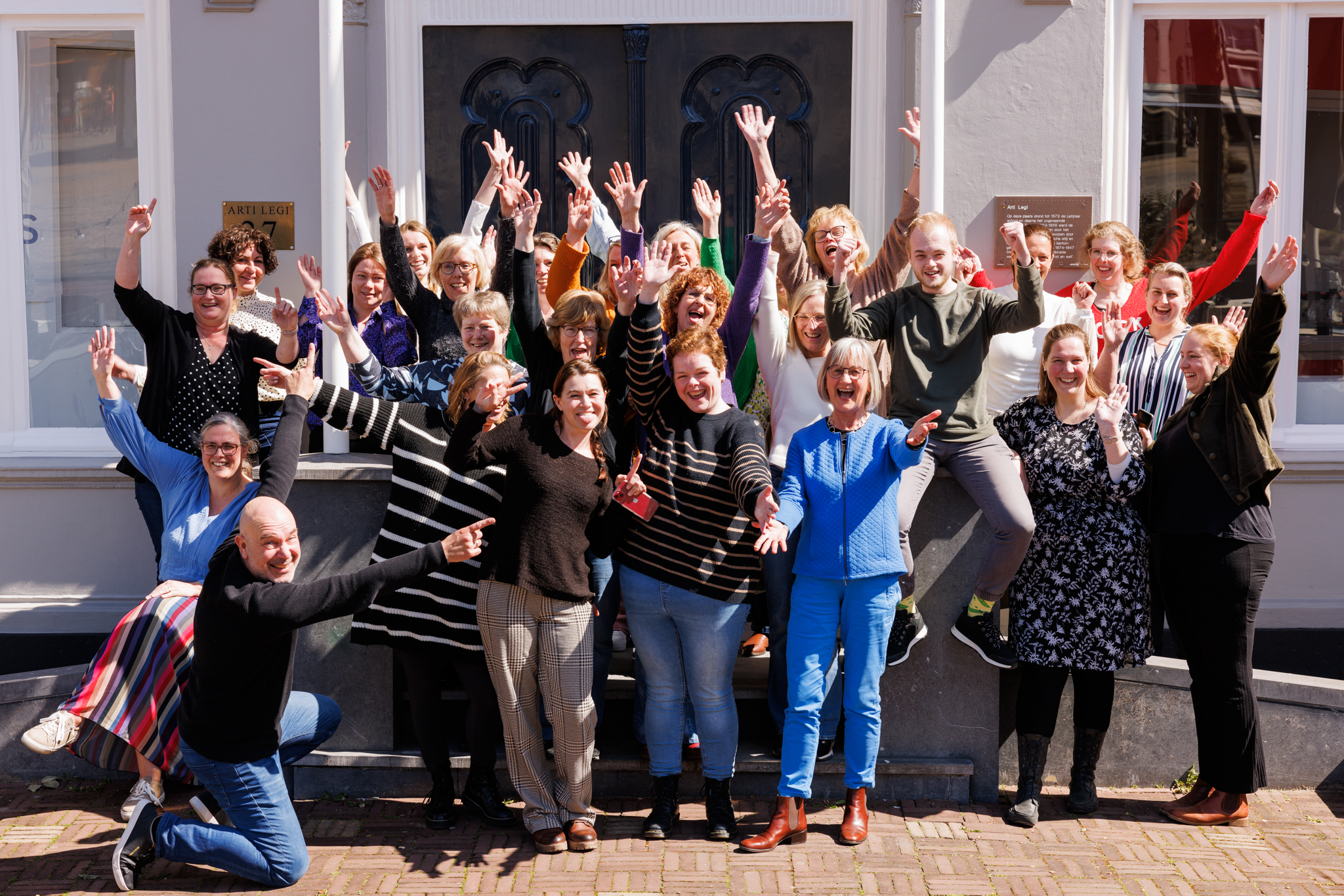 Alumna shares her experiences with first-year student
You just graduated from The Hague University of Applied Sciences. It's a bit like jumping into the deep end, swimming for four years and then being rewarded with a great job. Well, many first-year students often question two things: does this degree programme really suit me? And: will there be a great job waiting for me afterwards? The HBO Monitor 2022 takes away their last worry. But, you can write anything on paper. How did it go for Yva Blok? She shares her experience with first-year student Janouk van der Voort.
Janouk started studying Human Kinetic Technology in September 2022. Yva graduated in the same studies in 2020. And yes, she found a great job at Ipse de Bruggen. There she is now, with the impressive title of pilot/implementation coach care innovation. You really can't imagine such a job when you just started your study!
Job opportunities important
Janouk hopes to do something with prosthetics after she graduates. "I would like to help people who currently cannot participate fully in society. I am very interested in technology and in people. I started looking for a degree programme in which those two things come together. That became Human Kinetic Technology. It's a very wide-ranging degree programme. On the one hand, you work with technology and on the other hand, with biology: human bones, tendons and muscles." Job opportunities in her field were definitely important in her choice of degree programme. "I would like to work in this field after I graduate."
Excellent job opportunities
The fact that Human Kinetic Technology is a wide-ranging degree programme also appealed to Yva when she chose a university of applied sciences degree programme. "I was interested in movement, but didn't know what to choose. I started looking around and then Human Kinetic Technology was the best option. With that, you can go a number of ways."  
So, does this mean that the more wide-ranging the degree programme is, the greater the job opportunities? Not according to the HBO Monitor 2022, the survey conducted every year by the Research Centre for Education and the Labour Market, part of Maastricht University. The University of Applied Sciences graduates have excellent job prospects anyway. Of them, 92.3% found a job quickly. But 7% took more than three months to find a job.  
Waited
When looking for a job, Yva waited until she saw a position she thought was a perfect fit for her. "I could have had a job sooner. But often I thought: I'll like that job for two years and then I'll be done with it. I had the luxury of having a side job. When I saw the job vacancy at Ipse de Bruggen, I was immediately excited. I had done an assignment there once while I was studying. And some friends of mine were already working there. I applied - that was very exciting - and got the job."
Smart socks
Yva is keen to tell Janouk what kind of job pilot/implementation coach care innovation is. "Ipse de Bruggen is a disability care organisation with some 5,500 clients. In the innovation team, I look at innovative products with others. We try them out in a pilot. If such a product is successful, the supervisors use it for the clients. We now have a pilot with the HUME stress recognition system, applied to the SentiSock, a smart sock with sensors in it. This sock measures a person's skin conductance. Skin conductance is an indicator to measure stress. We are trying this sock out on clients with difficult-to-understand behaviour. The sock gives the clients a voice, so to speak. The supervisors understand them better and can respond to them better."
Closer to the field
According to the HBO Monitor 2022, university of applied sciences graduates are generally positive about the link between education and work. Yva agrees. "I did a lot of data processing during the study. That has been important for my job, as is the coaching bit. I did an in-depth minor in Care Technology. That is very close to what I do now. When I graduated in 2020, Human Kinetic Technology still had the old curriculum. The new one is even closer to the professional field."
Studying advice
What advice does Yva have for Janouk? "Look mainly at what you want these next couple of years. Start testing things out, for example by doing specific assignments within your interests, taking on a minor and an internship. At the end of the study, you will then know which job suits you best. Furthermore: if you are going to apply for a job, don't come across as insecure. Of course, applying for a job is new and scary for everyone, you will feel insecure. But show that you have learned the things that are expected of you."
How do you search for a job?
A question from Janouk: how do you search for a job? Yva: "Yes, good question. Because you won't find the position for human kinetic technologist in any job board. The degree programme is too wide ranged for that. That's why I started searching organisations. What job vacancies do they have? Which of them fit the degree programme? There is also a human kinetic technology group on LinkedIn. That's where people post job vacancies that match the degree programme. I often looked on that too."
Three more years
Janouk has almost completed her first year. When she hears Yva talk, as far as she is concerned, the next three years cannot go by fast enough. "Like Yva, I hope I'll soon be able to put into practice what I've learned in a great job," she says.