Harmen does an internship at an architectural firm in Venice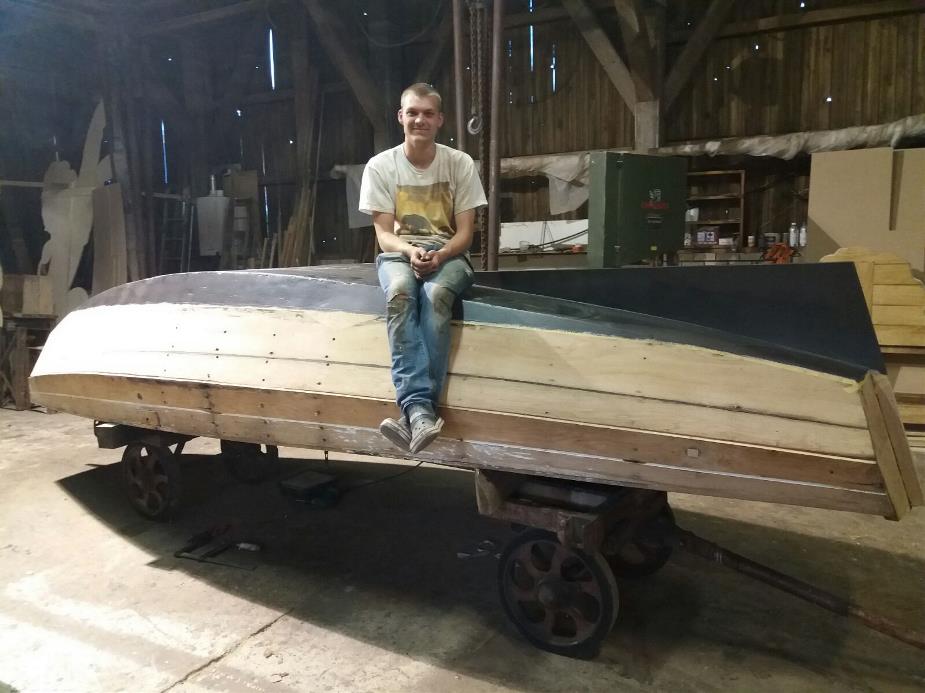 As a child and adolescent, architecture student Harmen Westra (25) sometimes lacked the motivation to go for it at school, but somewhere along the way that has changed. With conscious choices, he is now working very specifically towards a pleasant working life. Now, for example, he is doing an internship in Venice to supplement his knowledge of building technology with expertise in light and design. Ultimately, he wants to start his own architectural firm, and he has already mapped out the route to that.
A passion for carpentry discovered
About ten years ago, his father took Harmen to a friend who was converting his farm into a group accommodation. It turned out to be a good idea, because that is where Harmen discovered his passion for carpentry. At weekends and on holidays, he would come home with wood shavings in his hair. A course at the Wood and Furnishings College followed and Harmen restored an old sailing boat in his spare time that he had received during an apprenticeship. 
Determining the age of wood
Gradually Harmen realised that furniture making was not quite his thing. "The work was too small-scale for me. I could not imagine making dovetail joints all my life, even though it is wonderful work that I still enjoy doing. In the meantime, my father's friend had applied himself to dendrochronological research: determining the age of wood. Every spare moment I went with him to churches, farms and town buildings to take drill samples and date the buildings." 
Architecture studies
Harmen's interest in the built environment grew and he decided to study architecture. He found old buildings especially interesting. Harmen says: "Because The Hague is built in on all sides, the focus of the Architecture course at The Hague University of Applied Sciences is not so much on new buildings as on transformation and reallocation. Especially in the projects in years two and three. That's why THUAS really stood out for me right away." Harmen particularly enjoys technical subjects such as construction theory, architectural drawing (BIM) and 3D drawing.
Architetto Manzelle as a Lecturer
"Sometimes I find that the training focuses a little too much on organisational and management aspects, so that the actual understanding of the constructions, the materials and the building method remains somewhat underexposed," Harmen continues. During his internship at Studio Manzelle in Venice, he wants to learn more about just that. He ended up there more or less by chance. He was sure to do an internship in Italy, but he thought about Milan or Turin. When travelling to see his college friend's cousin, he discovered this studio. Architetto Manzelle, also a professor, was very enthusiastic and had more to offer than companies he had visited before. Hence he chose Venice.
Here I try to start from the form and think of how you can get that desired form through technique.

"If you want to immerse yourself in history, craft and restoration, there is no better place than Venice. I hope to be able to focus more on actual architecture here. On light and design rather than building technology. At THUAS we are mainly concerned with how something is easiest to make, how it is attached and how it gets to the building site. Here I try to start from the form and think about how you can get that desired form through technique. And no, that is not always the most efficient way of working." 
Technical and design drawing
It is not easy to get the hang of it, as he works on projects that require a lot of technical drawing. "I hope that in the next project I will be able to draw more design-wise. In this respect, I am still dependent on the work that my internship company is doing. In between, I do try to think about light and design: why are shapes chosen, how do you want to experience a space, what are the functions of spaces?"
Harmen chooses consciously
In making his choices in life, Harmen is guided by two things. He wants to continue doing something he likes and he wants to do something new every time. After all, that is the only way to find out about new interesting things. He is already planning his next adventure. "After my internship, I want to stay in Italy to do a minor in a wood research institute near Trento. I want to learn more about dendrochronology there. I hope to write my graduation thesis on foundation repair in Amsterdam. Afterward, I would like to do a master's degree in architecture, probably in Delft"
Construction projects in Venice
I have not reached that level yet. First, let's see when those two nice projects he's working on in Venice shall be successfully completed. The Venetian Soprintendenza - the city's committee on urban planning - will soon move into a 12th-century "palazzo" (Palace). Harmen says: "Everything is a monument, so adjustments are very limited. I made proposals for office layout and thought about the disabled toilets." Another project presents a mini lift to be installed in the stairwell of a house. Harmen studies the roof structure that is needed for this.
Praticare l'italiano
Harmen speaks only Italian with his two colleagues, and he now also has several friends with whom he talks about other topics than work. So his Italian is getting better every day, but more is needed to reach perfection. "Italians work longer hours than we do, so there is little time for systematic study. I am now in the process of signing up for the library so that I can devote another hour to the language in peace after work." Stai andando bene, Harmen. Bravo.

Would you like to turn that empty church into cool flats? Visit the website of the Architecture programme at The Hague University of Applied Sciences.