Design is fun, whether it's products or packaging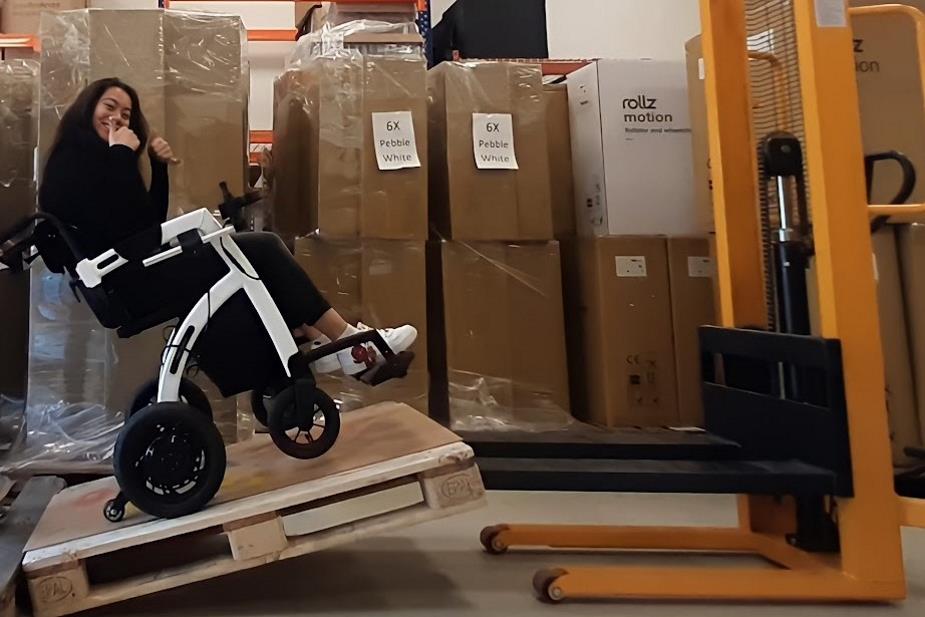 When you think of 'design', do you think of tea or deodorant? Or, like me, rather of a chair or a laptop? In the third year of the Industrial Design Engineering (IPO) degree programme, students specialise in either product design or packaging design. After all, the packaging of your deodorant also starts with a design. Kiki de Boer and Mellany van der Plicht are both studying Industrial Design Engineering in The Hague. What do they do during their degree programme and what do they like more: designing a product or packaging?
Mellany chose product design. She has just finished her year 3 shadowing internship. She spent six months doing a bit of everything at a company that designs rollators, Rollz. Not only did she design a new rollator bag, but she also tested a rollator in all kinds of situations. For example, she went on the train with it. She tested it with a fellow intern, so it was fun too. Furthermore, she and a colleague made a sustainability analysis of the company and she sometimes assembled rollators. It was surprisingly instructive. But the greatest satisfaction came from redesigning the vibrating handle for the Parkinson rollator.
Rollator that keeps the user moving
'That was a really fun assignment,' says Mellany. 'The company has a rollator that is especially for people with Parkinson's disease. The fact is they can 'freeze'. Then their legs no longer communicate with their brain and they stop walking.' That vibrating handle is one of the three functions the rollator has to keep the user moving or to get them moving again. A laser line can also be projected onto the ground and a metronome beep sounds. Both are intended to stimulate the walking rhythm.
Ninth design was good
When Mellany started her internship, the vibration of the handle was fine on a laminate floor but much less so when used outside. Could Mellany find a solution? Mellany: 'It was not that simple. I needed nine models to produce a good design. In the end, I moved the vibrator further down and turned the handle so that there was more room for an additional bridge. I then integrated that loose part into the rest. My colleagues and I started testing it and, fortunately, it worked well for everyone. Very cool!' 
Product and packaging design
Although Kiki chose the 'Product realisation' specialisation in the minor in year 3, she also likes to work on the product packaging. So she did the 'Packaging Design and Innovation' minor later on. Kiki: 'With products, design in 3D is very important, while packaging design is also about graphic design (2D). This combination seems to be perfect for me.' There is a lot involved in packaging. To start with, it must look good, open well and be sturdy. Moreover, it is preferably as small and light as possible, fancily printed, and if possible, made from one hundred per cent reusable material.
Snack tomatoes packaging
For Kiki, the best packaging assignment was the snack tomatoes packaging for Tommies. During the project, she learned a lot about logistics, for example that the packaging goes into standard crates. Kiki: 'If you slightly adjust the size of your packaging, more fit in a crate. That could save a lot of trucks going back and forth! Also, the products are often in really large numbers. So by making the packaging one gram lighter, you can quickly save a lot of material.' Therefore, with smart choices in the design phase, our budding designers limit the impact on the environment.
Eye-opener
For Kiki, what makes studying Industrial Design Engineering so much fun is the projects. You work with the tools you are given during the lessons. 'In Industrial Design Engineering, you are your own greatest teacher. I also really like the fact that you have actually made something at the end of a block. It is not like other studies that you have more knowledge of something at the end. With Industrial Design Engineering, you have more knowledge and beautiful models and a beautiful design. And thanks to the minor in photography, I can now also take good photographs of those designs.' 
From nice drawing to producible design
If Mellany has learnt anything in the past few years of the Industrial Design Engineering degree programme, it is that a design must be realistic. 'I was used to drawing nice things, but if you get feedback a couple of times that something is not feasible, then you start looking at things differently. Thinking about more aspects. It can still be nice of course - preferably even - but the design must deliver a producible product. When I see a design now, I sometimes think: oh, but that aspect is not very good'.
Knowing what she does not want
Mellany likes the idea that she can contribute to sustainability with her designs. And that she can help people too, like with that rollator during her internship. The internship also gave her other benefits, such as the insight that she does not yet need to know what she wants to do later on. She doesn't have a clue yet, although she is getting a better idea of what she doesn't want. 'The technical side is not my strength. And 3D modelling all day long doesn't seem like fun to me either. I do know people who really like doing that. I prefer a bit of variety.'
Design agency on the road
Kiki is now in year 3. Does she have any future plans? 'They are still vague and sometimes change by the day. I would love to work in product or packaging design and for a company. But I still have the dream of buying a van and converting it to live a life on the road. I don't know what kind of work fits with that. Who knows, maybe an on the road design agency of my own.'

Would you like to design packaging or products? Go to the website of Industrial Design Engineering at The Hague University of Applied Sciences.