Critical thinking teaching method rewarded with second place of Dutch Education Prize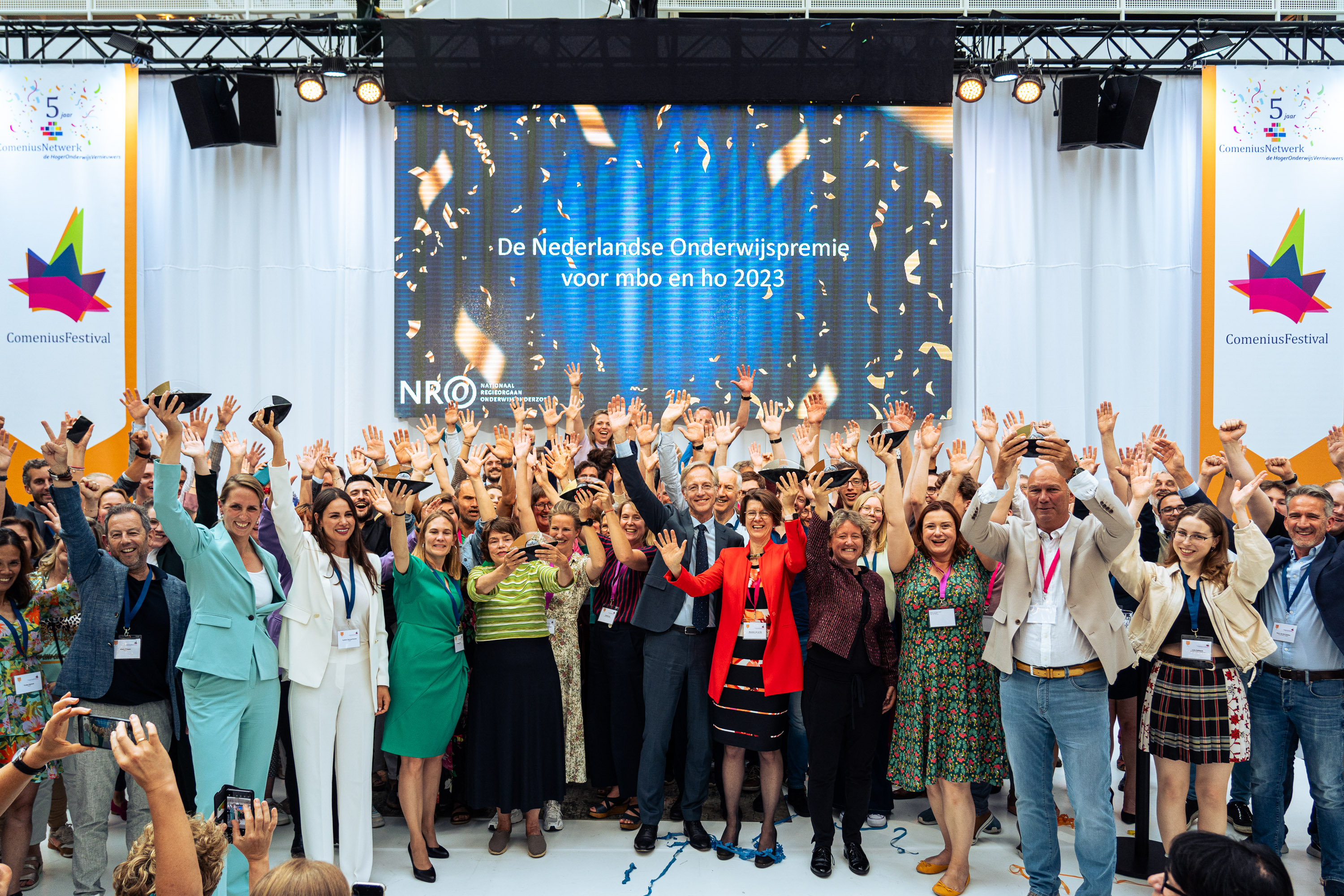 The Thinking in Action team of the International Business degree programme, in collaboration with the Change Management and New Finance research groups, won second place in the university of applied sciences category of the Dutch Education Prize on Thursday 29 June. The prize is awarded to education teams in lower secondary education, university of applied sciences and research university education in appreciation of, and as an impulse for, educational innovation and improvement in further education. The team received the check for €800,000 from Minister Dijkgraaf during the Comenius Festival in Nieuwegein. 
The Thinking in Action team, led by Wypkje van der Heide and Nanna Freeman, has designed a new method for teaching critical thinking for International Business students. With this method, students are introduced to critical step-by-step thinking by using film education. Nanna Freeman, lecturer, explains: "We watch documentaries, films, TV series with students and see how the concept of framing is used." 
New solutions 
Students view and analyse images as well as brainstorm together on what the makers want to achieve with framing and how this impacts our daily decisions, but also decisions within the business community. This offers new perspectives on contemporary issues. "The deeper problem is that there are many social issues that require new solutions. To come up with new solutions, you need to think carefully. Students who graduate in the economic domain are at the controls of the (future) economy and can have major social impact. Creative and critical thinking is a requirement for this," Nanna explains.  
Domain-specific critical thinking  
The team is given a maximum of five years to spend the prize on further upscaling and educational innovation. "Nanna is already working with the New Finance research group to develop a critical thinking curriculum specifically aimed at the finance domain. Other teachers use this money to enter into similar collaborations (e.g. with the business community) for domain-specific critical thinking," Wypkje comments. "The materials developed through these collaborations are shared through professional learning community FlickThink in the form of lesson plans, e-learnings, webinars and more." The first version of FlickThink will go live in the week of 10 July.  
Great achievement  
Arend Hardorff, member of the Executive Board and the Education and Quality Assurance portfolio holder, is proud of the team: "What a great achievement the team has made. The method gives an innovative and contemporary impulse to the crucial university of applied sciences critical thinking skills. Winning this prize is a wonderful recognition for the pursuit of quality and curricula that move along with what today's students and society demand from The Hague University of Applied Sciences." 
We congratulate Nanna Freeman, Wypkje van der Heide, Jacco van Uden, Martijn van der Linden, Vladimir Ignjatovic, Angela Roe, Bojana Petrova, Paul Burnett, Ohad Benshimon, Sushyana Mangat, Renee Tentori, Christine van der Ven, Corina Tabacaru, Marloes Ambagts-Van Rooijen, Emma Elkinson, Chi Nguyen, Olivier van Dongen-Torman and the entire International Business faculty on this great achievement! 
Check out the video where teachers and students share more about the Thinking in Action method
About the Dutch Education Prize 
The Dutch Education Prize from the Netherlands Initiative for Education Research (NRO) is the highest award in lower secondary education and universities of applied sciences. The teacher teams receive 1.2 million euros (first place), 800,000 euros (second place) or 500,000 euros (third place) respectively, with which they can further develop their projects.