COVID-19 Update: new measures as of 6 November at THUAS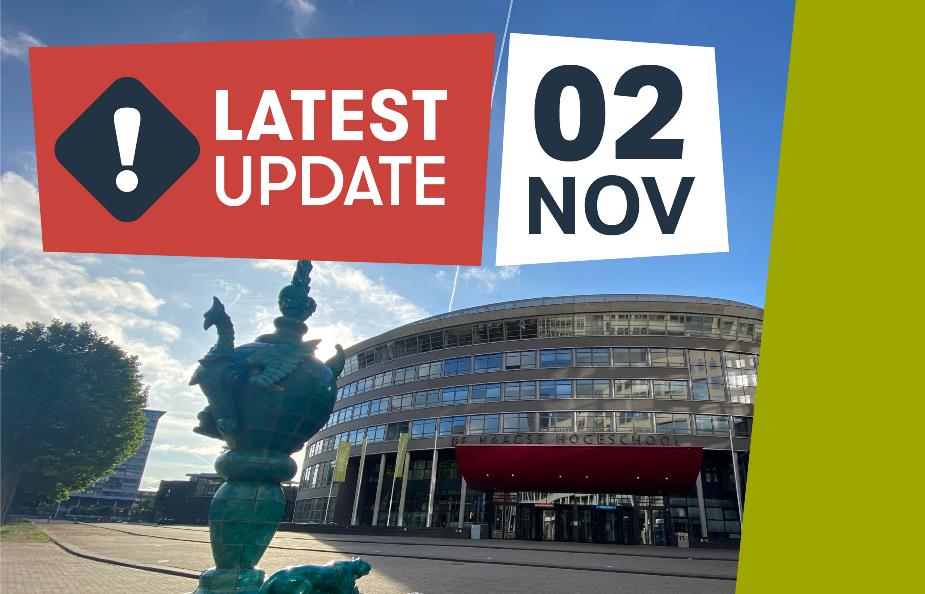 Due to the increasing numbers of infections and hospital admissions, the government announced a number of new measures during the press conference on Tuesday, 2 November. We would like to inform you about the impact this will have for THUAS.
In-person education continues 
First of all, we are happy to report that in-person education at THUAS locations can continue as normal. Nevertheless, there are some measures that will be tightened up within THUAS as of 6 November.  
Face masks compulsory again  
Face masks must again be worn from 6 November. You are required to wear a face mask when you move around the THUAS buildings (for example when you enter the university of applied sciences, in the hallways, in the canteens or when you enter or leave classrooms), or if you spend any length of time in a transit area (for example, waiting for the lift or standing in a queue). When you have reached your destination, you can remove the face mask. Anyone who would like to continue to wear a face mask is free to do so. Contact professions are also required to wear face masks. This will also apply in the practical subjects for our degree programmes that train for those professions.

Have you forgotten to put on your face mask, or have you spotted someone who has forgotten theirs? Remind each other, respond respectfully and please put on your face mask. If you have forgotten to bring a face mask, you can pick one up from the building reception. 
Stay home with light (cold) symptoms 
Even with mild (cold) symptoms, you can infect others with the coronavirus. Therefore, if you experience any symptoms, we urge you to stay home and get tested at the GGD immediately. Stay home until you know the test result. If the result is positive, inform your contacts straight away so that they can take measures themselves (such as preventive quarantine). Do not forget to inform your degree programme or manager, so that they can inform your (fellow) students and lecturers and/or staff members.  
Observe the basic rules 
After a prolonged period of little contact, we understand the need to shake hands, kiss goodbye or give each other a hug when you meet again within THUAS. Nevertheless, we ask everyone to continue to observe the basic measures to prevent infections from increasing within our university of applied sciences as well:  
Stay at home if you experience symptoms and get tested at the GGD (even if you have already been vaccinated) 
Keep your distance where possible and give each other space
Wash your hands often and thoroughly 
Cough and sneeze into your elbow
Do not shake hands 
Keep testing yourself, especially now!  
The recommendation to conduct a self-test twice a week remains in effect for the time being. It does not matter whether you have already been vaccinated or not: this advice applies to everyone. You can order the free self-tests via SURF's online order portal (login with your THUAS account) or pick up a free self-test at one of the Front Offices at THUAS. If you have (light cold) symptoms, do not use a self-test, but go to the GGD for a corona test. If you have you not yet been vaccinated, and would like to get it done, please visit the national website of the government www.prikkenzonderafspraak.nl. 
 
Unfortunately, it is necessary to tighten up some measures again. Nevertheless, we are very happy that in-person education can continue. Together we will ensure that infections within THUAS remain as low as possible!  
 
Kind regards,  
  
The Executive Board,  
Elisabeth Minnemann, Hans Camps, Rajash Rawal