Cooking Your Way to Sustainability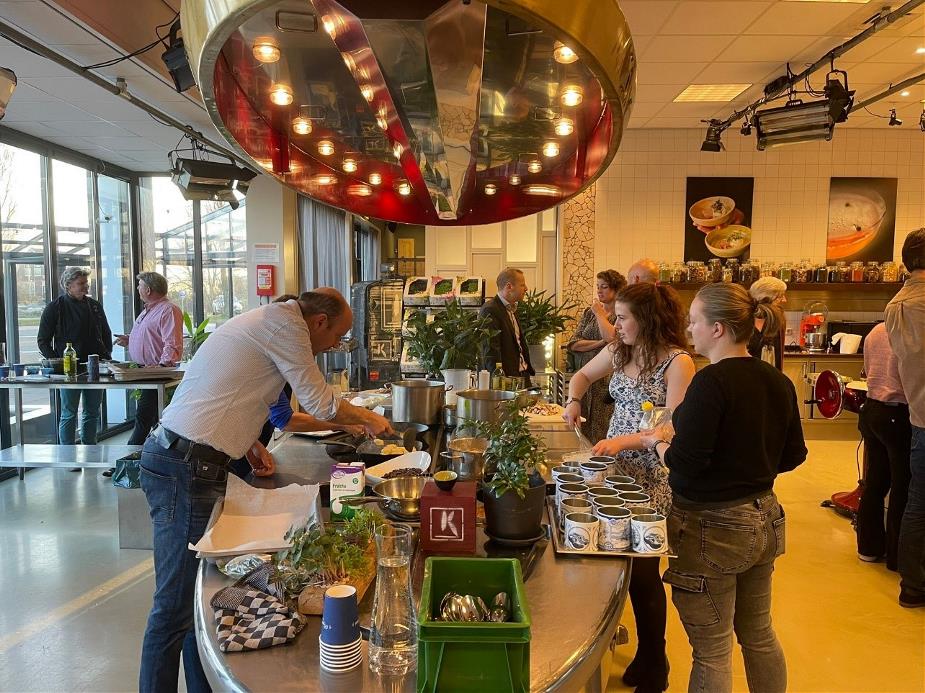 Can we cook our way to Sustainability? An unconventional recipe and some anecdotes to sizzle along the sustainability path.
You will need:
A destination with a kitchen. This is mandatory. In some recipes, you find ingredients listed as optional. That is not the case here. You need a kitchen, and it will need to be able to accommodate a team. For the Mission Zero team, a group of professors, lecturer-researchers and students on a mission to create an economy fueled by sustainable energy, renewable resources and materials, the perfect location was Koppert Cress. They grow an assortment of freshly-sprouted seedlings (Cresses) and other edible leaves and flowers from 100% natural aromatic plants for chefs to intensify the flavour, aroma or presentation of their dishes. Koppert Cress is on a mission to produce healthy food and protect nature by working towards being fossil-free at all their locations in Westland, The Netherlands. On site, they have a spacious kitchen where we were able to experiment and cook with the cresses. The oval-shaped cooking island and plenty of bench space on the periphery, created a comfortable space to cook together as a team.
A mode of transport. Preferably use public transport or an electric vehicle to get to your destination. If you can, carpool. Not only do you reduce fossil fuel consumption, but you are rewarded with great conversations. On the way to Koppert Cress, I took three busses from Den Haag Hollands Spoor. I sat by the window and witnessed the economic engine of the Netherlands. There were enormous glass house plantations growing food and flowers for the world as efficiently as possible. On the way home, Christine de Lille was kind to drop Kim Poldner and I at a train station for us to get home safe.
A facilitator. Go for someone who feels the room and puts the team at ease to be their true self with quirky, sometimes shocking humour. This is a basis for the team to venture out of their comfort zones to cook a tapas-style vegetarian meal. We had a mix of pros, intermediates, and novices in the kitchen. Some of us were anxious being in close proximity in a group setting or needed to climatise again being around fellow colleagues post lockdowns. So, a jolly good facilitator to put everyone at ease is a must. We had the pleasure of the Yuri Verbeek facilitate us. Yuri goes with the tagline: 'creating culinary dreams, coloring outside the lines'. Yuri is a food artist. He creates sensory food experiences with creativity and passion. This is me putting him in a box for the sake of describing what 'he does' but he is much more than that. He created a safe space, a family kitchen like atmosphere for us play and cook in the kitchen together with his stories and witty humour. He has a lot of heart for his craft.
Love. Yuri mentioned that you have to cook with love and do things with love. This is a key ingredient. The mind loves to make associations. I recall my mother saying to me to cook with love and that is a value I carry with me always and it was there when I cooked at Koppert Cress. Cooking with love I suppose, signifies living. Being truly present in the moment, and as you breathe, it opens up the heart valves to experience new possibilities – the unconventional. It allows for new ideas to be born, exchange and consume all things sustainable.
Cooking instructions?
The kitchen is a sharing space for values, knowledge, and ideas. As a child, I used to observe my mother cook and bake. I helped with cutting and whipping the icing, licking the icing off my fingers in-between. Once, I observed, I tried to emulate and surprisingly this is how I learnt to cook. Mostly from observing and giving it a go myself. One of the first skills, I learnt cooking with my mother was to observe. Since then, I developed my observation skill further, and have a mind library full of inspirations to cook. Observing is a profound way to experience ideas and connect them to create sustainable processes and solutions. The kitchen is the first classroom most of us entered. There is a deep degree of familiarity whether we like to cook or not. The familiarity transcends cultures, religion, race, sexuality, gender, politics. It is a commonality most share. Across the kitchen, I saw normally reserved colleague open and blossom whilst stirring a pot of mushroom broth.
In the kitchen at Koppert Cress, Yuri encouraged us to play. We were given general guidelines on what to cook. Kim and I were on roasted vegetables. Our instructions were to make a colorful mélange of roasted vegetables served on lettuce leaves and we can season them as we wish using garlic, olive oil, salt, pepper and the cresses. We thought we were going to get very precise instructions. But, we were encouraged to play and had the freedom to create. Kim and I walked elatedly to the boxes of cresses. We snipped bits of cresses with our fingers and tasted all of them. Each cress sort had a distinct flavour. They ranged from salty, sweet, earthy to nutty. Through this act of play, we decided to capture the freshness of the roasted vegetable. So we chose a florally sweet, nutty and salty cress sorts to season our roasted vegetables. Playing in the kitchen, I came to a realization there needs to be an element of play in tackling sustainable issues. We usually use cresses to garnish dishes. Through play, we learnt cresses can be used to season dishes as well as garnish.
Cooking together serves as a medium to connect with each other and exchange ideas. We all take away something from each other. Yuri said he gets ideas for his dishes from everywhere. From the supermarket, nature to talking with us. It's symbiotic! Cooking with Yuri and the team, I discovered Stroopwafel tins can be reused to serve desserts. It made me realise that everyday items we take for granted can be beautifully repurposed for new ways of using them. Over dinner, Laura Lee Stevens presented two frames she made with stones and pine cones which she collected from nature as gifts to farewell two colleagues. Presenting natural items arranged with care and detail in a frame is a sustainable gift which, has minimal cost to the planet. Moreover, it amplifies love, creativity, tranquility and a great sense of value for nature.
Can we cook our way to sustainability? We can harness the familiarity of the kitchen to communicate sustainable values. Having a sense of familiarity gave us the courage to cook with cresses for the first time. The experience taught us there are more ways to use cresses. Addressing sustainability issues needs to include play. Through touching, feeling, tasting, smelling, and observing, we can learn new ways to do things, expanding our knowledge. Cooking together allows for an exchange of ideas, inspirations, and lessons. Not only are we rewarded with a nice meal afterwards but, we leave the kitchen with 'Oh, I can do this a tad differently' or 'I can do this and this to do it like this'.
Written by Sudhan Balakrishnan