Communication is essential to achieve the Strategic Plan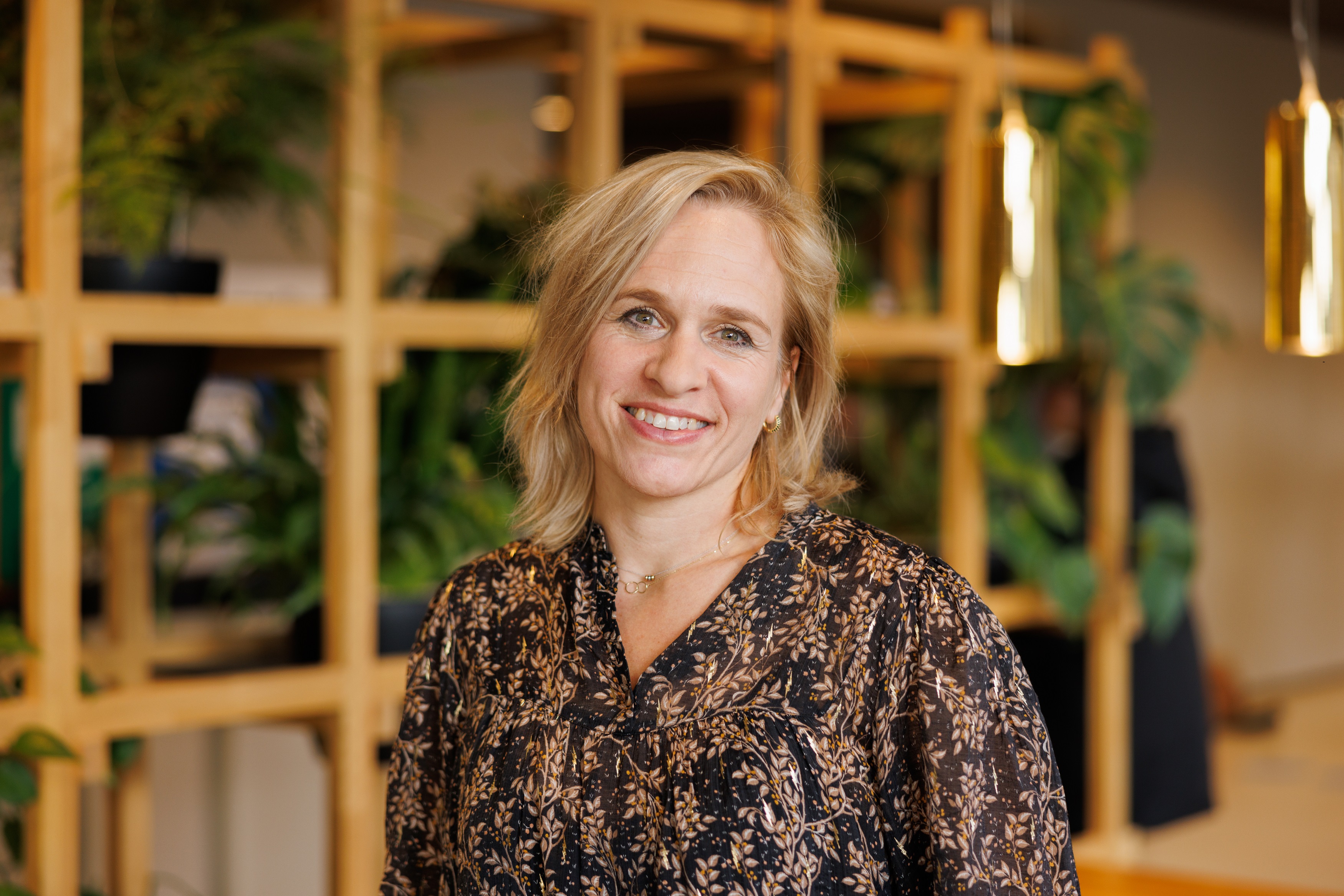 As a knowledge broker, Wendy Scholtes-Bos is happy to share her contacts.
Wendy Scholtes-Bos has many qualifications. But one stands out head and shoulders above the rest, that of connector. In that role, Wendy is positive about The Hague University of Applied Sciences' new Strategic Plan. 'That plan looks precisely at the connection of the university of applied sciences - research and education - with society. The plan really aims to achieve sustainable change in that society. That makes me happy.'
She can often be found on Atrium Square at the main campus or somewhere in a coffee room. There she spars with her many contacts. You can also encounter her at the Healthy Lifestyle in a Supporting Environment Research Group, part of the Health Innovation Centre of Expertise. 'I'm the coordinator of the living labs there and the director of the medical delta living lab VIT for Life. In that living lab, centres of expertise, students, SMEs and citizens work together with policy makers on healthcare innovations, especially in the areas of nutrition, exercise and living environment. I also work as a connector of five different centres of expertise with the Westland and try to bring about sustainable change and connection there.'
Strategic Plan as a framework
 'I love the fact that our research actually means something to the professional field. That the things we do with students are precisely those practical things that are particularly important for that professional field. That we prepare students for what they will do later.'
'When I did research in the past, I always thought it was a pity that a project was "finished" when grants were no longer available. Now we are working with the living labs to permanently embed in society that which really matters to that society. The Strategic Plan provides a framework for that.'
Innovative
Those who know Wendy will not be surprised that she is particularly appreciative of two ambitions in the Strategic Plan. They are good education and research together with external partners. As well as the importance of open learning materials and open science. 'My work lies exactly in those two areas. I collect questions from practice and present them to the university of applied sciences, so that we actually deal with relevant issues. We do this with innovative research and education, founded on sound principles. This gives students everything they will later need in practice. We do not hang them out to dry.'
Proud
That new Strategic Plan is wonderful. But glossy paper is not yet a glossy reality. In implementation, communication is key, Wendy believes. 'I notice that education and research could sometimes be even better connected. We still don't know enough about each other about the great things we do. We can improve that by communicating more about it. And if we then also lose some of our modesty that's a bonus. Because we should be prouder of what we do as a university of applied sciences. We do a lot of things well. Let's build on that.'
Available
Wendy is a knowledge broker. 'Even when the Strategic Plan is implemented, that connecting role is especially important. In my internal and external contacts, I gain a lot of knowledge of projects that are playing or about to play out. They are projects that can benefit others. I want to store that knowledge somewhere in the near future, so that it remains available across the sector independently of me.'
In Stories of The Hague, we share portraits of colleagues and students, in which they talk about the connection between their own motivations and the Strategic Plan.