Committed student Altamash Khalil finds THUAS unique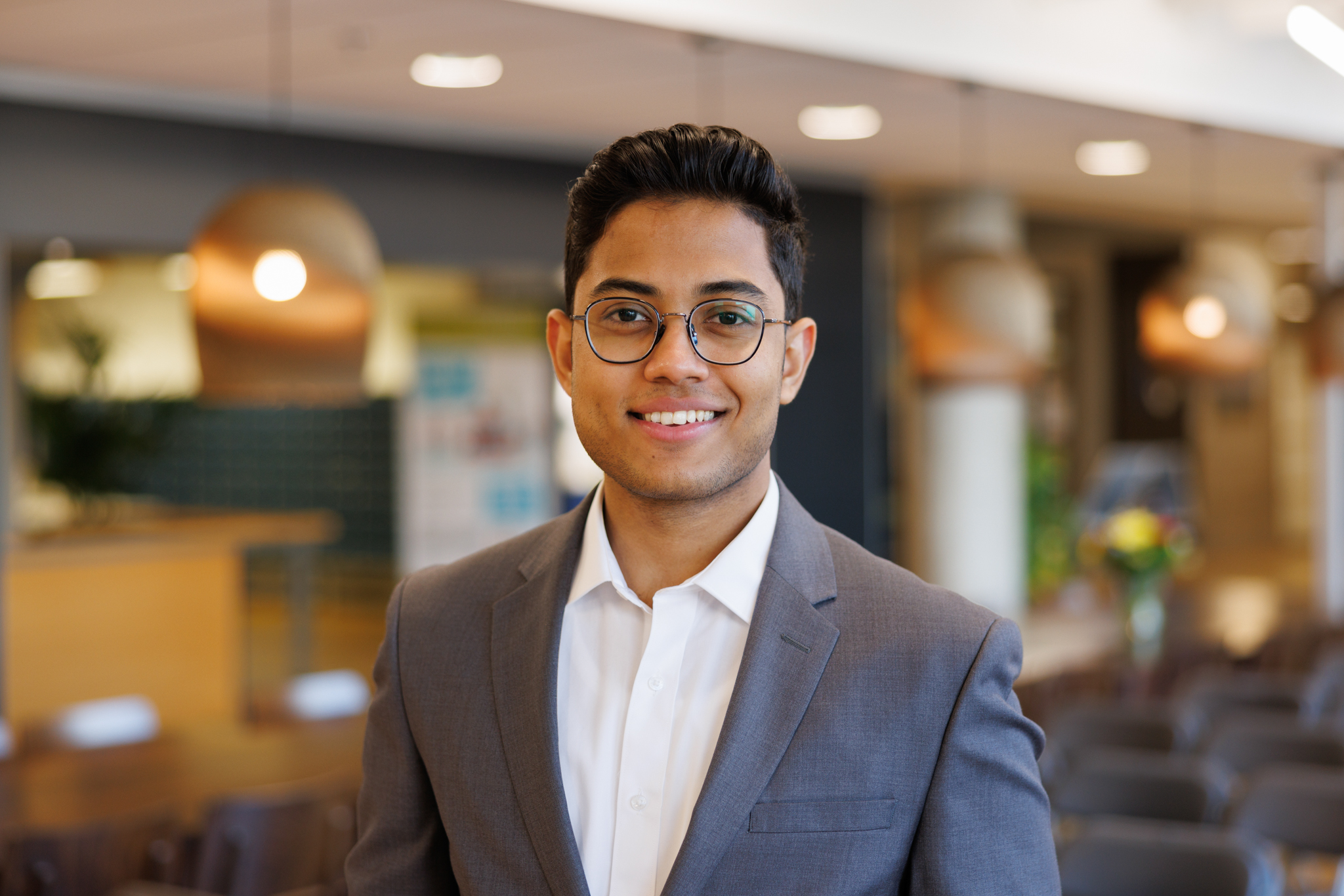 This new Strategic Plan can bring about real change
He is ambitious and committed. Altamash Khalil, from India. Anyone talking to him about the new Strategic Plan will immediately notice his enthusiasm. "What I find really admirable is the courage to develop something like this. It is unique among Dutch universities of applied sciences. And it fully matches the slogan of THUAS which I love: Let's change, you, us, the world." A conversation with Altamash Khalil on the match between this plan and how he wishes to see his own life.  
It seems that one day in the life of Altamash consists of much more than 24 hours. For how else could he be so active in so many areas! As a fourth-year International Law student, he is working on his graduation thesis. He is chairman of the student council, the vice chairman of the University Council and a member of the council of the faculty for Public Management, Law and Safety. Altamash: "I do what I can. For three years now, I have been here in the main building every day of the week, including weekends. Only during the corona period was I unable to be there." 
I was given the opportunity 
What makes him so passionate about his studies? The answer is fairly simple. "As a law student from India, I was given the opportunity to study here. I want to give something back to THUAS for everything it offers me. For the last year and a half, I was here every day because I joined the councils you just mentioned. Before that, I was here every day to improve my discipline. You can always find me in the corridors of the PMLS Faculty, very specifically in Rugzak 4.32. My fellow students have my number but never use it. They always go to Rugzak 4.32 when they need me. Yes, that's where I'm sitting now too as we are having this conversation." 
To the next level 
So if you are looking for an ambitious student? Go to Rugzak 4.32 and you will find one: Altamash Khalil. Why is he so enthusiastic about the new Strategic Plan? "Because it is so ambitious. I like the fact that this plan focuses not only on what we already have, but especially on what we do not yet have and what we still have to work hard for. This plan gives us the satisfaction of having to work hard to reach that higher level in terms of teaching and practical scientific research." 
Safe place for everyone 
For him, where is the important match between the new Strategic Plan and himself? "What really gets me about the plan is its inclusiveness. This means that THUAS says no to intolerance, discrimination and exclusion. Why does that get to me the way it does? Well, when I arrived here in 2019, it became clear to me very quickly that I am a coloured student here. Someone from India. Other students made me feel that I was not one of them because I did not speak Dutch. Just three months ago, there was a student who said to me: "You're from India, go back home, man!" I felt intimidated. Fortunately, I know many people who will stand up for me when something like this happens. So for me it is very important to create a safe space, a safe environment where everyone is allowed to be there. That is why I embrace the ambition on inclusiveness in the new Strategic Plan." 
Equal rights and opportunities 
Altamash also underlined the ambitions concerning a just and sustainable world. "Surely everyone who is active within an organisation actually wants that organisation to do the right things and do things well. As a student and a member of the Student Council, University Council and Faculty Council, I feel very involved in THUAS. When I talk about THUAS, I call it 'my organisation'. Then I want my organisation to act properly and fairly. That includes giving everyone equal rights and opportunities, no matter what they do or who they are."  
Sustainable in 2030 
Sustainability is also a topic close to Altamash's heart. "I come from a developing country. Fortunately, the situation in India is better than in parts of Africa. But I have seen people struggling to get enough food, to get shelter for the night or to get a shady spot during the heat during the day. As a law student, I feel a great affinity with the United Nations (UN) and its SDGs. The new Strategic Plan is based on these SDGs. Precisely because of these objectives, I underline the ambitions on sustainability in the plan. And I say something about it when those goals are unknowingly thwarted. Take the restaurant of the main building. As THUAS, we want to be sustainable by 2030. That's in seven years. But when I then see food being thrown away at the end of the day, I cannot reconcile that with that sustainability ambition. As long as things like this happen, there is work to be done to make that ambition into a reality." 
Real change 
Altamash is keeping his finger on the pulse. Also when it comes to the new Strategic Plan, everything hinges on participation. Wanting to participate in achieving ambitions. "In my positions, I regularly speak to the Executive Board. I look for every opportunity to make the ambitions in the plan a reality. To discover by which route that can be done. Students and staff should realise that these ambitions are truly unique among Dutch universities and universities of applied sciences. It takes a lot of courage and insight to put them all into a plan like this. The new Strategic Plan can bring about real change. Let us change you, us, the world. That's what motivates me." 
In Stories of The Hague, we share portraits of colleagues and students, in which they talk about the connection between their own motivations and the Strategic Plan.