Co-creation: looking for solutions for complex issues together
Researchers Co-creation of the research group Sustainable Talent Development from left to right: Dulci Altorf, Miranda de Hei, Elke Müller, Margriet Lerink-Mulderink, Melissa van der Heijden en Daphne Kuijlenburg.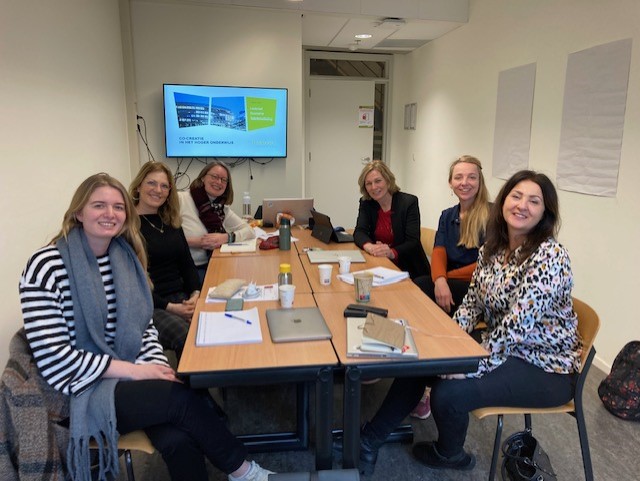 Organisations can work on possible solutions for complex issues in co-creation with lecturers and students of The Hague University of Applied Sciences. That subject is the specialty of Dr. Miranda de Hei, senior researcher, who is working on this with a number of colleagues from the research group Sustainable Talent Development. "Co-creation is a great way to look for new solutions together. It is not without reason a strategic theme in the institutional plan of THUAS. We are doing a lot of research into how co-creation works: how can we optimise it? Because if you do it right, everyone benefits: students, lecturers and the professional field.'
What is co-creation?
'Working together in co-creation has a number of important characteristics. For example, all stakeholders are involved in an equivalent way. Professionals from the field, lecturers, students: everyone's input is of equal value. This way you stimulate creativity that leads to new insights and possible solutions. In addition, co-creation is especially useful for complex issues for which there is no solution yet.'
Fresh, usable solutions
'Co-creation can lead to wonderful results. The professionals from the field find fresh, usable solutions that they would not have thought of themselves. The lecturers keep in touch with the professional field and thus work on their own professional development. And the students also benefit from co-creation: the current gap between education and job is narrowing, they gain valuable experience and build their network.'
Short-term, defined pilots
'For this research, we are working with ten short-term, clearly defined pilots at five different faculties of THUAS. Together with the UWV, we are looking at preventing presenteeism: being sick, but still going to work, with all the negative consequences that it entails for the employee and the organisation. Two professionals from the UWV, three teachers and four students work together in co-creation. In four sessions they map out the stakeholders, their interests and possible solutions. The implementation falls outside our research, but could also be tackled in co-creation with students and teachers of THUAS.'
The challenges of co-creation
'Our literature study already showed that it is not that easy to use co-creation properly. Equality is a requirement and at the same time a great challenge, because people find it difficult to step out of their regular role. Teachers are suddenly no longer the assessor or supervisor and students have absolutely no subordinate role. In order to shape equality in the collaboration, we are involved as research group to facilitate. We also often meet consciously outside the school to get rid of those usual roles.'
Pass on knowledge and skills
'Although we are still very busy with our research, it is already clear that co-creation can offer a lot of added value for the quality of our education. That is why we would like to pass on our knowledge and skills to other faculties. We can supply and train facilitators, and we will develop workshops to realise optimal co-creation. In addition, we have developed useful resources, such as a validated questionnaire. An article I wrote about this with Inge Audenaerde was recently published in an international scientific journal.'
Demonstrate added value
'We want to complete the ten research pilots by the end of this year. At the beginning of 2024, we will analyse the data we have collected and draw conclusions: what works and what does not work? And what does co-creation ultimately yield? In the meantime, we will continue to initiate and supervise new co-creation projects. I am convinced that this approach has added value for all parties involved and I expect that we will soon be able to demonstrate this, thanks to our research. Our mission is that all students and lecturers work on complex issues in co-creation several times during their career.'
Do you have a complex issue that you cannot solve yourself and does co-creation sound promising? Please contact Miranda (m.s.a.dehei@hhs.nl) to explore the possibilities.