Researcher in the spotlight: Artemis Malliaropoulou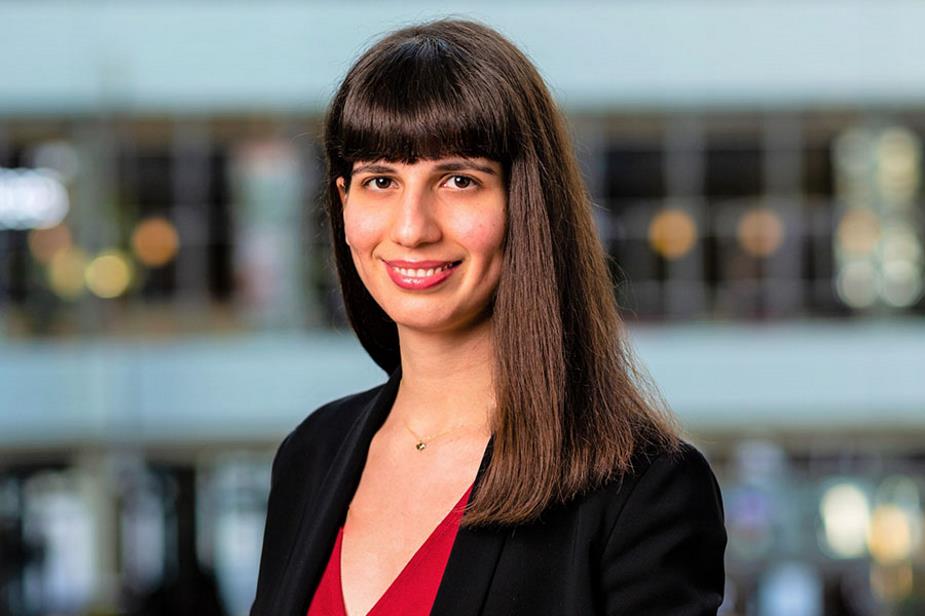 "It is fascinating to conduct research and teach international law in The Hague, which is globally known as the international city of peace and justice. I'm glad to be involved in setting up a 'monitor' for The Hague Rules on Business and Human Rights Arbitration." She is a researcher at the Global Governance Center of Expertise and a lecturer in the International and European Law program at The Hague University of Applied Sciences.
The Hague Rules on Business and Human Rights were launched on 12 December 2019. They provide a set of procedures for the arbitration of disputes related to the human rights impacts of business activities. The rules are built on the United Nations Guiding Principles on Business and Human Rights. This development aims at offering an adequate remedy for those affected by the human rights impacts of business activities.
Global sustainability-trend
"Within globally acting corporates we see an increasing emphasis on CSR-values. We also see more governmental efforts to 'impose' or 'export' BHR-standards globally by governments. For instance, in the 'new' generation investment and trade treaties. It is considered that The Hague Rules may well become part of this global sustainability-trend, as part of the procedural framework for the enforcement of BHR-standards. However, the Drafting Committee acknowledges that the Hague Rules may need a further fine-tuning."
International arbitration
The Hague Rules directly concern international arbitration, which is Artemis' primary focus area. After a bachelor degree in law, she obtained a master degree in EU law. Her PhD combined her two passions: EU law and procedural law. "During my studies I discovered that I love international arbitration, as a self-standing right, a peaceful method of dispute resolution decided by the parties and formulated based on their ad-hoc needs. International arbitration combines my love for procedural law, human rights and international law in practice."
"That combination made things a bit complicated. Is arbitration part of the public or private law sphere or both? Is this divide of any use to resolution of complex, global disputes in an efficient way? I believe in the cross-fertilization of research fields and any effort to connect the dots is an intellectually challenging exercise."
Artemis has been active in a number of international arbitration societies, including Young ITA, Young ICCA, ICDR Y&I, Young SIAC, Young ICSID, Young OGEMID, ICC YAF, ASIL Dispute Resolution Group, member of the Peer Review Board of the ICSID Review and the American Review of International Arbitration, Indian Journal of Projects, Infrastructure, and Energy Law and an Arbitrator Intelligence Ambassador.
Teaching
"What I really enjoy, apart from conducting research, is communication with students. The refreshing energy of the new generation, their ideas on the lex ferenda, on how future law should change, on how policies should be formulated are more than inspiring.. They learn from me; I learn from them. I had the chance to teach corporate liability where case-law was used as a basis for our class discussions on potential liability of parent companies for human rights' violations." In the context of the Dispute Resolution Minor, our focus is practice-orientated and our aim is to prepare the students for theis tasks as junior professionals in the field.
Artemis has been a member of the Athens Bar since 2010. Her work placements have taken her to New York, London, Paris, Brussels, Rome, the Hague. "My stories from my legal journey attract the interest of students who are keen to learn more about different types of legal practice, ways to land entry-level positions, qualifications required and soft skills that need to be developed."
Crises and opportunities
This era is dominated by pressing global humanitarian need, the COVID-19 pandemic, the climate-change threat, growing tensions between states, termination of investment treaties, the rule of law under duress in a drastically increasing number of countries, human rights' violations, the Brexit saga, the rise of artificial intelligence. Artemis is trying to adopt a dynamic approach: "Chinese people say that an opportunity lies amidst every crisis. Well, we are currently facing various crises. Let us try to re-appreciate things taken for granted, learn the lessons that history teaches us and work hard to seize the underlying opportunities to become better as a whole."
Selected publications
Political risk insurance in international investment arbitration, Jus Mundi Wiki notes, October 2020.
Case No. 1713/2008 of the Hellenic Supreme Court, Case Law on Uncitral Texts, UN CLOUT Issue 190, 18 June 2018.
Standard Chartered Bank (Hong Kong) Limited v. TANESCO - ICSID Case No. ARB/10/20, Case Report, Transnational Dispute Management - International Arbitration Case Law, 16 January 2018.
Gambrinus, Corp. v. Bolivarian Republic of Venezuela - ICSID Case No. ARB/11/31, Decision on Annulment of the Award, Case Report, Transnational Dispute Management-International Arbitration Case-Law, 3 October 2017.