Researcher and lecturer Joris Hoeboer writes practical book about learning how to exercise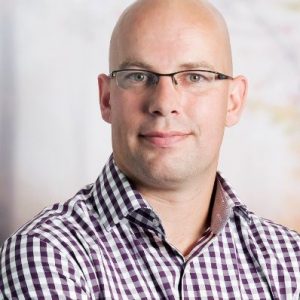 Regular exercise throughout one's life leads to a lifetime of fitness and well-being, and reduces the risk of overweight and obesity. This starts with teaching children good motor skills. In the book 'Leer bewegen!' (Learn to exercise!) researcher Joris Hoeboer and professor Geert Savelsbergh provide new insights, practical tips and tools for motor development. "It is better to practice a variety of movements than to repeat the same movement a thousand times."
In the book, both authors advocate the 'implicit form' of movement, In other words, a form of exercise that does not focus on repeating the perfect movement, but on individual differences between children. "Implicit forms of movement are more effective and make a positive contribution to regular exercise throughout one's life. And that has positive effects on both mental and physical health", explains Joris Hoeboer, senior lecturer and researcher within the Healthy Lifestyle in a Supporting Environment research group at The Hague University of Applied Sciences.
Regular exercise throughout one's life
The development of motor skills determines whether people will later adopt an active lifestyle. Those who start exercising at a young age and try out many different sports and exercise activities will benefit from this throughout their lives. They will continue to enjoy exercise later in life, be fitter, healthier and less likely to be overweight. "Regular exercise throughout one's life is important for everyone. Good motor skills also help people to stay active later in life", explains Geert Savelsbergh, professor of Sport and Exercise at VU University Amsterdam.
Endless repetition
Until 20 years ago, according to both authors, it was believed that endless repetition was the best way to learn a movement. Joris: "Take the tennis forehand. Its perfect execution was practised through constant repetition, until the movement had become ingrained. We are becoming increasingly aware that it does not actually work like that. The best way to learn a movement is by practising a lot of its variants. This means that fewer movement rules apply and that varied exercise is central.
Less energy
Implicit forms of movements constitute a broader base of motor skills. According to Geert, "it is easier to integrate them into your system. They requires less energy and less working memory. Moreover, you are better able to adapt." In the book, the authors provide insights and tools to steer the learning process more towards the end goal than the perfect execution of a motor skill.
Practical tips and tools
In each chapter of the book, practical tips are given for exercise professionals. These tips show how to provide feedback, organise exercise sessions or give instruction based on implicit learning. The Physical Education Teacher Training (HALO) degree programme at THUAS now uses this book to teach its first-year students. More information about the book can be found at www.leerbewegen.com. 
Congratulations on a wonderful book! In simple language, with a good understanding of the content and the perception of the target group, you help the reader to grasp the most important concepts! Because of the well-known videos of Ronaldo (tested to the max) the reader is not only able to understand, but also to see. That is quite special for a book
commented Dr. Remco Mombarg, lecturer in Movement Education at the Hanze University of Applied Sciences.
Somersault
In practice, implicit learning is not yet embedded in the system. Joris: "We focus on the exercise professionals in the Netherlands as well as on a much larger group, that of amateurs." According to the authors, the fact that the book is easily accessible should lead to everyone having an equal chance of a lifetime of fitness and well-being through regular exercise. Geert: "The aim is to raise the motor skill level of everyone who exercises to as high a level as possible. Everyone has talent." And to watch it develop is special, according to Joris. "Look into the eyes of a child who does a somersault for the first time. That's beautiful.