Working together on a positive sports culture with 'Positivity Scores'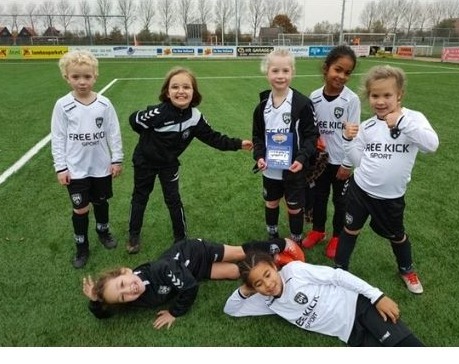 A positive sports culture means a pleasant sports environment in which players and other participants have fun. Fun is the most important reason for starting and continuing to play sports. That is why achieving a positive sports culture is the goal of the 'Positivity Scores' programme. The Impact of Sport research group, together with students from the Sport Studies degree programme, is studying the effect of 'Positivity Scores' on behaviour on the sidelines of youth sport.
The 'Positivity Scores' programme has been developed by the municipality of The Hague in cooperation with Arjan Offerhaus, who has been working on Sportsmanship & Respect in sports in The Hague for many years. In 2019, they won the national Sport Innovation Award with this programme.
The development of 'Positivity Scores'
The programme focuses on how players think they can have fun – or more fun – on and around the sports fields. Earlier research on this topic consisted of video interviews with around 1,000 players and stakeholders. In addition, the communication model called the 'Positivity Circle' was used. It is based on a positive approach and puts the player in the centre.
It resulted in the 'Positivity Scores' programme and the accompanying toolkit. This toolkit consists of:
 a welcome box for opponents ('Shake Hands' rules, explanation of positive sports culture, explanation before and after the match);
short videos with clips of players (children) sharing what they think is positive behaviour and their tips on this;
 a digital checklist tool for game officials and referees to award Fun Points;
a blue card to compliment the opposing team;
a blue card to reward the positive behaviour of parents on the sidelines. 
Research on the effect
The research group is studying the effect of the 'Positivity Scores' programme and the use of the toolkit on the actual behaviour on the sidelines during matches of youth teams. The research group is collaborating here with students of the Sports Studies degree programme.
First-year students observe the behaviour during youth games using an online observation tool as part of their research skills training. A fourth-year student analyses the data as part of a graduation project under the supervision of a senior researcher.
Partners in the 'Positivity Scores' programme
Municipality of The Hague, HDM hockey club, Die Haghe sports club, Haagse Rugby Club (HRC), Hellas handball club, HBS Craeyenhout football, cricket and hockey club, The Hague University of Applied Sciences, youth psychologist Hilde Groenwegen and Arjan Offerhaus.
More information
Duration
'Positivity Scores' runs until July 2022.