Learning while moving on the exercise floor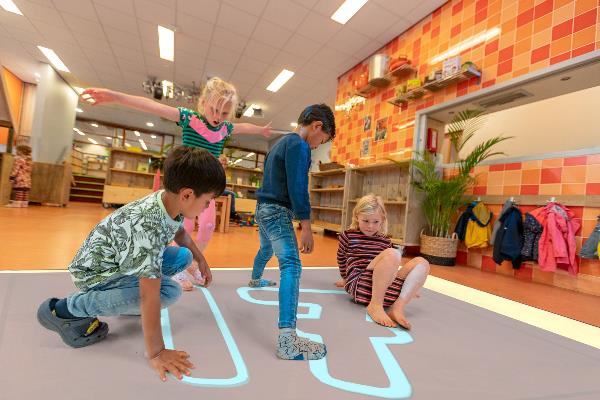 Modern technology enables children to exercise more, improve their motor skills and teach them at the same time. Since 2018, the Healthy Lifestyle in a Supporting Environment Research Group has been working with Springlab, a business focused on physical education. They developed an exercise floor with various educational games for children. The research group studies the best way to use the exercise floor and how to further develop this tool.
The exercise floor was conceived in collaboration with children, education experts and 'serious games' designers. The floor is interactive and combines exercise and playful learning. The system consists of a digital projector and a motion sensor. The learning games are projected onto the floor using the digital projector. The games are aimed at children aged between 2 to 4 (toddler package) and from 4 to 8 (preschooler package). 
First research on movement-based learning
The research on the exercise floor and the toddler package started in 2018. The researchers looked at the physical activity and effort intensity while playing interactive games. 

From this pilot, conducted at daycare centres, it appeared that children crawl, walk and jump a lot while playing the games. The effort intensity was average. It was higher than during other activities at the daycare centre. During crafts activities, circle time, free play and eating, the children demonstrated mainly sedentary behaviour as they sat down and expended little energy. It would be good for the children to play on the exercise floor twice a day for about half an hour, in addition to other indoor and outdoor movement activities. 
Follow-up research
New research on the games for the preschooler package for children aged 4 to 8 started in 2020. This research was funded by a subsidy from ZonMw Sportinnovator.
More information
Partners
Springlab, the Municipality of The Hague and several primary schools are involved in the research.
Duration
This project runs until January 2022.