Customised advice for hand bikers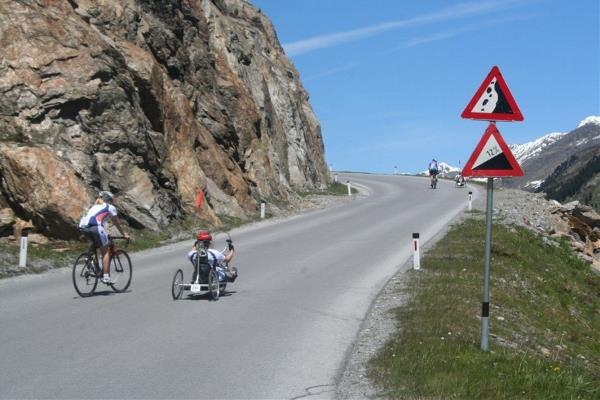 The hand bike is one of the best tools to allow wheelchair users to efficiently practice exercise and sports. An important topic during the hand bike training is to prevent strains, because wheelchair users also need their upper body for their daily activities. The Technology for Inclusive Movement and Sport Research group is doing research to assist hand bikers with this.
Wheelchair users have the least active lifestyle, compared to other people with a limitation. Using a wheelchair takes a lot of energy and strains the shoulders. Hand bikes provide a better form of mobility in terms of energy use and shoulder strain.
Training for the Hand Bike Battle
To encourage wheelchair users to train independently with a hand bike, the Hand Bike Battle Foundation organises an annual competition in which teams of former rehab patients climb an Austrian Alp. Participants are inexperienced and have to take their training seriously, with the assistance of a rehabilitation centre. 
The support teams of the hand bikers often have a lot of questions about how to provide the best training for this target group. For example, how to find a balance between strain and strength, and the optimal settings for the hand bike to prevent strain injuries.
Customised advice for training and adjustments
The project 'Hand bikes: Training advice and customised hand bike configuration' wants to develop a training app for beginner hand bikers, in combination with an adjustable hand bike. This app would help the participating rehabilitation centres, trainers of wheelchair users and hand bike suppliers to provide customised training advice and correct hand bike configuration. 
Research 
The researchers are collecting the questions and knowledge about training and hand bike configuration from rehabilitation centres, (adapted) sporting goods and hand bike suppliers. They are also conducting a literature review.
They will use this information to:
develop an app to monitor wheelchair activities in daily life, training and strain injuries;
create a technical drawing of a test hand bike configuration;
submit a RAAK-PRO application for research in which the app and the test hand bike configuration can be used to research optimal training and hand bike configurations.
Collaboration
This research project subsidised by KIEM is a major partnership between Dutch and international knowledge institutions, SMEs and 13 Dutch rehabilitation centres. This is a continuation of the Hand Bike Battle research project.
More information
For more information about the Hand bike Battle event, please go to the Dutch website: www.handbikebattle.nl
Project group
Dr. Monique Berger (THUAS, Basalt Revalidatie)
Dr. Sonja de Groot (Vrije Universiteit Amsterdam, Reade)
Dr. Ingrid Kouwijzer (THUAS)
Dr. Rienk van der Slikke (THUAS, TU Delft)
Dr. Linda Valent (Heliomare)