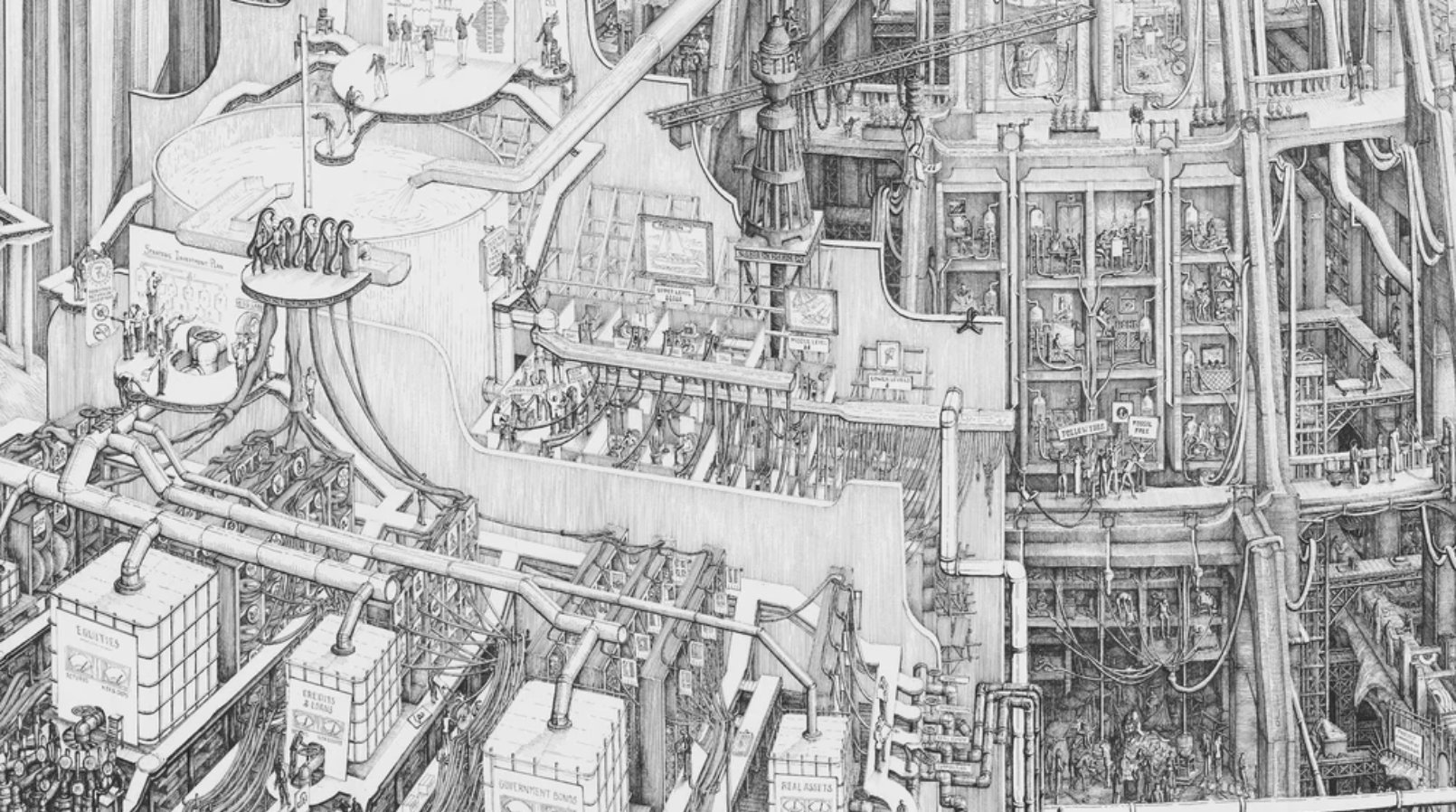 In the morning of September 8, several workshops and roundtables will be organized at The Hague University of Applied Sciences, Ministry of Finance and Kunstmuseum Den Haag. Below you find descriptions of the sessions. All of these are given in English. You are cordially invited to join one!  
Wicked Water Works(hop) 
The question "what do we water – and what not?" is central to the conference, but crucial for young people to think critically about. Research has shown that critical thinking skills can be taught, if properly scaffolded by authentic materials, dialogue and coaching. The research group New Finance is working on creating teaching materials for the Waterworks to help young people engage critically and constructively with this question of what we prioritize, financially, as a society.  
One of these teaching materials is an interactive game where students, in groups, through structured dialogue and reflection, divide a limited amount of water over a number of expense categories, such as healthcare, social security, and climate change action. In this workshop, we will give a brief introduction to the game and allow participants to try their hand themselves, before asking for input and feedback on the different categories.  
| Time | Participants | Room | Hosts |
| --- | --- | --- | --- |
| 10:30 - 12:00                      | max 15 people* | OV K.69, New York Room  | Nanna Freeman & Wypkje van der Heide  |
*Due to the nature of the workshop, we are limiting participation to 15 people – 10 by invitation only, 5 by open sign-up. The five open sign-up spots are generally first come, first served, though student participants are prioritized.  
How management accounting can strengthen the transition towards a circular economy 
Join us for a round table discussion on how management accounting can drive the circular economy. We need to explore key questions related to what information is needed, how to calculate costs, value materials, and more. In this session, we address together some open questions and challenges in applying management accounting to foster sustainability.  
| Time | Participants | Room | Hosts |
| --- | --- | --- | --- |
| 10:00 - 11:00 and 11:00 - 12:00 | max 10 people | OV 0.83.3, Innovation Play Ground Right | Sebastiaan Morssinkhof & Begoña Gilabert |
Financial literacy and teaching about money  
In this workshop, we will dive into how to enhance students on their understanding of finance, banks and money creation. Over the last years there has been much debate surrounding the revelation that current economic teaching on money creation is currently often factually incorrect. Recently new teaching materials have been developed to address this wrong in economics education. In this session, we will pay attention to the theoretical, real world, and didactical aspects of teaching about money and improving financial literacy. The session will be run by Sam de Muijnck of the Centre for Economy Studies, which is part of the Dutch economics and business education think tank Our New Economy.  
| Time | Participants | Room | Host |
| --- | --- | --- | --- |
| 10:30 - 12:00 | max 50 people | OV K.33, Beijing Room | Sam de Muijnck |
Student visit Ministry of Finance 
In this session, we visit the Dutch Ministry of Finance. First, … will explain what the role of the Ministry exactly is and what its main activities are. Second, … will  
| Time | Participants | Location | Host |
| --- | --- | --- | --- |
| 10:30 - 12:00 | students | Ministry of Finance | Sacha Marges |
Registerlink will follow soon.
Demand for CBDC's 
In this workshop, we explore the demand for central bank digital currencies. First, two researchers of New Finance will present their latest research. Jeroen Haans will discuss lessons from the fist implemented CBDC: the Bahamian Sand dollar and Cristiano Giordano will present his research into the demand for a digital euro. Subsequently, there will be plenty of space for questions and discussion 
| Time | Participants | Room | Hosts |
| --- | --- | --- | --- |
| 10:30 - 12:00             | max 50 people | 1OV 0.83.1, Innovation Playground Left | Cristiano Giordano & Jeroen Haans |
Visit exhibition The Future of Our Money 
In this session, we visit the exhibition 'The Future of Our Money' in the Projects Gallery at Kunstmuseum Den Haag. Two of the makers, Carlijn Kingma (carthographer) and Thomas Bollen (investigative financial journalist), will explain the project and guide you through the exposition. You are invited to wander through different landscapes that unravel the complexities of the financial world, and to think and to discuss about the future. 
| Time | Participants | Location | Hosts |
| --- | --- | --- | --- |
| 10:30 - 11:30             | max 50 people | Kunstmuseum Den Haag | Carlijn Kingma & Thomas Bollen |
Money and (in)equality through a geographical lens 
In this workshop, we will take you through the work and ideas of the Dutch Social Trade Organisation (STRO). For many decades now, STRO runs a consistent R&D programme that addresses the question "what do we water - and what not?", adding a geographical perspective. When the introduction of the Euro was taking shape in the 1990's, STRO already published critiques predicting the problems we've seen unfolding in the Eurozone over the past decade, and which are still unsolved. As public data from e.g. the ECB TARGET2 system shows, money does not only create inequalities because of its tendency to concentrate in financial markets trading accounts rather than the real economy. It also causes geographical inequality because, through the physical location of its owner, absent exchange rates or other capital controls, it creates a systematic feedback loop that lets money concentrate in economically strong regions at the expense of economically weaker regions. This exacerbates existing socio-economic issues in the latter, resulting in migration pressures.  
Besides further clarifying this problem, we will discuss an artificial exchange rate, or 'sub-currencies', as a possible solution that STRO has been pioneering, using its award-winning payment software currently serving millions of underbanked people worldwide. We ask attendees to read two relevant sections (chapters 7 and 9) from the yet to be published new book beforehand (under embargo), to facilitate interesting discussions. 
| Time | Participants | Room | Host |
| --- | --- | --- | --- |
| 10:30 - 12:00             | max 8 people | OV 0.35, Buenos Aires Room | Gerben Nap |
Advisory group PhD research Building an integrated sustainability curriculum for higher professional economic education. 
Politicians and society are increasingly calling on businesses to incorporate sustainability into their business operations. Higher professional economic education partly meets these requests by offering more or less stand-alone sustainability courses. However, the integration of sustainability into the main curriculum is still insufficient. Here, the neoclassical economic theory of the firm, which focusses on maximizing profits for financiers, generally dominates. The objective of this research is to develop building blocks from more appropriate business views - and underlying views of humans and society - that can be used to fully integrate sustainability into the curriculum. In this session, Theo de Joode presents his research progress and the advisory group gives feedback and shares ideas. 
| Time | Participants | Room | Host |
| --- | --- | --- | --- |
| 10:30 - 12:00             | invitation only | OV 0.39, Paris Room | Theo de Joode |