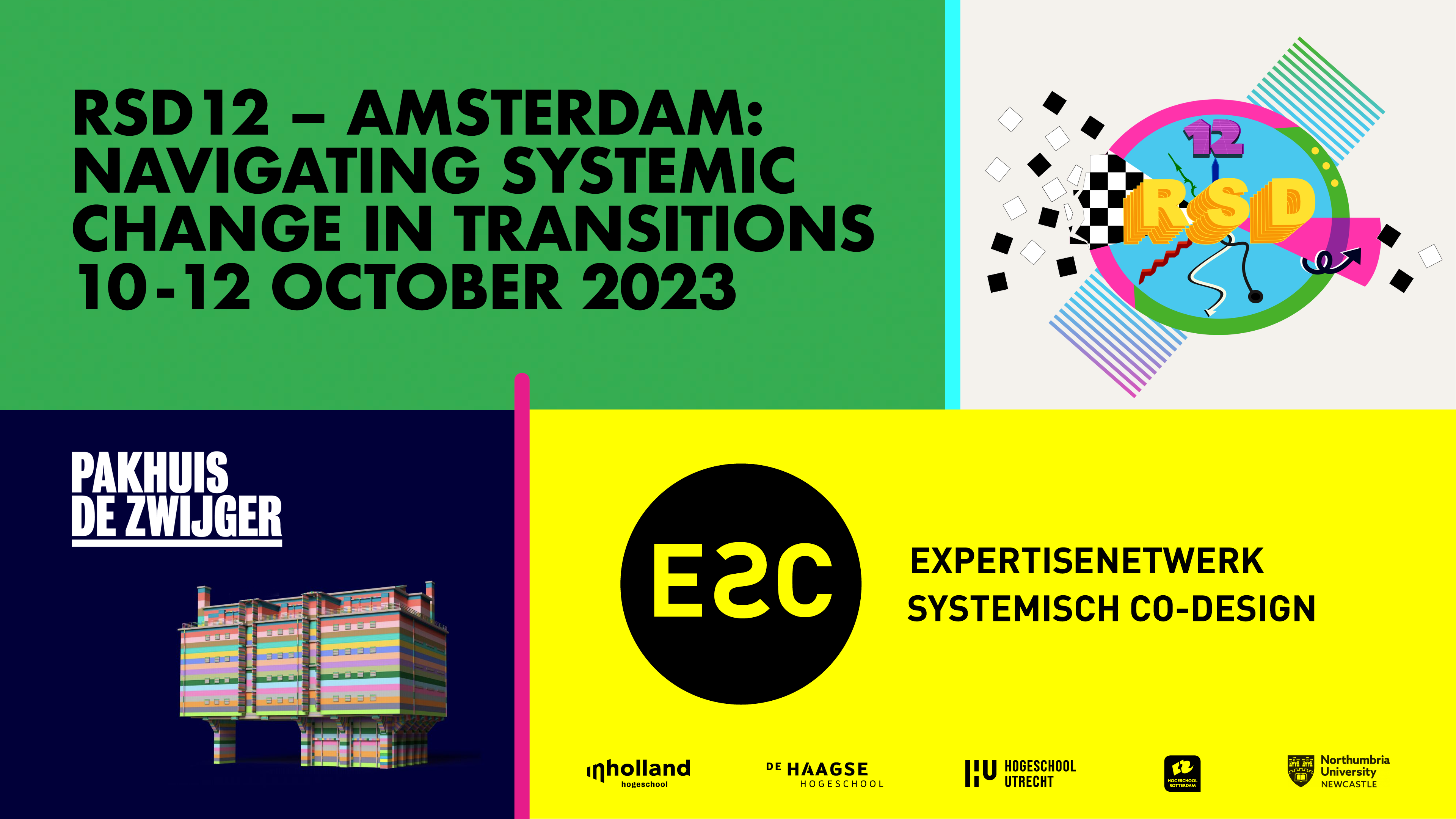 From October 10 through 12, the Systemic Design Expertise Network (ESC) will co-host the Amsterdam Hub of the Relating Systems and Design Thinking conference at Pakhuis de Zwijger. This conference is a co-production of ESC, Pakhuis de Zwijger and the Systemic Design Association. The local hub will be powered by The Hague, Inholland, Utrecht and Rotterdam universities of applied sciences as well as Northumbria University Amsterdam Campus. In the three-day programme, a series of keynotes, workshops and reflexive excercises will further explore and play with the emerging concept of systemic co-design.
*10% early bird discount till august.
This year's RSD is a co-production of 12 universities across the world so that local hubs can be hosted across the continents. Allowing participants to join a hub without the need to fly half-way across the world. We are proud as a network to partner in this endeavor with Georgetown University who acts as main host for the RSD12.
The global theme of the RSD12 conference is 'Emergence in Entanglement' and in Amsterdam we have procured a programme filled with examples, stories and research based on the question of how to navigate systemic change and transitions. We do this by exploring four societal transitional challenges: The sustainable and circular society, a healthy and vital citizenry, a safe and just digital world, and educating in times of transitions. Around each theme there will be keynotes, workshops and presentations in plenary and parallel sessions.
"We would not have been able to do the RSD as a single university of applied sciences. The RSD12 Amsterdam showcases the power of ESC. Allowing us to tackle larger and more complex projects as a consortium."
Wina Smeenk, professor of societal impact design and chair of ESC.
Programm
e
Each half day is dedicated to one of the four societal transition challenges, or systems. The full programme will become available on the website of Pakhuis de Zwijger: https://dezwijger.nl/programma/rsd12-hub-conference
Each session will have a similar structure:
A keynote, panel, or talkshow format

5-6 parallel workshops to choose from

Collective reflection and closing
On the third day, we will reflect on the conference during a reflexive forest bathing exercise. We leave from Amsterdam to a place in the beautiful Dutch nature. During the three hours hike you will have the chance to create new connections and deepen insights. By engaging in good conversation, silent reflections, and different systemic assignments. A picnic will be provided.  
Tuesday 10 october: Focus on the Sustainable and Circular Society and Healthy and Vital Citizenry
Wednesday 11 october: Focus on the Safe and Just Digital World and Educating in Times of Transition(s)
Thursday 12 october: Focus op Depth and Reflection 
Fringe Programming
Tuesday (October 10) and Wednesday night (October 11) there will be book presentations of new books from ESC partners Wina Smeenk, about Societal Co-Design and Bas van den Berg, about Regenerative Educating in Times of Transitions. The book presentations are free of charge but only a limited number of spots will be available. So make sure you register on time! Please note those are separate reservations from the RSD conference.
Please note: the fringe programme on the 11th of October, as well as the book, will be in Dutch.
E
arlier contributions to the RSD conference by ESC partners
Wina Smeenk: https://rsdsymposium.org/a-systemic-co-design-iceberg/
Remko van der Lugt: https://rsdsymposium.org/behaviour-change-co-design-case-study/
Katinka Bergema and Christine De Lille: https://rsdsymposium.org/scaling-up-from-labs-to-systemic-change/
Anja Overdiek en Katinka Bergema: https://rsdsymposium.org/framing-a-process-model-design-impact/